Women's football
Iberdrola aims to illuminate women's football in Spain
The Basque utility company has invested two million euros per season which is matched by that of LaLiga. For the first time the Primera Femenina has a main sponsor.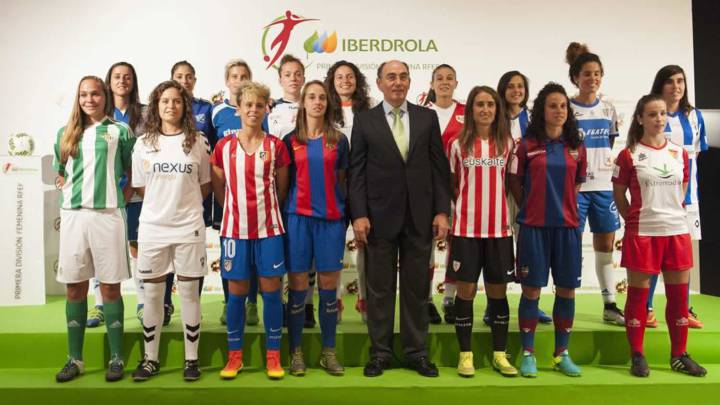 The women's league in Spain - La Liga de Futbol Feminino - is about to kick-off their great revolution. For the first time since its inception in the 1988-89 season, in which the champions were Peña Barcelonista, it has secured a main sponsor for the competition, and will be named LaLiga Iberdrola. In its infancy the league contained just nine teams but, after various attempts to increase and change the format, 16 sides prepare to face each other for the 2016/17 campaign. Of these, nine belong to clubs from LaLiga Santander and LaLiga 1 | 2 | 3.
Name up in lights
The Basque electric utility company has arrived with the intention of illuminating the Women's First Division - which remains in the significant shadow of the men's game. A deal has been agreed with the Spanish football federation to give the league its name for two seasons at a cost of two million euros for each one. LaLiga, for its part, will also provide two million per season. This cash injection can push the professionalism of the women's game and also helps increase its visibility.
Television is a key ingredient to the revolution and this weekend's fixtures will be more accessible to the public than ever before. The advent of television will play a key role, with four games being broadcast.
Conspicuous by their absence
With women's football becoming more and more popular around the world - the USA being one of the world leaders in this - the potential behind clubs developing their women's teams is clear. Professionalism in the English league is well evolved (a notable exception being Manchester United for reasons still unclear) There is now a women's Champions League competition and it seems that growth is the only future for it both in terms of popularity as well as commercialism. Why then do Real Madrid not have a team? And could this be about to change?...
Matchday 1:
Saturday 3 September 2016 (all times CEST)
Athletic v Albacete (Gol 15:00)
Atlético v Rayo (Gol 17:15)
Sunday 4 September 2016
Valencia v Alcaine Zaragoza (beIN Sports 11:00)
Santa Teresa v Tacuense 11:45
Oiartzun v Espanyol 12:00
Granadilla v Barcelona 12:00
Levante v Real Sociedad 12:00
Betis v Sporting Huelva (Gol 18:00)