Spain vs Liechtenstein: as it happened
A brace from Silva, Costa, Morata plus goals from Sergi Roberto and Vitolo saw Spain rampant in the second half in Leon.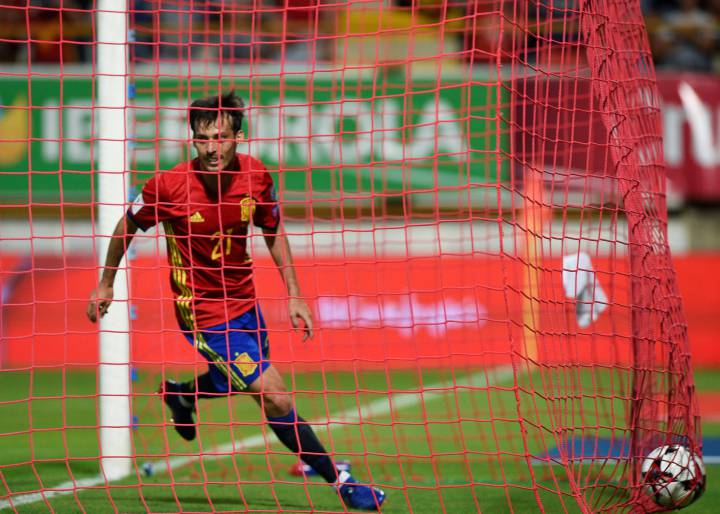 Spain 8-0 Leichenstein: match report
Newly-appointed Spain coach Julien Lopetegui enjoyed a perfect competitive debut as Diego Costa, David Silva and Alvaro Morata all hit doubles in an 8-0 drubbing of Liechtenstein in Leon on Monday.
Costa scored his first Spain goal since 2014 after just 10 minutes, but despite complete domination of the game the hosts had to settle for just a one-goal lead at half-time.
The floodgates opened with three goals in five minutes after the break as Sergi Roberto and Vitolo tapped home their first international goals either side of David Silva's third goal of Lopetegui's two-match reign.
Costa headed his second into the top corner before being replaced by Alvaro Morata, who hit a quickfire double of his own in the last 10 minutes.
Silva added an eighth in stoppage time to become Spain's fifth highest goalscorer of all-time behind Hierro, Raul, Fernando Torres and David Villa with his 28th international strike.
A comprehensive win puts Spain top of Group G in qualifying for the 2018 World Cup ahead of Euro 2016 conquerors Italy on goal difference after the Azzurri won 3-1 in Israel.
Lopetegui made just two changes to the side that won impressively 2-0 in a friendly away to Belgium on Thursday with Costa and Sergi Roberto replacing Real Madrid pair Morata and Dani Carvajal.
Costa ended his long wait for just a second international goal when he met Koke's excellent in-swinging free-kick to give Spain the perfect start.
However, Liechtenstein, ranked 182 in the world, resisted bravely for the rest of the first period with Koke's low effort cleared off the line by Michele Polverino the closest Spain came to a second.
Chances started to flow at the start of the second period as Silva was denied by great goalkeeping from Peter Jehle before Koke's free-kick came back off the bar.
Sergi Roberto finally netted the second on his competitive international debut when he slotted the ball between Jehle's legs from Nolito's excellent pass.
Vitolo's low cross was then blasted home from point-blank range by Silva.
The Manchester City playmaker resorted to his normal role a minute later with an enticing pass for Vitolo to roll home the fourth.
Costa doubled his tally for the evening at the second attempt after his first effort was repelled by Jehle.
However, the Lichtenstein captain was at fault for both Morata's goals as he merely parried powerful strikes into his own net.
Silva had a goal wrongly ruled out for offside, but still had time to leapfrog Fernando Morientes as the fifth most prolific Spaniard of all-time with a finely struck low effort from the edge of the box.
Next up: Huge game for Lopetegui as La Roja travel to Turin to face Italy on October 6
Also in Group G tonight, key rivals Italy won away in Israel (1-3) and Albania and FYR Macedonia are tied (1-1) in a game that has been temporarily suspended due to an unplayable pitch due to torrential rain.
Thanks for your company this evening as Spain put Liechtenstein to the sword after failing to profit on their domination and possession in the first period. We'll bring you a full match report in a matter of minutes.
That's it. FT: Spain 8-0 Liechtenstein
Spain 8-0 Liechtenstein
92 | Ok, now it's 8 ...Silva strikes again for his second of the evening. A fine left footed drive into the corner.
91 | Goal ruled out for offside. As we were...just the seven.
3 minutes of added time incidentally.
90 | It's 8 ....no ..... linesman says no ! Ruled out!
89 | Morata comes close to bagging his third but Jehle saves well in the Liechtenstein goal and smothers the ball.
87 | Silva rattles the ball off the post. Spain not giving up on the goal train this evening.
86 | Less than five minutes of regular time left in Leon. The second goal was the real killer blow for the men in blue but it has been the old cliched "men v boys" in this Group G game this evening.
Spain 7-0 Liechtenstein
The Madrid player flashes the ball in off the post.
stop press.... Spain make it 7 !!!!!!!!!!!!!!!!!!!!!!!!!!!! Morata again !
Morata strikes and with the aid of a deflection makes it six.
Spain 6-0 Liechtenstein
It's 6 !
Stat attack:
Liechtenstein: Shots on target 0. Shots on goal 0
81 | Liechtenstein get the ball in the Spanish box and the striker falls over. They are really, really, really poor!
79 | Nolito volleys over after a shambolic attempt to clear the ball from the men in blue.
Asensio is on with Vitolo making way.
78 | Asensio set to make his debut for the full national team. The Madrid player is ready to come on.
76 | Free-kick for Spain, right on the edge of the Liechtenstein box. Ramos takes but fails to get the ball on target.
74 | Another high ball aimed at Morata, this time the striker impeded by Kaufman in the visitors rear-guard.
Yildiz booked for a foul on Morata.
73 | Ramos delivers a pinpoint cross only for Morata to aim his header tamely at Jehle in the Liechtenstein goal.
Change for the visitors: No.15 (Yildiz) on and Reichsteiner the player who gives way.
70 | Morata's fifteenth appearance in the famous red shirt.
69 | Two goal hero Diego Costa makes way for Alvaro Morata. Huge round of applause for the Real Madrid striker.
Spain 5-0 Liechtenstein
The Chelsea striker sees his shot rebound off the keeper and falls favorably for the forward to nod home to make it 5 (five) for Spain.
67 | Costa makes it 5 !!!!!!!!!!!!!!!!!!!
66 | Still absolute domination in possession with Lopetegui's men controlling 64% vs. 36%
63 | Nearly five as Diego Costa flashes a shot wide.

Spain 4-0 Liechtenstein
61 | Vitolo gets on the score-sheet as Silva repays the previous favor, feeding the Sevilla player who tucks home from close range.
Gooooooooooooooooooooooooooooooooooooooooool..... 4 !!!!!!!!!!!!!!!!!!!!!!!!!!!!!!!!!!!!!!!
Spain 3-0 Liechtenstein
Fine assist from Sevilla's Vitolo who finds the City player unmarked to tap home.
59 | Floodgates? Silva makes it 3 !
58 | Spain on the attack again and back to the monologue of Spain probing, moving the ball around with 11 blue shirts (ok 10 plus the keeper in green) behind the ball.
Spain 2-0 Liechtenstein
Delightful through ball from Nolito to feed the Barça player who pokes the ball through the keeper's legs to score his first goal for the full national side.
55 | Gooooooooooooooooooooooooooooooooooool. Spain make it 2....Sergi Roberto
51 | Liechtenstein No. 18 Hasler booked for a foul on Busquets. Just outside the area. Koke takes and strikes the post.
50 | 5 minutes of absolute domination from La Roja in the second period but still no sign of the elusive second goal.
49 | Spain win a free kick in a dangerous area. Silva to take. Floats the ball into the area but fails to find a red shirt.
48 | Silva through on goal...checks and the keeper palms the ball into open play.
48 | Neat play from Vitolo as he skips by a blue shirt but his cross is well smothered by Jehle in the Liechtenstein goal.
46 | Off we go in Leon for the second half. One change for Spain at the break as Thiago gives way to Man City's Nolito.
Half Time Synopsis:
Unsurprisingly, Julen Lopetegui's team were in full control throughout the first half. They deserve credit for their dogged perseverance - after all, it's not easy penetrating a defence which is like Victoria coach station during a petrol strike. Costa's goal will be a great confidence boost for him - and the way Koke picked him out, like a faded reminder of their Atleti days. Overall Spain have looked confident but they will want to get a decent goal average from this game, considering who else they have in Group G, so they'll be looking to add to the score after the break.
45+1 | The half-time whistle is blown. 1-0 Spain lead.
45 | One minute of stoppage time added on by the Welsh officials.
44 | Ramos gives De Gea his first touch of the match with a generous backpass.
42 | Costa gets his bonce onto a Vitolo cross but guides his header just wide.
39 | Uff!! How did that stay out? Koke blasts a half volley, blocked on the line by Polverino, the deflection - which was going in, strikes Vitolo, who looked to be offside - flag is raised.
39 | Corner to Spain, on the left, Koke to take. Played short, ball is whipped in but cleared, another corner from the other side.
35 | Burgmeier is down and requests medical attention. Ramos boots the ball out of play so he can be seen to.
35 | The guests' corner reaches as far as the near post, before being cleared.
34 | Corner to Liechtenstein. Salanovic's cross is defelected out by Ramos.
30 | Spain ploughing in balls into the box for Costa from both wings but it is proving very difficult to find a way through. Looks like the idea is to draw Liechtenstein wide and create some space in the centre.
26 | Free-kick is played in low but is easily cleared by one of the eight Liechtenstein players inside the area.
25 | Free-kick to Spain out wide on the left in a similar position to where the opening goal was created. Polverino goes into the book for scything down Costa.
18 | Costa, who has the shaggy air of a Charles Bronson after a bandit razor raid, gets a double deflection inside the box but the ball veers out.
15 | Uyy!! Silva whips one in from the right but the ball scuttles past everyone in the box, landing at Alba's feet but the Barça full-back dallied too long on the ball.
13 | Liechtenstein tentatively launch an attack with four players crossing the halfway line. The ball is quickly qon back by Lopetegui's side who surge forward by Koke's low ball in from the left is cleared.
10 | Costa grabs his second La Roja goal - his first was against Luxembourg back in the halcyon days of October 2014.
10 | Gooooaal!!!! Diego Costa! glanced header from Koke's free-kick. 1-0
6 | Liechtenstein's cautious defending is understandable - the last time they faced Spain they shipped six goals (2011) and the time befre that, four!
4 | Spain attacking from both wings during these opening exchanges but finding it difficult to encounter any chinks in a congested, two-line defence.
0 | Off we go! Welsh referee Mr Simon Lee Evans gets us underway!
Costa and Silva to kick-off
Captains Sergio Ramos and Peter Jehle doing the handshakes, pennants and photo.
National anthem time. Home fans enthusiastically join in at the Reyno de León.
Spain's opening qualifier of the group stage and Lopetegui's second game in charge. The Basque coach will be heartened by the statistics against Liechtenstein - the two nations have met six times with six victories for Spain - 23 goals for and zero against.
Spain have managed a clean sweep of six wins from six against three other nations - Luxembourg, Malta and Armenia.
Welcome to AS English's live build-up and coverage of the World Cup 2018 qualifying encounter between Spain and Liechtenstein from the Reyno de León Stadium on Septmember 5 2016 at 20:45pm.
Preview
Newly-appointed Spain coach Julien Lopetegui wants a show of intent from his side in their first World Cup 2018 qualifier at home to Liechtenstein on Monday.
Spain crashed out in disappointing fashion to Italy at Euro 2016 just two months ago and will come against the Azzurri once more in a heavyweight Group G battle for the only guaranteed spot in Russia.
Liechtenstein's visit to Leon should prove a gentle start to qualifying, but Lopetegui wants a performance to match an impressive 2-0 friendly win away to Belgium on his debut in charge on Thursday.
"It is the first competitive match and it has to show that we have the desire to compete," said the former Porto boss on Sunday. "We need to start strongly in the competition."
Lopetegui is expected to name the same side that started in Brussels other than the introduction of Diego Costa for Álvaro Morata up front.
Costa impressed after replacing the injured Real Madrid striker after just 27 minutes in Belgium.