REAL MADRID
Real Madrid round-up: Zidane, Isco, Bale, Higuain and Cristiano
Players return from international duty, Higuain explains why he didn't move to the Bernabéu, Zidane makes coaching list and Isco injury update.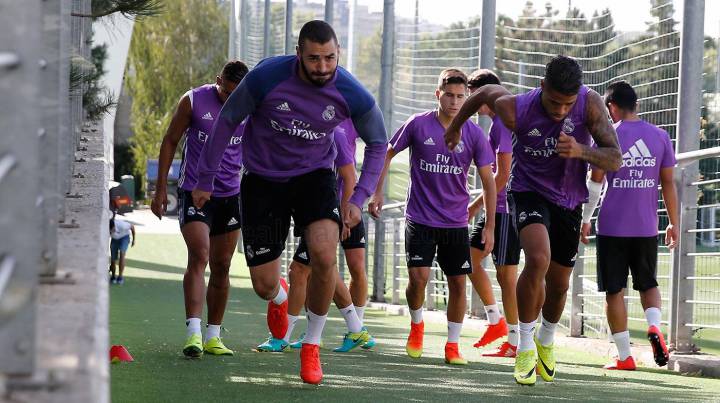 International break over
Yesterday's session in Valdebebas went ahead without the players that were involved with their countries all aiming to make an appearance at the World Cup in two years time. Today, starting at 17:00 local time, 11 of the 14 players on international duty will be back under Zidane's command as the team get set to host Osasuna on Saturday. The three still missing are Marcelo, Casemiro and James who were playing late last night as Brazil overcame Colombia and they are expected back in the fold tomorrow morning.
The 11 returners who have had mixed performances for their respective nations in European qualifiers are Asensio, Morata, Ramos, Carvajal, Lucas Vázquez, Modric, Kovacic, Kroos, Bale, Varane and Pepe.
Isco's disco still in the gym
Midfielder Isco is still working hard in the gym to recover from the ankle injury that he suffered during training before the previous league match against Celta. He will not be included in the squad for this Saturday's visit of Osasuna.
Two other players fighting to get themselves fit as soon as possible are Benzema and Cristiano are expected to be ready for the 4pm clash however the manager will need to decide whether to put them in from the start or use them off the bench.
ZZ doesn't "top" the list
The most recent update from the website Coach World Ranking's list for 2016 has been produced with Madrid's Zidane rated as eighth. Heading the list is LaLiga champion Luis Enrique followed by Guardiola and Atlético's Simeone. Noticeable by his absence from the top ten is new Manchester United manager José Mourinho although this is due to him having very few games under his belt since losing his post at Chelsea at the start of the 2015/16 season.
Interestingly, six of the top ten are Spaniards.

Game time key for Gonzalo
Speaking with Elite Sport, Juventus striker Higuain gave his reasons for not joining Real Madrid when he instead made his move to Napoli.

"I went there because I wanted to play regularly and I consider Napoli to have been a fantastic step in my career."
Bale to meet fans

Today in Madrid, Welshman Gareth Bale will be getting involved in a Foot Locker publicity event. If you're around, and want to see the man who helped himself to two goals and an assist in Wales' 4-0 win, he will be in the shoe store in Calle Preciados with the event kicking off at 13:30 local time.



Liga BBVA
Leaders
Luis Suárez

3

Goals
Sergi Roberto

157

Passes
Casemiro

36

Steals
*Update 7 de septiembre de 2016