Morata: "I hope Zidane rotates Bale, Benzema and Cristiano"
In an interview following Spain's 8-0 thrashing of Lichtenstein, Álvaro Morata turned his focus on the return to Real Madrid and competition for placesReal Madrid v. Málaga live online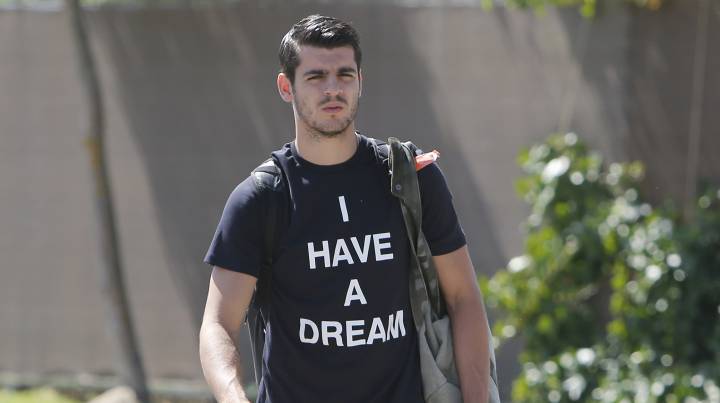 How do you assess Lopetegui's first two games, individually as well as collectively?
I'm very happy for myself on an individual level because I felt really good even just to be here, as it's difficult to always be, but above all I'm happy for the team. I'm going home really happy with the way we played. We've shown there are reasons to believe, and we're still missing Isco and other players who couldn't be here.
How's the knock you took against Belgium?
It gave me a fright because I went in hard and had the sensation that I could have broken something if I kept on running so the best thing was to come off. I was able to play against Liechtenstein and everything's perfect now.
The duel with Costa for a starting place...
I hope we always score two goals each! I'm really happy for Diego.
Spain face Italy next month, meaning a return to Turin for you…
It brought me great happiness when I saw that Chiellini was sent off (against Israel). He knows how much I love him, he has helped me a lot and given me a lot of advice, but my ankles are grateful!
Competition at Real Madrid
You go back to Madrid now. With Benzema back, the competition is back too…
In all the best teams there is competition and at Madrid more so. My dream is to triumph at Madrid and if it wasn't then I would have gone to a team where I knew I'd play more.
Is the BBC untouchable?
They are three of the best players in the world, but I'm going to fight for a place and do everything to make things difficult for the boss. During the season there are suspensions and injuries, although we hope there aren't many…
Do you think Zidane will rotate things?
I hope Zidane makes rotations because it would be good for everyone…as some rest, the others play.