BARCELONA - CELTIC
"Luis Suárez is the world's best" says Celtic boss Rodgers
Celtic boss Brendan Rodgers knows full the threat which Barça striker Luis Suárez poses: "He is capable of keeping a five-man defence busy all on his own".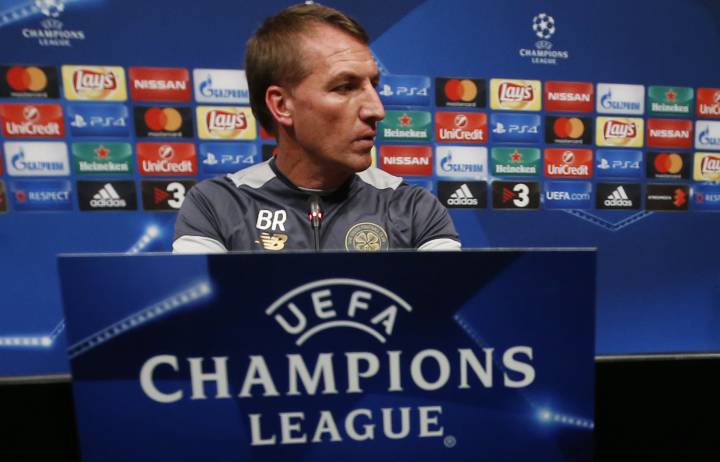 "Luis Suárez is the world's best right now"
Brendan Rodgers hailed Barcelona hitman Luis Suárez as the best striker on the planet ahead of Celtic's unenviable task of stopping the Uruguayan, Leo Messi and Neymar in their Champions League meeting at Camp Nou tomorrow night.
Rodgers worked with Suárez for two years at Liverpool; and the Uruguayan's 31 goals almost carried the Merseysiders to their first Premier League title in 24 years back in 2014.
Rodgers didn't hesitate in admitting that Suárez has gone to a new level alongside Messi and Neymar. He described the Barça trio as one of the most deadly strike forces in football history. "We respect that this is arguably the best team in the world with maybe the best front three of all-time", Rodgers told reporters at Camp Nou's press room today.
"Beautiful guy"
"I know from working with Luis he used to occupy a four or five-man defence on his own, so if you put Neymar and Messi into that it is a very difficult task. In this moment in time Luis is the best striker in the world there is no question about that. First of all you have to speak about the man. I had the pleasure of working with Luis for two years. He is one of the most beautiful men you can come across. He's very humble guy, super professional, a family man who gives everything for his life as a footballer", Rodgers continued.
"He is the best in the world. The biggest compliment you can pay him is he came to an already world class team and made them better. Barca now wouldn't be the same team without Luis in the team".
Rodgers' Celtic side will have their work cut out trying to emerge from a group which, apart from Barça, also features Manchester City and Borussia Mönchengladbach. The Hoops go into tomorrow's game on the back of a rousing 5-1 tonking of Rangers, while Barca were stunned to lose 2-1 to LaLiga newcomers Alavés.
Wake-up call
"A defeat like that might be positive for us, but also you can waken up a team with a result like that", Rodgers warned. "Luis Enrique made a number of changes to the team; every manager picks the team to get a result, and of course they'll be disappointed by that and they will want to make amends".