Sporting Lisbon: the home of Portugal's Euro 2016 triumph
A record number of players in their country's unlikely triumph this summer came through the ranks at the Lisbon club.Hungary-Portugal live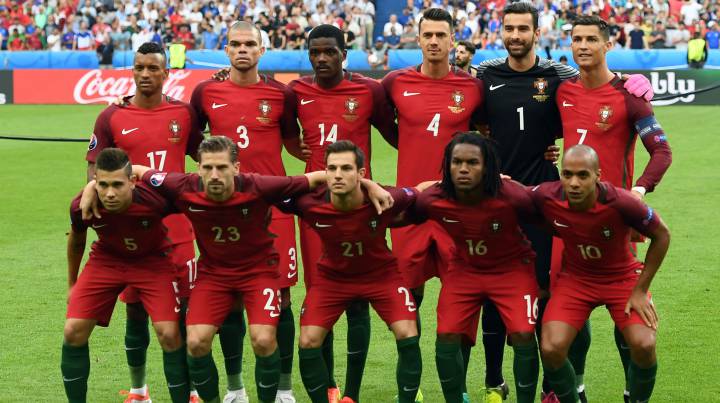 Espanyol vs Real Madrid live English
When Portugal won their first European Championship this year in France against all the odds, they had Sporting Lisbon to thank.
Eight of the Portugal starting XI were developed at Sporting
Of the all the players named in the starting XI on that night in Paris, an incredible eight came through the famed Sporting academy: Rui Patricio, Cédric, Jose Fonte, William Carvalho, Adrien Silva, Joao Mario, Nani and, of course, Cristiano. Another two, Ricardo Quaresma and Joao Moutinho, came on during the match.
This, surely, is a historical record and one that will be difficult to beat. The number of Sporting-sourced players could even had been higher had Pepe passed a trial at the José Alvalade when he was Maritimo player, long before his transfer to Real Madrid.
La Academia, the home of Sporting youth's development
So Portugal's greatest sporting victory was born in the ranks of Sporting, who today visit the Santiago Bernabéu to kick-off their Champions League campaign against reigning champions Real Madrid. More specifically, it was born in La Academia, a sports complex dedicated to the club's youth teams situated in the Lisbon suburb of Alcochete.
'A fantastic breeding ground for talent,' says Luis Figo

The likes of Paolo Futre, Luis Figo, Sa Pinto, Cristiano and Nani have all passed through there; the full list is too long to name. In fact, as Luis Figo told AS in an exclusive interview this week, "it's always been a fantastic breeding ground for young talent. It's comparable to Ajax in that sense, just with another footballing philosophy."
Former director Diogo Matos says that above all the academy seeks to produce competitive players. "We don't aim for our youth teams to win games; our big objective is to produce players to play at the highest possible level," he said.
There's no doubt that the club has achieved that. And, of course, it makes financial sense. The club sold Joao Mario to Inter Milan immediately following Euro 2016 for a record €40 million.