REAL MADRID 2-1 SPORTING LISBON
Cristiano keeps perfect goal record against ex-clubs intact
By scoring an 89th minute free kick against Sporting, Cristiano Ronaldo continued his record of scoring on every occasion that he has played against a former club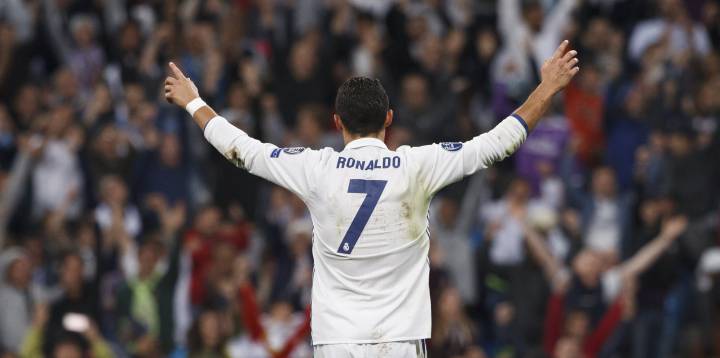 Espanyol vs Real Madrid live English
Cristiano Ronaldo continued his remarkable record of always scoring against his former clubs on Wednesday, as he scored an 89th minute free-kick against Sporting Lisbon.
It was looking as though the Portuguese star's run of goals against his ex-teams would come to an end with Real Madrid trailing 1-0 to Sporting -- Ronaldo's first club -- with the clock approaching 90 minutes. This was especially considering that, with just five minutes to go, the Los Blancos number 7 hit the post from just two-yards out.
However, he would be given one last chance to keep his perfect record intact, and this time there would only be one result.
Vintage free-kick
With the referee awarding Real Madrid a free-kick from a central position just outside the Sporting box, Ronaldo managed to pull a vintage effort out of the bag (the kind of which has become a much rarer sight since he turned 30), with the ball curling deliciously inside the top right corner of the posts and leaving Rui Patricio only able to touch the ball off the upright and over the line.
Quite unbelievably, Real Madrid then went on to win the game in the 94th minute with an Álvaro Morata header.
Ronaldo's strike now means he has scored five goals in five games against his old clubs.
Ronaldo's goal record against ex-teams
September 2007 – Ronaldo scores in United's 1-0 win over Sporting at the José Alvalade
December 2007 – Provides an assist for Tévez and gets an injury-time winner with a fantastic free kick to make it 2-1 United over Sporting at Old Trafford
February 2013 – Heads in the equaliser to secure a 1-1 draw against old club Manchester United after Danny Welbeck's opener at the Bernabéu.
March 2013 – In the return leg at Old Trafford, Ronaldo tapped in the winner to give Real Madrid a 2-1 win.
September 2016 – Ronaldo scores a free-kick in the 89th minute as Real Madrid come from behind to win 2-1 over Sporting at the Bernabéu