REAL MADRID 2-1 SPORTING LISBON
Real Madrid's Álvaro Morata is 'Mr Champions League'
The young striker marked his return to Real Madrid with a decisive winner on Wednesday night after also shining for Juventus in Europe's top club competition.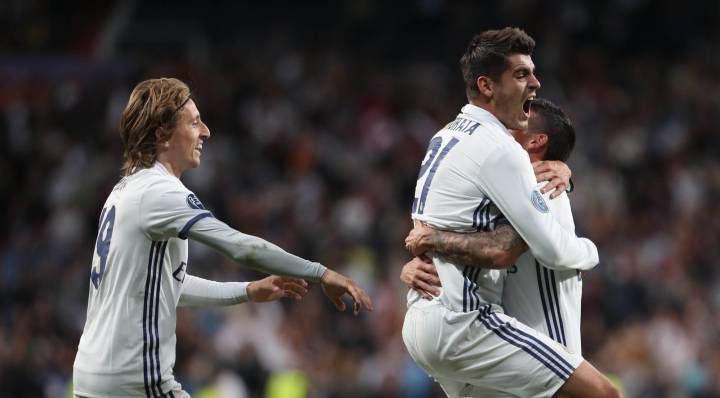 Espanyol vs Real Madrid live English
After all the euphoria, Álvaro Morata will have breathed a sigh of relief after his last-gasp goal gave Real Madrid a late win over Sporting Lisbon last night. He's quickly becoming a decisive player for the team. Both of his two goals this season have been crucial in tight games. His first, the opener against Celta two weeks ago, set Madrid on course for a 2-1 win while last night he came off the bench to head home a last-minute winner.
A proven performer in the Champions League
In the league he's frequently been decisive since making his debut against Real Zaragoza back in 2010, scoring 11 goals (once every 111 minutes, on average). But it's in the Champions League that he's really made his name and shone, convincing Vicente Del Bosque to call him up for the national team and, in the process, convincing Real Madrid to bring him back to the Santiago Bernabéu. With 9 goals and 6 assists in just 1,488 minutes of European football, Álvaro Morata is 'Mr Champions League.'
From Madrid to Juventus and back again
His first European goal came in a 3-1 win over Schalke in 2013-14. By the following season he'd made the move to Turin to join Juventus and was the main man upfront, no longer simply a complement to others like he'd been in the Spanish capital. The young man responded brilliantly, with 5 goals and 2 assists in just 744 minutes. In that first season Morata was crucial, scoring in both legs of the second round against Borussia Dortmund and, famously, knocking out his former club the Bernabéu in the second leg of the semi-finals. Juventus went on to reach the Champions League final where, despite Morata's goal, they lost 3-1 to Barcelona.
Morata, back on the front covers
Last season he scored against both Manchester City and Sevilla in the group stages and played well against Bayern only to see his team crash out after a historic comeback by Pep Guardiola's side. Now he's back on the front covers for his hometown club.