Sporting Lisbon lash out at Real Madrid after defeat
Nuno Saraiva, head of communication at Sporting, is very unhappy about Real Madrid's last minute victory in the Champions League, claiming Madrid needed outside help.Champions League live online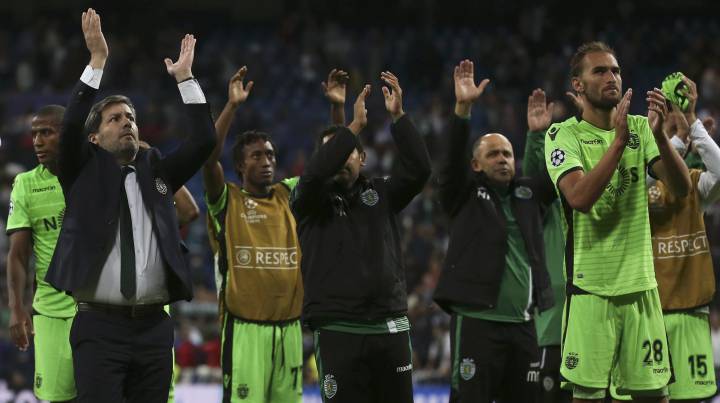 Espanyol vs Real Madrid live English
Sporting Lisbon boss slams Real Madrid
Sporting Lisbon's head of communications Nuno Saraiva is very displeased about last night's painful last-minute 2-1 defeat for his side at the hands of Real Madrid in the Santiago Bernabéu in the sides' opening Champions League group F match.
The Sporting Lisbon exec has lashed out at Real Madrid:
"When a team such as Real Madrid feel the need to constantly repeat that they are the best club in the world, and what's worse, need outside help from halfway through the first half [to avoid] a defeat that seemed certain, that shows how good we are".
Sporting Lisbon want justice against Real Madrid
And Saraiva is looking forward to the return visit from Zinedine Zidanes' side: "We can't wait for Madrid in Alvalade, it will be there that justice is done". The Sporting Lisbon communications boss will have to wait until 11 November to see if "justice is done" or not.
No reason given for sending Jorge Jesús off
Meanwhile Sporting Lisbon president Bruno Carvalho, has also slammed the refeering performance of Italian whistler Paolo Tagliavento, who send Sporting coach Jorge Jesús to the stands after 55 minutes. "He didn't tell us why he sent the coach off", he lamented.
But the Lisbon president did try to see the funny side, through the pain: "Every day you need something funny to laugh at. When the referee's match report comes out, we'll have a laugh. And another thing, was it a foul on Cristiano? No it wasn't, no".