Real Madrid Castilla vs SD Leioa: live: report, goals from Valdebebas
High drama at Valdebebeas as Enzo slams home 96th minute penalty to secure maximum points for Real Madrid Castilla.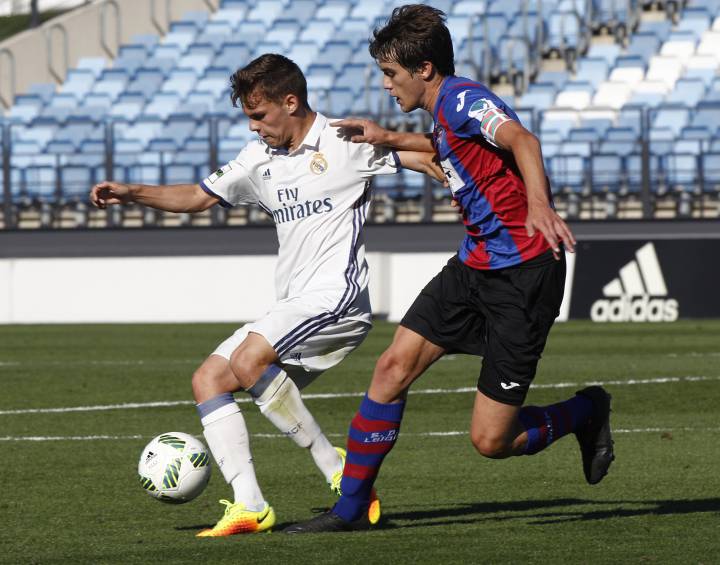 Real Madrid vs Villarreal live online
Real Madrid Castilla 1-0 SD Leioa: as it happened
A lackluster encounter at the Alfredo di Stefano stadium this evening sprang into life in the 96th minute in dramatic fashion as Castilla were awarded a dubious penalty after the match official adjudged that a Leioa defender handled the ball in the area.
Substitute Enzo Zidane was calm and collected from the resulting spot kick leaving Iturrioz with no chance in the Leioa goal and secured a valuable three points for Santiago Solari in the process.
The game itself was no classic and goal-scoring chances were conspicuos by their absence. The referee was one of the busiest individuals at Valdebebas today with the visiting side employing some rugged tackling that threatened to boil over especially at the end of the first 45 minutes.
SD Leioa lose their unbeaten record and Castilla move into third as both sides prepare ahead of their respective derbies next weekend with Leioa at home to Real Sociedad "B" and Castilla making the short trip to Fuenlabrada.
Real Madrid Castilla 1-0 SD Leioa: Full time
Min 96 | Drama at Valdebebas as Castilla nick it !
Min 96 | Enzo to take and scores
Min 96 | Drama...penalty for Castilla
Min 94 | Castilla pushing on in hope of a late surprise. Odegaard has ben excellent today and along with Austrian Lienhart have been the best player in Solari's side
Min 93 | Is there a late surprise in store at Valdebebas? To be honest on the run of play a draw would be a fair result with neither side warranting maximum points
Min 91 | Leioa's Sota is booked for a dive as tiredness is a clear factor after an ergergy sapping 90 minutes in temperatures of over 25 degrees.
Min 90 | We'll have 6 minutes of added time
Min 88 | Great defending from Lienhart intercepting a Leioa attack as Tejero rises free to head wide for the Basque side.
Min 86 | Change (last) for RMC: Mario on Cedresoff. Sergio Diaz with a great chance for Castilla but rifles his left footed shot high and wide
Min 85 | Last change for Leioa: Unda on / Cordoba off
Min 83 | Odegaard at the heart of all creative play from Castilla as another Leioa player goes to ground with 2/3 minutes to be wasted
Min 81 | Card for Quezada snuffing out a Leioa counter
Min 79 | Castilla launching plenty of arial attacks but the Leioa rear-guard equal to the task and repelling with ease the direct approach
Min 78 | Leioa launch a counter but fail to capitalizase on the initiative with the Castilla defence standing resolute to the attack.
Min 76 | Seone fouls (climbing on a rival player) and the pattern of the game is now punctuated with foul after foul.
Min 74 | Picon is in trouble for Leioa and looks like he will need to be subbed. Vega takes his place
Min 72 | Excellent play from Febas who sees his run impeded by a Leioa defender. Castilla having the better of the game currently
Min 70 | Danger as Enzo nearly sneaks onto a stray ball which Leioa manage to finally clear
Min 68 | Change for Castilla, Enzo on and Tena the player off
Min 66 | Change for the Basque side, Kike off and Jorge on
Min 65 | Paraguayan Sergio Diaz tries his luck with a right foot drive. Easy for the keeper as Lienhart fouls in the centre of the park
Min 63 | Great build up play from Castilla as Odegaard slips into the area and tries a deft chip which is easily dealt with by the imposing Leioa defenders
Min 61 | Plenty of lofted balls into the box from both sides, the crosses are lacking the quality and measure to find out the relevant strikers for both teams.
Min 59 | Abad called into action again as a tame header is easily gather by the Castilla keeper
Min 58 | Spell of pressure from Castilla as an Odegaard corner is nodded inches wide by Sergio Diaz.
Min 57 | Abad called into action for Castilla as Leioa get a header on target from Sota. The young keeper got down well and palmed that ball back into play. First danger from the Basque side
Min 56 | Valverde off and Seoane on for Castilla
Min 55 | Substitutes from both sides warming up and an injection of creativity for both sides is badly needed
Min 53 | Lienhart called into action again as the Austrian clears a dangerous ball from the Leioa right hand channel
Min 51 | Castilla keeper Abad has been a virtual spectator for the 50 plus minutes of the game so far.
Min 49 | Febas concedes a foul in the central area of the pitch
Min 47 | Chants of Castilla...Castilla ring out from the assembled fans at Valdebebas
Min 46 | It's the Basque side to get us going for the second period
Real Madrid Castilla 0-0 SD Leioa: half time analysis
A rough an tumble half at the Alfredo di Stefano with Castilla shading the game in a match that was tainted in the last ten minutes with an excellsively aggressive approach from both sides.The best chance of the match fell to Valverde who was through on target following an error from Arregi in the Leioa defence but the Castilla No.10 fired his shot at the Leioa keeper. Dispointing half from the table topping Basque side with no shots on target in the first period.
Real Madrid Castilla 0-0 SD Leioa: End of the first half
Min 49 | The referee calls time on proceedings ... all square at Valdebebas,
Min 48 | A quiet half from Sergio Diaz as Hermoso fires a long range left footed drive which whistles just wide.
Min 46 | Odegaard leads a counter attack with Leioa outnumbered but the young Norwegian sees his pass cut out.
Min 45 | Reprisal from Castilla's Valverde who also goes into the book as 3 minutes to be added
Min 44 | Lienhart booked for protesting after Castilla's Febas is hacked by a Leioa midfielder
Min 43 | Simon (Leioa) and Hermoso (RMC) also booked in the fray
Min 41 | Cordoba booked as a ruckus breaks out between the players. Leioa are really "mixing it up" as they say.
Min 40 | Chants of "echale huevos" (show some balls) from the home fans who want to see Solari's side a touch more aggressive.
Min 39 | A very aggressive style of play from the Basque side this afternoon as Lienhart returns to the pitch.
Min 38 | The Austrian leaves the pitch to receive medical attention.
Min 37 | Poor challenge from Leioa's Oscar as he takes out Castilla's Lienhart with studs showing. Could have easily been a red card.
Min 35 | One of the most bizarre sights at Valdebebas today is the sight of a massive Dutch flag in the stand !!
Min 32 | The visitors starting to impose themselves now on the match having the bulk of the ball. Yellow card for Polanco (Leioa) for a hack on Febas.
Min 30 | Disappointing opening half hour from the league leaders SD Leioa. The Basque side come into the game today after three straight wins with 0 goals conceded.
Min 27 | Best chance of the game so far and the Castilla No. 10 should have his side in the lead
Min 25 | Terrible mistake from the Leioa no. 4 gifting the ball to Valverde who tries to pick his spot, the ball was well stopped by Iturrioz in the Leioa goal
Min 24 | Austrian defender Phillip Lienhart looking very composed at the heart of the Castilla defence this afternoon.
Min 22 | Hermoso caught the impact of the shot from the Leioa player and needs medical attention
Min 20 | ...and drives the ball into the Castilla wall.
Min 19 | Simon to take ...
Min 18 | Dangerous free-kick for Leioa as Cordoba is fouled on the edge of the area
Min 15 | Little in terms of clear-cut scoring chances for either side with the bulk of the action in the centre of the park.
Min 10 | Castilla played Leioa towards the end of the regular 2B season here at Valdebebas with the home side running out 2-1 winners. Mariano bagging a late winner
Min 7 | Illa Illa Illa Juanito Maravilla rings out at Valdebebas with the RMCF fans making plenty of noise
Min 7 | Madrid Castilla with the bulk of the early possession but failing to find a way through the Leioa defense.
Min 5 | Fans still making their way into the Alfredo di Stefano stadium on a splendid September day in Madrid. Ideal conditions for football, little wind and 25C temp.
Min 3 | Tentative start from both sides in the opening minutes with Castilla winning their first corner of the match
Min 1 | Castilla get us underway
Castilla in their classic all white kit and today's visitors from the Bilbao outskirts wearing navy and red stripes, black shorts and navy socks
Kick-off imminent at Valdebebas as both sides take to the pitch.
Real Madrid Castilla v SD Leioa: confirmed starting line-up
Real Madrid Castilla XI: Abad, Tejero, Quezada, Lienhart, Hermoso, Tena, Odegaard, Febas, Sergio Diaz, Valverde, Cedres.
Coach: Santi Solari.
SD Leioa XI: Iturrioz, Aldalur, Arregi, Simón, Picon, Cordoba; Polanco, Capo, Oscar, Sota & Kike
Coach: Igor Gordobil.
Welcome to our live coverage of Real Madrid Castilla vs SD Leoia live and direct online. Match-day 5 of the Segunda B (group II) which kicks-off this evening at 17:00 at the Alfredo di Stefano stadium (Valdebebas).
Preview of Real Madrid Castilla vs SD Leioa, 2B match-day 5
Santi Solari's Castilla are in for a difficult afternoon in Valdebebas as Group II form side SD Leioa are the visitors to the Alfredo di Stefano stadium on the Madrid outskirts for the most attractive fixture in the Segunda B this weekend. A decent start for Castilla see's the young side in seventh place in the table but unbeaten Leioa are certain to provide as stiff test with the Basque side one of the form teams in the third tier of the Spanish game at present.
Real Madrid Castilla
The Argentine coach hopes to be able to call upon his key core of players for a game that will go in some way in determining if his Castilla side are on the right track to securing the objective for the season...promotion to the Spanish second tier. Odegaard, Sergio Diaz, Zidane and Febas will all be pivotal for Castilla against the Bilbao based visitors.
SD Leioa are currently making history. This side top the 2B table for the first time in their history after an emphatic start to the 2016/17 campaign. 10 points from a possible 12 is the impressive haul from Gordobil's side after an opening draw against Logroñes. The Basque team have been a force to be reckoned with in the subsequent games beating U.D. San Sebastián de los Reyes, Navalcarnero and Mensajero without conceding a goal.
Real Madrid Castilla - SD Leioa: live feed