Hackers leak Rafa Nadal's therapeutic exemption notes...
Russian hacker group Fancy Bears have published two medical notes giving Rafa Nadal authorization to take steroids in 2009 and 2012 - years which coicide with his knee injuries.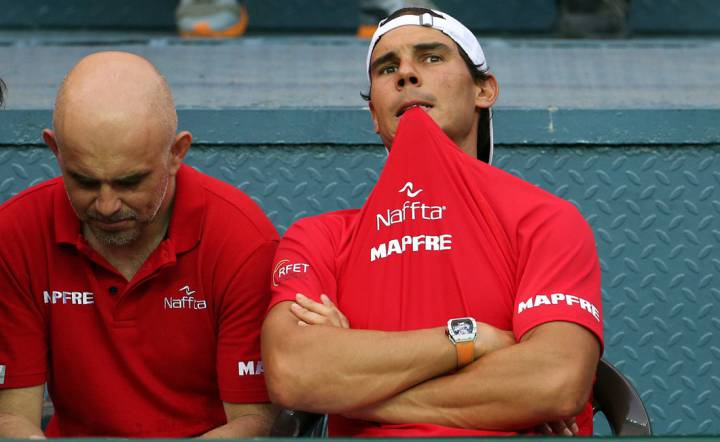 Nadal targetted by hackers
The latest leaks from Russian hacker group Fancy Bears features documents which they have obtained from the World Anti-Doping Agency (WADA), concerning Rafa Nadal. According to the information which has been leaked, the former world No.1 was granted permission to use therapeutic drugs which are listed on WADA's prohibited list on two separate occasions - in 2009 and 2012, years which coincide with periods when he was recovering from knee injuries. Both case of Therapeutic Use Exemption (TUE) were signed by International Tennis Federation doctor Stuart Miller.
The first authorization granted Nadal to use steriod medication betamethasone from 23rd to 25th September 2009: 3 milligrammes, twice, via intramuscular injection. That year, Nadal suffered quadriceps tendinitis affecting both knees. He lost to Robin Soderling at the French Open and missed Wimbledon. He was out of action for three months, from June to August. Betamethasone is a steroid with anti-inflammatory properties.
The second exemption was granted in 2012 when Nadal was forced to miss the London Olympics and was sidelined for seven months due to a chronic patellar tendon injury affecting his left knee. The TUE was authorized for the period from 30th July to 8th August, when Nadal was convalescing, with a 1 milligramme dose of Cortrosina (Tetracosactide) every three days - Cortrosina is a corticosteriod which is also used for anti-inflammatory purposes.
The Fancy Bears leak focuses on 26 sportsmen and women from nine different countries, including Justin Rose (golf), Mo Farah (athletics) and Laszlo Cesh (swimming). In total, documents relating to 66 athletes have been leaked. Nadal is the second Spaniard to be targetted, following archived papers detailing permission given to Mireia Belmonte to take Salbutamol - a drug used in the treatment of asthma.