Real Madrid
Real Madrid round-up: Villarreal, Club World Cup, Silva, Mourinho
In today's round-up we look ahead to tonight's league game and some of the stories around the club.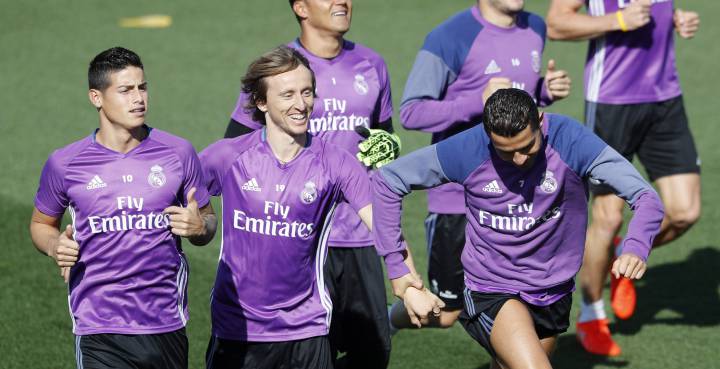 Real Madrid vs Villarreal live online
Ahead of tonight's game against the side that finished best of the rest last year - the top three pretty much secured - we look at some of the news surrounding Real Madrid including an interesting take on Mourinho's latest transfer rumours.
Where your money goes
The home side in tonight's game are clear favourites with the bookmakers with you getting back 1.22 for each euro placed. If you fancy an away win you could find yourself rather happy afterwards with the experts paying out 12 times your stake. A draw would turn your euro into seven. Here's what we think will happen.
Seeing double
The referee for tonight's Bernabéu clash is the man from Castillia-Leon José Luis González González. His last outing was in Valencia's home loss to Betis (2-3) where he brandished six yellow cards and a red. He has been in the middle of Madrid games 17 times with Los Blancos winning 11 and losing three of them. When in charge of Villarreal, 16 in total, they have only won three times and lost seven.
For those unfamiliar with Spanish naming conventions, a person takes the surname of their father and mother giving them two surnames. José Luis's parents just happen to share the same one but at least it permits some double-vision fun for us.
Still tickets available
In or near the Spanish capital tonight and fancy watching some football? At the time of writing there are still over 5,000 tickets available to see a potential BBC starting line-up as Zidane goes for the league consecutive win record.
Silva sweating it out
More good news at the Bernabéu is that Lucas Silva continues to make his recovery. He took to social media to say:
"After a month of hard work I'm really happy to be starting training tomorrow in Valdebebas; I'm really excited!"
Global title opponents clearer
The draw for the Fifa Club World Cup has been made and Madrid will face either Club América from Mexico or the Asian champion (tbc) in the semi-final on Thursday 15 December.
Mourinho Madrid madness
On the back of a rather bad week for the new Manchester United boss, this morning's papers are full of transfer rumours linking players to Old Trafford. From the Madrid ranks, both Isco and Ramos have been singled out for attention as potential January captures however this is more likely to be headlines to cover the cracks showing in the confident Portuguse coach's armour.
With Madrid currently facing two-transfer windows without being able to make a signing it would be strange for them to sell any of their squad. Moreover, after identifying and splashing the cash on summer signings, surely the United squad now needs tactical guidance and hard work on the training field…not even more new faces.