Messi injury flares up again, goes off in 59th minute v Atlético
Barcelona 1-1 Atlético: Leo Messi's problems with his groin flared up again as he was forced to to go off early in the second half against Atlético Madrid Sporting vs Barcelona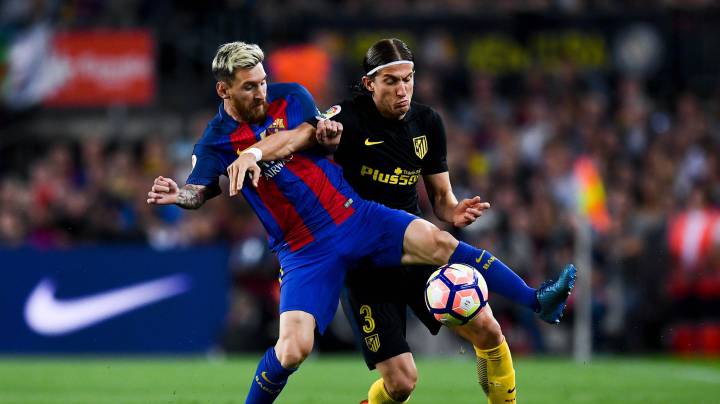 Messi injury problem returns
Leo Messi's groin injury once again flared up in this evening's LaLiga Santander match against Atlético Madrid at the Camp Nou. The star striker sprinted to deny Godín possession, but instantly noted discomfort. Messi was seen testing the situation, and it was clear he was in some discomfort.
Messi looked over at the Barcelona bench several times, before eventually sitting down on the Camp Nou turf. Iniesta came over to talk to him, and gave him a consoling hug, while Barça medic Dr. Pruna confirmed the striker was unable to carry on. Arda Turan came on in his stead.
Messi out for at least three weeks
According to club sources speaking after the game, Messi is expected to be out for at least three weeks with the injury. He'll miss the games against Moenchengladbach in the Champions League, Sporting and Celta in LaLiga, and the World Cup qualifiers against Peru and Paraguay.
Messi travelled to Argentina with the injury
Messi travelled to Argentina to join up with his national squad after the second round of LaLiga games, despite having ongoing problems in the groin area, and against the advice of his club doctors. He admitted it was "very sore", but played against Uruguay, where he scored. He missed the game against Venezuela, and returned with a note from the Argentinean medical team advising caution.
Messi looked good against Celtic and Leganés
Messi played for a spell in the defeat to Alavés, before playing in the Champions League against Celtic and in the Liga against Leganés. In those two games he looked sharp, but tonight once again the problem has flared up. The ball is now in the court of the Barcelona medical services.