Zidane with Casemiro has won 100% of games in LaLiga
Real Madrid midfielder Casemiro is out for up to two months, giving Zidane a major headache as he has no natural replacement.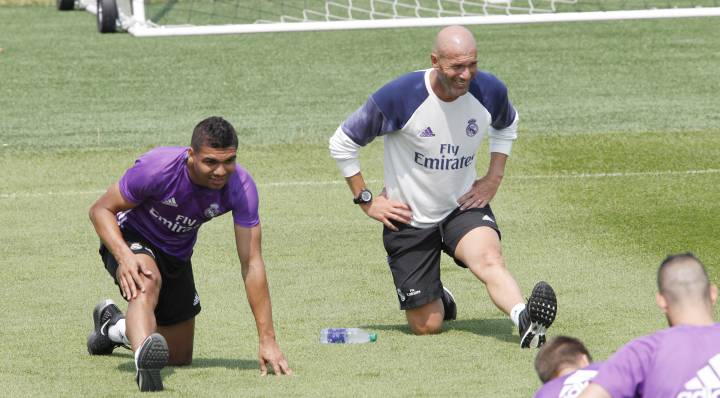 Casemiro loss a blow for Zidane
"No one else plays like Casemiro", Zidane hasn't tried to hide his disappointment at the Brazilian's leg fracture that will see him out for up to two months. And that's because since Zidane suddely saw the light with the Brazilian the tough midfielder has been a rock for the French coach.
Zidane saw the light
In his first eight games in charge Zidane had little time for Casemiro: he only played 21 minutes. But then came the rude awakening of the defeat to Atleti in the Bernabéu (0-1). Zidane demanded his side "get more stuck in", and in the next game Casemiro started, against Levante, and since then he's been the apple of Zidane's eye.
His play frees up Kroos and Modric and gives the team the balance it needs with Benzeman, Bale and Cristiano up front, and often remiss in their defensive duties.
The Casemiro effect
Casemiro's effect on Zidane's team is striking. With the Brazilian in the side they've won every game in LaLiga: 14 out of 14 (interestingly one of them in Las Palmas, where Casemiro scored to make it 1-2 in the 89th minute. He, of course, won't be playing there this time around).
Just 63% win rate without Casemiro
The problems for Zidane have come without Casemiro in the side; in fact he's only won 63% of the games where Casermiro was missing. Seven wins, three draws (1-1 against Betis, Málaga and Villarreal, the latter the game that brought Real Madrid's record equalling winning run to an end) and that defeat to Simeone's side.
Casemiro effect in the Champions League too
Including the Champions League, Real Madrid have won 90% of their games with the Brazilian playing (in 20 matches: 18 wins, a 0-0 draw against City and a loss to Wolfsburg) and without him just 66% (eight wins, three draws and a loss).
Zidane has no natural replacement for Casemiro
Beyond the stats, the headache Zidane has is that there is no natural replacement for Casemiro. He'll turn to Kroos to anchor the side in midfield, but it's not his favourite position and he struggles. He wins back fewer balls than Casemiro and gives more away...
But Kroos will start against Las Palmas and Zidane will have to choose between Isco and James.