What's up with Cristiano?
The Portuguese player is evidently far from his best since his comeback after the Euro 2016 final where he sustained a knee injury.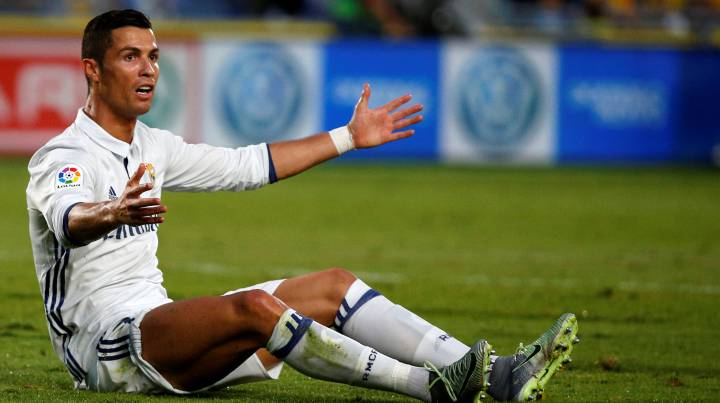 Real Madrid are worried about Cristiano Ronaldo. His performances in the 2016/17 campaign have been discreet and matters came to a head in Las Palmas with Zidane taking a bold step and substituting the No. 7 in the 72nd minute of the match just five minutes after he had a hand in Benzema's goal.
The Portuguese striker was clearly unhappy with the change but Madrid have brushed this off claiming it was a display of wounded pride and that the relationship between coach and player is excellent. What is creating anxiety at the club is the unknown factor behind the strikers poor form.
Strike-rate
This is the first season since his arrival at the club where the 31 year old has only bagged one league goal after six fixtures and has only scored twice in all competition (1 LaLiga goal in the third match of the season vs. Osasuna and against Sporting Lisbon in the Champions League). The forward missed the first two league matches but his strike rate to date this campaign is 0,50 goals per game. This represents less than 50% of his overall strike rate as a Real Madrid player of netting every 1,04 games. In the past two games he managed 2 shots against Villarreal and fired on goal six times during Saturday's game in Las Palmas.

Knee injury
The background to Cristiano's problem is clearly physical despite claims from Zidane that Cristiano is "100% fit" and the left knee is still an issue for the player from Madeira. The player isn't breaking into his traditional burst of explosive pace and the player has lost 3kg in his efforts to apply less strain on the lower part of his body.
Madrid will hope for a positive response from the player in Dortmund tomorrow knowing his special affection the competition is for Cristiano. "I made the change thinking of the Borussia game" stated Zidane on Saturday.



Liga BBVA
Leaders
Luis Suárez

5

Goals
Kroos

427

Passes
Sergio Ramos

63

Steals
*Update 26 de septiembre de 2016