Borussia Dortmund vs Real Madrid: UEFA Champions League, goals and match report
Borussia Dortmund and Real Madrid played out a 2-2 draw in their Group F Champions tie in Signal Iduna Park. AS English brought it to you liveReal Madrid-Deportivo: LaLiga matchday 20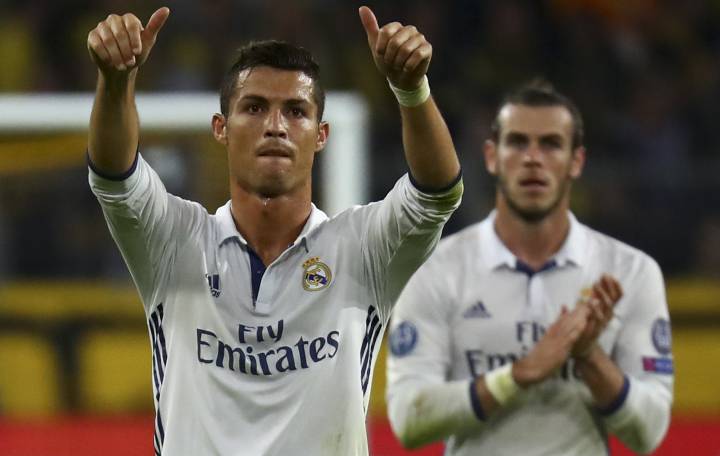 Borussia Dortmund 2 - 2 Real Madrid: Match report
Who says the Champions League group stage matches are dull? A cracking tie unfolded in front of us tonight at the Signal Iduna Park which saw the two clear favourites to go through in Group F take away a point each. Goals from Cristiano Ronaldo, Aubameyang in the first half and Varane and Schürrle in the second are likely to leave both managers quietly pleased with the outcome.
Contrast in styles, similar threat
It was a tale of two different styles but a very typically home and away performance. The Germans had 60% of the ball across the game and for much of the match looked to control their passing while moving forward as a unit - although there were times when this was altered to find the runs of Aubameyang in a much more direct style although with little joy. Madrid on the other hand were direct from the start, an away side, knowing the quality of their opposite numbers, targeting quick breaks into space whenever possible. And they were a threat in this capacity.
Far from perfect
Although Dortmund were more commanding, it was a battle in which neither team flowed for the duration and there were mistakes a plenty for the goals as well as for numerous other chances created which will be picked apart in respective camps until the next match changes the focus. One in particular for the Spanish side will be the return of Keylor Navas in goal, undoubtedly a top keeper but opening the catch vs punch debate. The game between these two at the Bernabeú is likely to be billed as a table-top decider.
---
Borussia Dortmund 2 - 2 Real Madrid: As it happened
Min 90+3 | Peep peep peeeeep! It's all over here and both teams leave with a point. Thanks for joining us and we hope to see you for our next live game as Atlético Madrid face Bayern Munich...again!
Min 90+2 | Chance! Bale at the back post almost (maybe should have) won the game for the visitors from a beautifully teasing ball in from Morata. That could be the last chance.
Min 90 | Three minutes added on. Did I mention in all the excitement that Morata came on for Benzema. Didn't think so.
Min 88 | The volume inside the stadium has just gone up a notch or three as the home fans taste more than just a point here. Especially as the keeper steps up to play sweeper.
Min 87 | Gooooooooaaall!! There's only one way of life as Schürrle drives in the leveller. Another cross comes into the area and as Aubameyang eyes a bicycle kick Carvajal chest it away...into the path of the German who drives it into the roof of the net.
Min 85 | Pressure building from the home side. Do they have enough time?
Min 82 | Save! Keylor denies a Dortmund strike after Sergio Ramos' poor control. Madrid looking a little nervous as the pressure is maintained in the final third but eventually get rid of three or four balls fired into the mix. 'Av it time.
Min 79 | Another chance for Madrid. Cristiano beats his defender on the inside left of the area and drills a shot which is pushed behind at the near post by Bürki. It would take a brave man to suggest there'll be no more goals tonight.
Min 77 | Modric breaks and leads Madrid into an incredible four on two attack. Guerreiro brings the Croatian down before he can feed his teammates and is shown a yellow. Guerreiro then subbed off for Ramos.
Min 75 | Opening for the hosts as Schürrle is fed with neat flick round the pressing defender but his chosen first touch is to push it wider for his run on goal making his shot harder. Across and wide of a diving Keylor.
Min 72 | The home side building the play methodically again but not getting in behind the white defensive formation - which has midfielders pressing intelligently. Pulisic on.
Min 71 | Kovacic on for James
Min 70 | Chance for Dortmund. Guerreiro gets plenty behind it from the edge of the area but Keylor was down quickly to his left to push it away. That was the type of shot you don't try to catch.
Min 68 | Goooooooool! Benzema sneaks in at the back post to meet the deep cross in after a short corner. The ball smacks off the upright then the bar and drops a yard out for Varane to finish off.
Min 65 | Madrid again look to released Bale down the right flank. From it they win a corner and the resultant header just clears the bar.
Min 62 | Great chance for Madrid. Ball won back just outside their own area and Bale released into space on the right wing which he exploits but then plays a weak pass into the onrushing Benzema who gets smothered out as he tries to get a clean shot away.
Min 60 | Chance for Cristiano. Ball swung in from deep on the left and the Portuguese striker almost gets a good connection at the back post. Almost.
Min 58 | Schürrle comes on. Oh yes he does,
Min 57 | There's certainly no suggestion that either side will accept the draw, both looking to attack when they have the ball. The difference remains that the away side is playing like...well, an away side, much more direct therefore turning over possession more than the Germans who are trying a more measured approach.
Min 55 | Both teams failing to get a grip of a spell of concerted possession as Chelsea reject Schürrle prepares to come on.
Min 51 | Dortmund go forward and Dembélé turns Danilo and Varane back and forth on the inside right of the area, gets a strike away but it's high and wide.
Min 50 | Bale wins a free kick far from danger drawing in a foul from Schmelzer with a trademark outside or the foot turn. Schmelzer sees yellow.
Min 48 | For anyone needing confirmation, Aubameyang was credited with Dortmund's goal. Must have needed goal-line technology to determine that.
Min 46 | Early home injury concern. Ginter down and off the pitch getting treatment for what looked like a non-contact twist. Madrid win a corner which is headed clear. Ginter back on.
Let's go! The players are coming back out and as our planned mole in each dressing room failed to get through the concrete floors we'll hope to identify the manager's instructions from the early stages of play.
Borussia Dortmund 1 - 1 Real Madrid: Half time summary
Well. That was enjoyable. The general picture of the game was of a home team controlling much of the ball - around 63% possession - with the away side looking for gaps to hit on the break, which they were finding. Keylor's return in goal was one of the pre-match talking points and certainly his reluctance to catch the ball when straight at him will be discussed post-match. Based on chances made and potential threats, going into the break level is not too far off the mark.
HT: Borussia Dortmund 1 - 1 Real Madrid: First half Live!
Peeeeeeeeeep! Half-time. Go grab a cuppa, pint or other version of your favourite relaxant and we'll see you in 15 minutes.
Min 45 | Gooooo........no! Cristiano turns to celebrate a quick response only to see an Englishman with a flag in the air. The ball broke to Benzema on the right of the area and he chooses to lift the ball back across goal. It floats over the crowd of Germans and Madrid's number seven steers it back to the right hand post and in. His slow return to an onside position correctly spotted.
Min 43 | Gooooooool!! Dortmund win a free kick around 25 yards out and central (Cristiano had helped out his defense well by nicking the ball away only for Ramos to lose the ball and clumsily foul). Guerreiro curls the free kick medium pace into Keylor's arms but again the keeper chooses to punch. This time it doesn't go to safety and hits the backtracking Varane and bounces helplessly into the goal (Navas fell after punching). Aubameyang may have nudged it over the line.
Min 39 | Dortmund using all the pitch as they try to pull the hard working whites around and create an opening. Nothing so far.
Min 35 | Bale is spending some time working alongside Modric and Kroos in the middle of the park as James looks to threaten more in the front three. I'll be analysing the heat maps at half time...while fingertips go in some ice!
Min 33 | Chance! Good cross in from the right corner and Sokratis gets up and a strong head on it. Keylor chooses to punch rather than catch...it's cleared.
Min 31 | Ramos tries the quarterback pass to switch attacking sides and fails...but a clever step over from James turns it into a wonderful opportunity to break as it finds Bale wide. The subsequent pass to the turned and running James stops with a raised flag. There was plenty grass ahead if not.
Min 28 | A clear pattern emerging as Dortmund look to find gaps to set Aubameyang free but Madrid working hard to close the space down. The big striker was almost through and released a shot which struck the bar but wouldn't have counted. Offside.
Min 25 | As Dortmund push for an equaliser Madrid continue to look most dangerous on the break and James finds himself in space on the right with a great chance to slide in Cristiano coming centrally from the left. The Colombian dithers slightly and the gap closes which thwarts his attempted pass.
Min 23 | Lovely through ball played into Aubameyang's path with grass ahead but Varane drops a gear and accelerates in front of the attacker taking the ball in his stride and clearing.
Min 21 | The frenetic start has just been tempered somewhat by that goal. Both teams will likely be surprised with what happened and need to get their minds in gear for whatever the manager's instructions were for going a goal down/up early on.
Min 17 | Goal!!!!! Another chance for the side in yellow is stopped by Danilo and the ball is released for the break. Madrid players stream forward and the ball is played from left across to inside the right hand side of the box. James into Bale whose backheel finds Cristiano who drives it low into the left hand net.
Min 15 | Just as Dortmund press Ronaldo gets the ball in his usual wide berth and plays in Benzema nicely. The Frenchman controls and steps into the area with space to shoot but stumbles and falls. To the amusement of the home fans.
Min 13 | Dortmund have stepped up the pressure and are looking the more dangerous. Aubameyang was quick onto a soft back pass to Navas and left his studs in a position that could have caused some damage to the clearing keeper. He wasn't down for long though.
Min 11 | Another free kick to the Germans and Keylor has nothing to do as Aubameyang's effort is blocked on the way through to goal. Big claims for a penalty and from this veiwing position it definitely looked to have come off a flailing Ronaldo arm. An escape for Madrid.
Min 8 | Half chance for the home side as the ball is rolled along the edge of the Madrid box from the left and two players line up a shot. No clean contact - also known as a sclaff in some parts.
Min 6 | Quite a frentic start at the Signal Iduna. Who expected anything less. Crowd making their usual presence felt. Noisy!
Min 4 | Dortmund immediately get a free kick of their own. Castro hits the target but Keylor pushes it away. Almost a replica of what just happened at the other end.
Min 2 | Madrid win an early free kick on the edge of the area - nice lift over a sliding defender by the very far forward Kroos which is handled on the slide. Cristiano steps back, runs, and hits the target. Pushed away by Bürki, fired back in and deflected onto post by Benzema in offside position. Good start for the Spanish side.
20:45 Min 0 | Peep! We're off. Madrid start us off but lose possession twice in quick succession. The ball is then won back, played in to Cristiano whose first touch is a trick pass. Which came off.
20:44 | That special anthem kicks in which means it's almost time for kick off. A reminder that Keylor Navas has been brought back into the side, his first start for 135 days. An ant could walk 675 miles in that time!
20:41 | Teams are coming out led by English ref Mark Clattenburg.
20:20 | Under half and hour until kick off. While you wait for our frantic finger typing why not read this article all about the phenomenon of minute by minute commentary.
19:40 | As you may remember those social media guys running the Dortmund accounts were keen to remind Madrid of their team's difficulties with teams playing in yellow. We were hoping to get a response from their equivalents at the Bernabéu...and maybe we have it here.
---
Borussia Dortmund - Real Madrid: Starting line-ups
Borussia Dortmund: Bürki, Piszczek, Ginter, Sokratis, Schmelzer, Weigl, Guerreiro, Götze, Castro, Dembélé, Aubameyang Subs: Weidenfeller, Mor, Rode, Ramos, Schürrle, Pulisic, Passlack
Real Madrid: Keylor, Carvajal, Varane, Ramos, Danilo, Modric, Kroos, James, Bale, Benzema, Cristiano Ronaldo Subs: Casilla, Pepe, Coentrao, Isco, Lucas Vázquez, Kovacic, Morata
Zidane has put out a strong side on paper but there are three obvious questions to ask. Can Kroos suitably fulfil the Casemiro role? Can James continue his revival? Can the BBC click into gear? If the answer to all three is yes then Madrid may well come through their toughest test of the season so far with something to show for it.
With 20 goals in their last four league games and the fans making their presence known Dortmund will be looking for nothing less than three points. No surprise that Madrid target Aubameyang leads the line but too much focus on him could see opportunities for Guerreiro, Götze and Castro. The one ommision that surprised us was that Bartra will play no part.
---
19:20 | Real Madrid team news out early: Keylor, Carvajal, Varane, Ramos, Danilo, Modric, Kroos, James, Bale, Benzema, Cristiano Ronaldo. Still awaiting the home team details...
19:00 | It's a nice 20 degrees and sunny in Dortmund at the moment and it's going to remain dry for the game if a little cloudy. Zidane will be hoping the dark clouds aren't gathering over his head by 22:30.
18:35 | Evening everyone, hope you're all well and looking forward to this evening's big game. Check out our match preview (below the line). Recent news: according to Spanish radio station Cope, Real Madrid's goalkeeper tonight will be KEYLOR NAVAS.
The Costa Rican has been out since he had heel surgery in the summer, and Casilla has performed well in Navas' absence. Zidane has faced a barrage of questions about his plans over the goalkeeping role in his press conferences, but so far all he's said is that a) he has a plan b) he's told Casilla and Navas and c) he's not telling us. We await the teams eagerly...
---
Borussia Dortmund - Real Madrid: Preview Uefa Champions League
Second in the Bundesliga against first in LaLiga. A huge game in store this evening at Signal Iduna Park after maximum points for both sides in their opening fixture of the 2016/17 Uefa Champions League campaign. Dortmund putting six past Legia in Warsaw whilst Madrid stunned Sporting Lisbon with two late strikes to seal three points.
Borussia Dortmund
Thomas Tuchel commences his second season in charge at the Rhine based club and his clear objective is to wrestle away Bavarian dominance in the Bundesliga. The new season has started well for his men in yellow with just one blot on the 2016/17 copy book so far when a late goal in Leipzig saw Dortmund fall to their only defeat in the current campaign. Despite selling big names such as Gundogan, Hummels and Mkhitarian during the summer a well balanced Dortmund side with the perennial threat from top marksman Pierre-Emerick Aubameyang will pose a stern test for Zidane tonight.
As the Borussia Dortmund social media manager advised tongue in cheek after dropping points to Villarreal and Las Palmas in LaLiga, Real Madrid should be wary of teams playing in yellow.
Real Madrid
Such is the pressure and demands at Real Madrid that despite being unbeaten in LaLiga and topping the table, bizarrely Zidane's men come into tonight's game in Germany under pressure. Valuable LaLiga points dropped in the past two league fixtures following a 1-1 midweek draw with Villarreal followed by a 2-2 tie in Las Palmas have been overshadowed by the antics of Madrid's Portuguese striker Cristiano Ronaldo following his 72nd minute substitution in Las Palmas.
The player from Madiera was visibly frustrated with the decision and subsequent footage of his outburst will do little for harmonious squad spirit in the Madrid dressing room.
Zidane will hope that tonight's game in Dortmund is an opportunity to move on from Saturday's incident and would be the happier of the coaches with a point this evening. The French coach has brought a 22 man squad to Germany with Fabio Coentrao the surprise addition. Marcelo and Casemiro are key absentees for the French coach who is expected to play the BBC and his olny selection doubts surround the goalkeeping position (Keylor or Casilla) and who will play in the midfield role with Kovacic and James Rodriguez being key candidates.
---
Borussia Dortmund vs Real Madrid: possible line-ups
Borussia Dortmund: Burki, Piszczek, Sokrtatis, Bartra, Schmeizer, Weigi, Gotze, Guerreiro, Castro, Dembele, Aubmeyang.
Real Madrid: Casilla; Carvajal, Varane, Ramos, Danilo; Kroos, Modric, Kovacic; Bale, Cristiano Ronaldo, Benzema.
---
Borussia Dortmund vs Real Madrid: Build up to the match



Champions League
Leaders
Aguero

3

Goals
Joshua Kimmich

108

Passes
Tosic

19

Steals
*Update 27 de septiembre de 2016