Rostov face action over banana on pitch during PSV game
"This banana will cost us dearly," noted Russian Football Union chief after incident. WC 2018 says it is the first such example of racism "in years."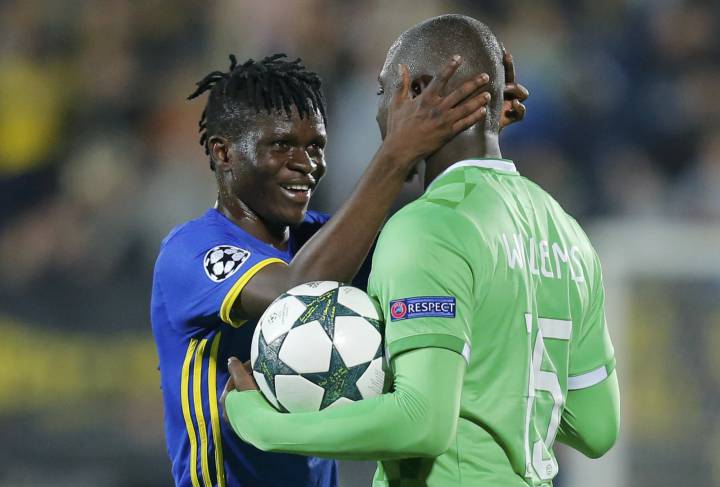 A banana was thrown onto the pitch in Rostov-on-Don in an apparent racist gesture during Rostov's Champions League Group D clash with PSV Eindhoven, Russian media reported, an incident that could prove damaging for the Russian side.
The fruit was seen on television being tossed onto the pitch of the Olimp 2 stadium in the 23rd minute of Wednesday evening's game and lay near the Rostov penalty area. The match ended in a 2-2 draw.
It was not immediately clear who was the intended target of the insult. Three PSV dark-skinned players were on the pitch at the time: French defender Nicolas Isimat-Mirin, Dutch left back Jetro Willems and Dutch right winger Luciano Narsingh.
PSV: "Uefa must decide punishment"
PSV say they will not ask UEFA to punish Rostov for the incident.
"Before the match, the club, along with the police, said they would take all necessary measures to ensure such incidents did not occur," PSV's media manager Thijs Slegers told TASS. "It is obvious that it is impossible to control every single person. Therefore, questions regarding a punishment for the club will be down to UEFA and this is none of our business. We can point out again that we are categorically against racism."
But the Russian Football Union (RFU) said Rostov would face a stiff punishment.
"This banana will cost us dearly," the honorary president of the RFU, Vyachelsav Koloskov told the R-Sport news agency. "It won't affect the [2018] World Cup, but given the negative past, you could not think of anything worse that could have happened. Rostov could be forced to play a match behind closed doors," he added.
"No such incidents over the last few years"
"There have been no such incidents over the last few years," the general director of the Russia 2018 Local Organising Committee, Alexei Sorokin, told TASS. "We are keeping an eye on things like this together with the Russian Football Union. However it seems it is impossible to control absolutely every person in the stadium. I think this was a one-off in Rostov and it will not be repeated."
On September 9, UEFA sanctioned Rostov by closing part of the stadium for one home match after the club's supporters were found guilty of racism during the second leg of their Champions League play-off against Ajax.