Kvitova thrashes Cibulkova to claim second Wuhan Open title
The Czech, seeded 14th, beat the world number four 6-1, 6-1 in a little over an hour for her first trophy success of the season.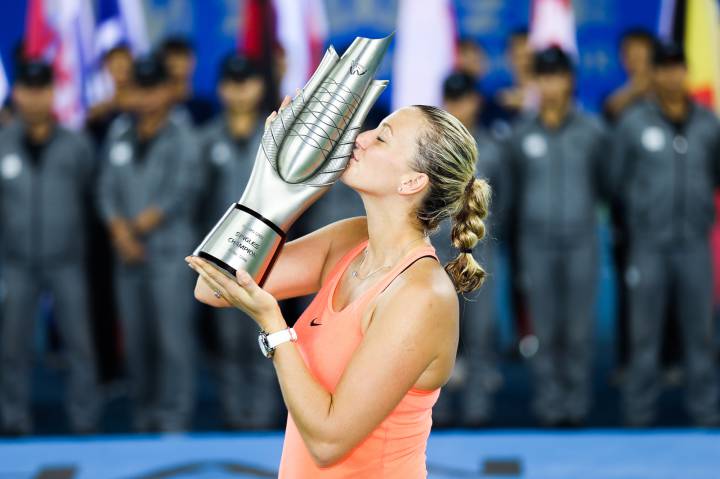 Petra Kvitova raced to a 6-1 6-1 victory over Dominika Cibulkova in the Wuhan Open final on Saturday to capture her first title of the year with a ruthless display of power hitting.
It was a second Wuhan title for the 14th-seeded Czech who will move up to 12th place in the race to qualify for the season-ending WTA Finals in Singapore after a campaign hampered by illness.
Kerber victory
The twice Wimbledon champion, who knocked out world number one Angelique Kerber in the last 16, took a stranglehold on the match from the start, losing one point in the first four games as she blazed through the first set.
Cibulkova, who had won her previous two meetings against Kvitova, played four three-setters in five matches en route to the final and fatigue appeared to catch up with the 10th-seeded Slovak as she managed just two winners in the entire contest.
"Wuhan, it's really one of my favourite cities," Kvitova said on the WTA website. "It was a great crowd all week, there were some incredible matches for me and I'm really happy that I can stand here as a champion again."
With the first set under her belt, Kvitova refused to take her foot of the gas as she struck 28 winners to coast to victory in a little more than an hour.
Cibulkova career high ranking
Despite her heavy defeat, Cibulkova will move up to a career-high eighth in the world rankings when they are released on Monday. Kvitova will climb to 11th.