Real Madrid 1-1 Eibar: match report and goals: LaLiga week 7
Gareth Bale cancelled out Fran Rico's opener as Madrid had to settle for point against a resolute Eibar team at the Bernabéu on SundayReal Madrid-Deportivo: LaLiga matchday 20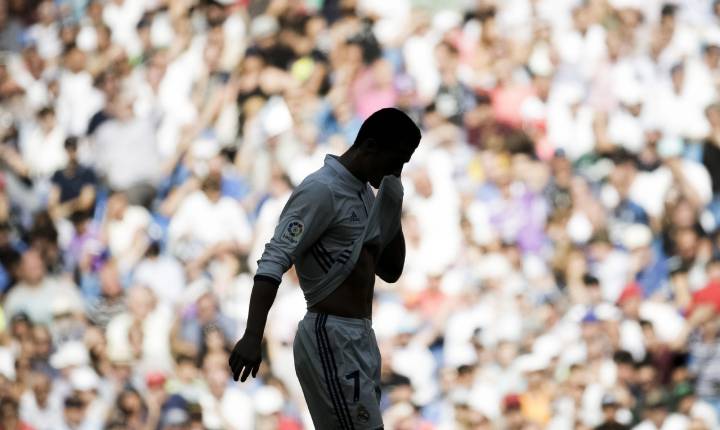 Real Madrid 1-1 Eibar: match report
Real Madrid were jeered off after being held to a fourth straight draw by a resolute Eibar at the Santiago Bernabéu in week 7 of LaLiga, as the Basques claimed their first ever league point against Los Blancos.
Zinedine Zidane's men had kicked off the season with six wins from six in all competitions, but have now been held in consecutive games by Villarreal, Las Palmas, Borussia Dortmund - and Sunday's visitors.
Fran Rico heads Eibar in front
Madrid, who lost James Rodríguez to injury in the warm-up, came into the clash having never even conceded a goal against Eibar in the Spanish top flight, but that record was quickly wiped out as Fran Rico headed the away side into an early lead.
In just the fifth minute, Ander Capa swung over a delightful right-wing cross and Rico stooped to nod past goalkeeper Keylor Navas, who surely could have done more to keep the effort out.
Real equalise through Bale
Real - also missing crocked trio Luka Modric, Casemiro and Marcelo, with captain Sergio Ramos rested - were soon level when Cristiano Ronaldo crossed from the left for Gareth Bale to nod past Asier Riesgo ten minutes later.
But that was as good as it got for the home team. Indeed, Eibar were far from intimidated by their hosts and ex-Madrid man Pedro León had the clearest opportunities to put Los Armeros back in front either side of the break, with shots on the angle - the first after a terrific surging run.
Morata goal ruled out, Bale hits woodwork
Cristiano might have found the net with openings in both halves - particularly with a close-range effort soon after the restart that flew over from substitute Álvaro Morata's knock-down - but was far from his clinical best.
Morata then had the ball in the net shortly before the hour mark only to be flagged offside, before Bale came the closest to getting Real's second with a powerful header that rebounded off the post.
Madrid huff and puff, Eibar win deserved point
Defender Mauro dos Santos almost headed past his own keeper in the closing stages, but in the end it could hardly be said Eibar had required a backs-to-the-wall display to earn a merited point as their creditable start to the campaign continues.
Having begun the weekend top, Real are now tied on points with Atlético Madrid, who won at Valencia earlier on Sunday, and drop below their neighbours on goal difference.
Here's how it happened:
Real Madrid 1-1 Eibar: full-time summary
Peeep! It's all over! Eibar win their first ever league point against Real Madrid, and Los Blancos have now been restricted to a draw in their last four games! The whistles ring out at the Bernabéu.
Real Madrid 1-1 Eibar: second half
Min 93 | Bale cuts back onto his left and curls in a cross, which Riesgo rises to claim. That has to be just about that.
Min 92 | Final sub for Eibar: León off, Adrián González on.
Min 90 | Three minutes of added time. León picks Danilo's pocket on the left touchline and celebrates away from him - that's poor from the Brazilian - and feeds Bebé on the left. It's a dangerous break...but Pepe is there and the former Manchester United man can't capitalise.
Min 88 | Real continues to search for a winner, but it's all huff and puff as Kroos' cross is headed away before Kovacic injects a bit of zip and invention into the attack with a neat ball into Ronaldo...who's offside.
Min 86 | Second change for the away team, Peña coming off for Bebé. They're within minutes of a historic point.
Min 85 | Bale pings a diagonal ball for Cristiano to chest down at the back post, before firing a shot away that is deflected wide. From the resulting corner, Dos Santos then very nearly heads into his own net, but Riesgo is there!
Min 83 | Rico is the next man to pick up a yellow card after a foul on Kovacic. Carvajal then crosses towards Asensio, but he gets his header all wrong and directs his header high and wide with the top of his bonce.
Min 82 | Kovacic looks to slip Ronaldo into the box, but Riesgo is alive to the situation and dashes out to grab the ball. Cue shots on Spanish TV of home fans with looks of suffering on their faces.
Min 81 | Eibar win a corner, León flights it in superbly, Dos Santos rises...but he heads wide.
Min 78 | Morata attacks his man and cuts it back across goal for Bale, where Luna is in position to knock it out. Moments earlier, by the way, Bale - already on a booking - brought down García with a challenge that Martínez Munuera might have deemed yellow-card worthy, but didn't.
Min 76 | Just under a quarter of an hour to go at the Bernabéu. Are Real on their way to a fourth consecutive draw?
Min 75 | First substitution for Eibar, Enrich heading off to warm applause from the travelling Basque fans, and Kike García trotting on.
Min 72 | Kroos then earns himself a booking for a high foot on Enrich, and it's a chance for León to swing it in...but Real clear, and it's the first chance for Asensio to get a hold of the ball - but he's robbed of it and the opportunity to counter is gone.
Min 71 | Third and final Real substitution as Los Blancos, Marco Asensio on in place of Isco.
Min 69 | Another yellow for Eibar, Rubén Peña going into the book for continuing when play had already been brought back, I think...
Min 68 | Ronaldo heads over! Bale plays Isco in in the right-hand channel, and with the ball looking to be running over the byline the Spaniard juuuust stretches to wrap his foot around it and dig out a cross...which Cristiano can only direct high!
Min 66 | Cristiano gets it out of his feet and has a dig from 20-odd yards, but it's over.
Min 65 | Morata is too slow there! Riesgo fumbles and the former Juventus forward nicks in to take the ball off the Eibar keeper, but with Cristiano in the middle he takes too long to make his mind up and the Basque defence win it back off him.
Min 64 | Time and again Eibar are looking dangerous down that right flank. Capa creates space for a cross with a one-two, fires over a fizzing ball and Enrich can't connect with it.
Min 60 | Headed chances for both sides! First Enrich nods just over from Capa's right-wing cross, before the ball is up the other end and Bale's noggin is guiding a powerful effort onto Riesgo's left-hand post!
Min 58 | The pace has stepped up a a couple of notches at the Bernabéu, and Ronaldo wins a free-kick on the edge of the box after a challenge by Lejeune, who is booked. The Frenchman got plenty of ball there, to be fair to him... CR7's ball into the area falls to Nacho, but he can't control.
Min 56 | Penalty for Real Madri...no! Morata tumbles under keeper Riesgo's challenge, but Martínez Munuera says no, and books the striker for diving!
Min 54 | Real are appealing for a penalty as the ball appears to hit García's hand, before Morata has a goal ruled out! Cristiano heads a right-wing cross at goal, it's parried by Riesgo and the academy graduate snaffles up the rebound - but he was offside, and the flag rightly goes up.
Min 53 | Uuuufff! Cristiano could and really should have put the hosts ahead there. Bale flights a delicious outside-of-the-boot ball to the back post, where Morata nods it down back into the centre. Isco can't get a shot away, but it falls to Cristiano... and he blasts over from 10 yards!
Min 51 | Eibar have made a purposeful start to this second period, and you can hear the rising discontent among the home faithful.
Min 49 | León is released on the right and is in behind the Real defence, but his attempted effort on the angle is tamely hit. A real opening for the visitors, but he just couldn't get hold of it.
Min 47 | Early second-half yellow for García for taking down Kovacic. He accepts his booking with unusually good grace for your modern-day footballer, exchanging a sort of high-five thing with the ref. Kroos has a chance to deliver into the box, but it ends up in the hands of Riesgo.
Peep! The second half gets underway! Zidane has shuffled his pack at the break, bringing on Álvaro Morata for Karim Benzema and Nacho Fernández for Raphael Varane. No changes for Eibar.
Real Madrid 1-1 Eibar: half-time summary
Peeep! That's half time at the Bernabéu, where Fran Rico put the away team into a shock early lead with a header that Keylor Navas should surely have done better with. Gareth Bale then brought Real back on terms with his head and the hosts have had the lion's share of the possession, but it's not like Eibar have been struggling to keep their heads above water against wave after wave of rapier attacks from Zinedine Zidane's men. There have been chances for Real, but Eibar might also have had a second with that run and shot from Pedro León. The locals sounded none too impressed when the whistle went.
Real Madrid 1-1 Eibar: first half
Min 45 | Double booking for Real Madrid as Carvajal brings down Rubén Peña and earns himself a yellow, but not before Bale talks himself into the referee's notepad for a bit of lip. León stands over the free-kick - it's a great chance to swing in a dangerous delivery - but it's long.
Min 43 | Now it's Bale's turn to provide for Cristiano, who gets up and can only nod it off target.
Min 41 | Chance for Bale, and it's almost a carbon copy of his leveller. Cristiano makes himself half a yard of space on the left to float over a cross to the back stick, where the 'Cardiff Express' gets his bonce on it - but can't direct it goalwards.
Min 38 | Real win a corner on the right, which is cleared only as far as Kovacic on the edge of the box. The Croat winds himself up for a spectacular effort, but it's a swing and a miss!
Min 36 | León has a chance to run at the Real area, but Varane gets back to snuff out his intentions. The guests then enjoy an extended spell in the Real final third, whipping in one, two, three crosses before finally winning a corner that León delivers, only for Ronaldo to buy Real a free-kick and end the danger.
Min 31 | Cristiano runs at the Eibar backline on the left and pings a low shot at Riesgo's goal from inside the area, but the keeper parries the effort for Lejeune to clear.
Min 30 | Opening there for Benzema - but he can't direct it towards goal! Cristiano slips Danilo in on the left-hand side of the box, the Brazilian heads to the byline, staying on his feet as Dani García appears to clip him (the ref would have definitely had a decision to make had he gone down). He cuts it back to Benzema, who's falling as he sticks out a leg and can only turn it back where it came from from a few yards.
Min 28 | Gonzalo Escalante is the first man into Juan Martínez Munuera's book, the Argentine bringing down Kroos. Few arguments can he had with that one.
Min 25 | Danilo whips in a dangerous cross towards Karim Benzema, but Dos Santos is there before the Frenchman to head it away. It will shock you to hear that Real are dominating possession.
Min 20 | Ooooh! Pedro León almost grabs a wonder goal against his former side! He bursts through a cluster of white shirts on the right, surges into the box and blasts his shot at goal, but Navas is on his toes and knocks it behind!
Min 17 | Bale combines nicely with Isco and touches in a low centre, which Eibar clear...before the Welshman equalises! Ronaldo twists and turns Ander Capa on the left, looks up and clips over a left-footed cross to the back post, where Bale nods it past Riesgo! 1-1 at the Bernabéu!
Min 15 | Danilo makes his way forward down the Real left, gets it out of his feet and betrays the fact he's a right-back playing on the other flank by plopping a left-footed cross high and over the bar.
Min 13 | Looking at that Rico goal again, Navas really didn't cover himself in glory with some very uncat-like reflexes.
Min 10 | Has Eibar's goal merely served to anger the beast? We'll find out. Mauro dos Santos almost nods Real level with a defensive header on the stretch, but is relieved to see it drop wide for a corner, which comes to nought.
Min 7 | Just before Rico had the temerity to interrupt my train of thought, it was confirmed that James Rodríguez did himself a mischief in the warm-up. Muscle problem.
Min 6 | That was Eibar's first ever league goal against Real Madrid, by the way.
Min 5 | Gooooal! Eibar take a surprise lead! The cross is swung over from the right, and Fran Rico is there in the box to meet it with a low - but hardly bullet-esque - header towards Keylor Navas' left-hand corner. The Costa Rican makes a little bit of a hash of it, to be honest - and the visitors are ahead!
Min 4 | Bale it is again that gets the early pulse racing, charging between two men and walloping an effort at Asier Riesgo's near post with his left peg...but it's just wide.
Min 3 | The fans are out of their seats for the first time this afternoon, as Gareth Bale gallops down the right and centres low, but none of his friends in white can get on the end of it. It runs to Danilo arriving on the left, flank, but his cross comes to zip.
Peeep! And they're off!
Two mins to kick-off | The teams are out! Pepe is Real captain in the absence of Ramos. Handshakes? Check. Toin coss? Check. Photos? Check. Sun-drenched turf? Check. Let's go.
---
Real Madrid - Eibar: confirmed starting line-ups
Real Madrid: Navas, Carvajal, Pepe, Danilo, Kroos, Isco, Kovacic (in at the last moment for James), Bale, Benzema, Cristiano
Eibar: Riesgo, Capa, Dos Santos, Lejeune, Luna, Escalante, Dani García, Fran Rico, Peña, Pedro León, Enrich
---
Real Madrid - Eibar: latest news
16:11 | We're hearing that there's a late change in the Real line-up, with Mateo Kovacic stepping in at the last minute for James. And yes, just as I type that there is the Croat lining up in the tunnel with his team-mates.
16:08 | By the way, Cristiano Ronaldo is yet to fail to find the net against Eibar, with five goals in four games against the Basques. He's not had the prettiest of starts to the season, but after a much-improved showing - and a goal to boot - against Dortmund on Tuesday, Los Armeros look to be the ideal opposition for Ronnie to show that, in the words of a young Wayne Rooney, 'the big man's back' (or was it 'the big man's back in town'? I forget).
15:58 | José Luis Mendilibar appears to have set his Eibar side up with five in the middle of the park and Sergi Enrich up top. Given their LaLiga record of nul points, zilcho goals scored and the small matter of 13 conceded against Real so far, perhaps it's not much of a surprise...
15:55 | As you've probably heard by now, Real are without Luka Modric, who underwent knee surgery today. Isco comes in for his first start for Los Blancos since early August, having so far enjoyed under an hour of LaLiga football this season.
15:50 | 25 minutes to go until kick-off at the Bernabéu, and here's more on the team news revealed above a few moments ago, as Isco and James start in midfield, Danilo fills in at left-back and the 'BBC' start up front, despite suggestions Álvaro Morata might come in for Karim Benzema.
15:10 | Friday was an important day for Cristiano Ronaldo - his son made his debut for Pozuelo Under-8s. CR7 cheered as his son scored in the 4-3 win and didn't mind acting as the ballboy, whenever the ball went out of play! Read more and watch the video here:

13:45 | If you weren't aware, Real Madrid have drawn their last three games, all of which came against sides wearing yellow. Eibar, whose away kit is yellow, obviously aren't superstitious though (which is rather a rarity in football). They've decided not to test fate and will stick to their claret-and-blue first kit for the match at the Bernabéu. Spoil sports!
12:40 | Talking of contracts (see previous post), much of the talk this week at Real Madrid has been around the still-to-be-renewed contact of Pepe. The 33-year old defender is yet to sign a new deal with the current one set to end in June. Our Real Madrid editor, Tomas Roncero, however believes it's incomprehensible that Pepe won't be handed an extension.
11:15 | With midfield linchpins Casemiro and Modric both out, a player that Real Madrid could really do with right now is the young Marcos Llorente. The dynamic and physical holding-midfielder, however, is on a season-long loan at Alavés, and although the club are trying to negotiate an early release for the 21-year old from his loan agreement, it is unlikely that Los Blancos will be able to able to get him back until January at the earliest.
10:30 | In place of the injured Modric, Real Madrid coach Zinedine Zidane has confirmed that Isco will start against Eibar this afternoon. It could be just the opportunity Isco needs to show what he can do, you feel, after an injury disrupted start to the season in which James has leapfrogged the Spaniard as Zidane's most used replacement.
09:05 | ICYMI: Yesterday's big team news from a Real Madrid perspective was that Luka Modric has been ruled out injured for up to a month with a cartilage injury. A huge blow, especially with Casemiro already sidelined. Read about it here.
09:00 | Good morning campers! We're up and already excited for this afternoon's game at the Bernabéu, where Real Madrid will be looking to get back to winning ways against Eibar following three draws. We'll be bringing you news, updates and match build up throughout the day in the lead up to the game, so stay right where you are!
00:25 | Evening all, and welcome to our live coverage of Real Madrid-Eibar. We'll be here with all the latest news from first thing tomorrow morning. In the meantime, check out our preview of the match below!
---
Real Madrid vs Eibar: LaLiga week 7 preview
Leaders Real Madrid welcome Eibar to the Spanish capital in Sunday's second LaLiga fixture of the day, with Zinedine Zidane's men out to get back to winning ways following three consecutive draws in all competitions.
Much has been made of Real's recent case of 'yellow fever', with the stalemates coming against Villarreal, Las Palmas and Borussia Dortmund - all sides who wear the colour. Indeed, it had even been suggested Eibar might switch to their yellow away shirt for the trip; however, they're set to resist the temptation.
Matters of apparel aside, there's no doubt history favours the hosts as they bid to reacquaint themselves with victory: the teams' four previous top-flight meetings have yielded a clean sweep of Real victories, with a total of 13 goals for - and none against.
Real Madrid
Madrid, who started the weekend one point ahead of Barcelona, will be without rested captain Sergio Ramos, who hasn't a missed a minute this season. In his absence, Pepe and Raphael Varane are expected to start in central defence.
Full-back Marcelo and crucial midfield anchorman Casemiro remain out, while on Saturday Luka Modric had 'Zizou' again reaching for the aspirin to quell his growing injury headache: it was confirmed that the playmaker has been sidelined with a knee problem, leaving the middle of the Real park shorn of two key figures.
Zidane has revealed that Isco - who has just 57 minutes of LaLiga action under his belt this term - is to play in his rejigged midfield, with James Rodríguez, Marco Asensio and Mateo Kovacic also in contention to join Toni Kroos in the engine room.
Meanwhile, left-back Fabio Coentrao - who had been thought to be in line for a return to Real Madrid first-team duties - is once more unavailable due to his ongoing fitness issues.
Eibar
Guests Eibar travel to Madrid missing the injured Alejandro Gálvez but in a highly creditable eighth position in the table, after starting their third season in LaLiga with three wins and a draw from their first six.
Los Armeros' latest league triumph came against Real Sociedad last weekend - a 2-0 success that was earned despite a comedy penalty miss (think Beckham versus Turkey) from midfielder Pedro León, who faces his former employers at the Bernabéu.
Ex-Real man León it was who publicly slapped down defender Danilo, telling the Brazilian to "learn the values of Real Madrid" in the wake of his warning to Eibar that they would be the ones to "pay the price" for Los Merengues' recent frustrations.
Will Danilo's words have provided Jose Luis Mendilibar's charges with the extra motivation they need to end their travails against Real? We'll find out.
---
Real Madrid - Eibar: build-up to the match



Liga BBVA
Leaders
Luis Suárez

5

Goals
Kroos

427

Passes
Illarramendi

74

Steals
*Update 2 de octubre de 2016
Liga BBVA
Leaders
Luis Suárez

5

Goals
Kroos

427

Passes
Illarramendi

74

Steals
*Update 2 de octubre de 2016