Have Zidane and Luis Enrique gone too far with rotations?
Real Madrid have matched Rafa Benitez's start to last season while Barcelona have made their worst start in 11 years. Neither coach has named the same side in more than a single game.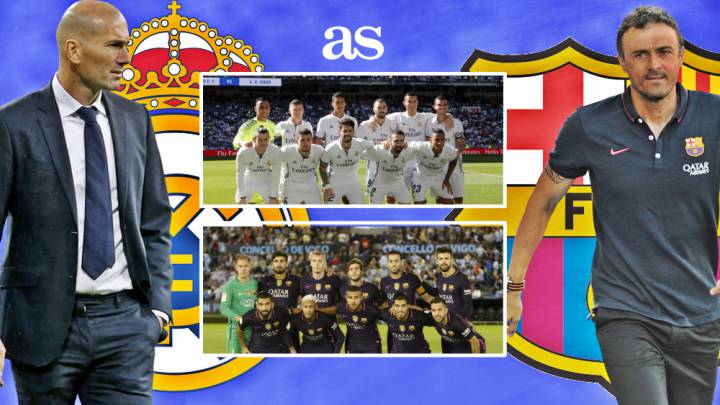 Zinedine Zidane and Luis Enrique are yet to play the same line-up in more than a single game this season. Whether it's been to rest players or to adapt to injuries, changes have been made week in, week out. And the results haven't been good. Zidane has matched the ill-fated Rafa Benítez's start to the league season while Luis Enrique has made his worst start to a league campaign since he took over at Barcelona. It's what tends to happen when an idea goes too far: glasses with no lenses, pizza with pineapple, rotations…
All is not rosy in Zidane's world of rotations
Zidane's Madrid have played 10 games; 7 in LaLiga, 2 in the Champions League and once in the European Super Cup. In none of those games did he name the same starting line-up. And it shows. In the Champions League they've registered a win and a draw (last season they'd won two from two at this stage) and their 15 league points – four wins and three draws – match Benitez's record. His fate is well known.
Barcelona improve on their Champions League record
Luis Enrique's Barcelona side have made a worse start than last year – racking up 13 points instead of 15 – but they have bettered themselves in the Champions League, registering two wins instead of a win and a draw. And, of course, they won the Super Cup comfortably against Sevilla after losing in spectacular fashion to Athletic last season. Going back to the league, though. This is the club's worst start to a league season since the days of Frank Rijkaard and Ronaldinho.
The depth and quality of both squads is not in doubt, but it's clear that a combination of injuries and a propensity among Zidane and Luis Enrique to rotate their best sides has led to a startlingly inconsistent start to the season.