Meet Pep Guardiola's team of 16 assistants at Manchester City
The Manchester City manager has surrounded himself with a team of assistants charged with helping him implement his obsessively detailed plans.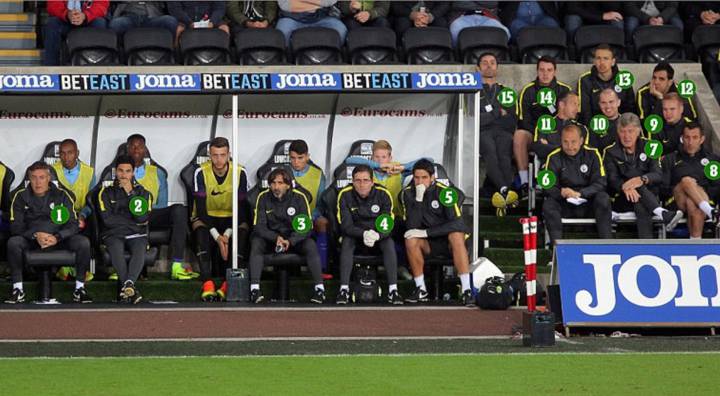 Pep Guardiola's obsessive attention to detail is no secret and has come as no surprise to find out that he's imposed a series of strict rules – such as prohibiting certain foods and cutting off internet access - on his players since taking over at Manchester City. He's as detailed on the pitch as he is off it, keen to ensure that his players understand their role 100%.
Guardiola has a team of 16 who accompany him to every game and in every training session, helping him to implement his vision at the club. Here's a who's who of Guardiola's team at Manchester City.
1. Domenech Torrent
His right-hand man, Torrent has been Guardiola's assistant since starting out managing Barcelona B. He's often referred to in the British media as Guardiola's deputy.
2. Mikel Arteta
Guardiola likes to surround himself with people who understand the football of the country he is managing in. In England, his chosen man is Mikel Arteta. The former Arsenal, Everton and Barcelona midfielder retired this summer and didn't hesitate when he got a call from Guardiola asking him to join his technical team.
3. Lorenzo Buenaventura
City's fitness coach. He first worked with Guardiola in 2008 during his first season in charge at the Camp Nou. His work is fundamental to Guardiola's, preparing his players physically to be able to pressure high up the pitch and to maintain a high intensity game.
4. Max Sala
The club doctor. Already part of the technical staff before Guardiola arrived, he's now been joined by Pep's trusted man Eduardo Mauri.
5. Steven Lilley
Physio. He worked at Norwich City until 2011 when he got the call from Manchester City. He's worked with the first team since 2013.
6. Rodolfo Borrell
Technical Assistant. His great talent is finding future stars from the youth set-up. He worked at Barcelona between 1995 and 2008, where he formed part of the team that developed Leo Messi, Gerard Pique and Cesc Fabregas. He moved to England in 2009, first with Liverpool and then with City since 2014.
7. Brian Kidd
Technical Assistant. A survivor of the Pellegrini era, Guardiola didn't think twice about keeping him on after meeting him. He previously worked under Si Alex Ferguson at Manchester United and was linked with a return to the club after the appointment of Jose Mourinho but ultimately decided to stay at the Etihad.

8. Mark Sertori
Physio Sertori worked as part of the England set-up under Fabio Capello. He previously worked with Sam Allardyce at both Newcastle and Bolton before making the move to City.
9. Michael Clitheroe
Assistant to kit man Alistair Marland. Like Sertori, he also worked with Allardyce at Bolton before joining City in July 2014.
10. Barry Hamilton
Sporting Analyst. Hamilton studied Sport Science at Loughborough University before working for the Croatian Football Federation. He joined City in August 2014.
11. Sam Erith
Erith is in charge of post-match recovery. Roy Hodgson brought him into the England set-up to before Euro 2016 to help them recover from the long-season ahead of the tournament.
12. Tom Shineton
Sports Therapist. Shinetan previosuly worked at West Brom, Leyton Orient and Northampton Town before signing with City.
13. Federico Genovesi
Physio and Pep's trusted man with regards to player recovery. His work with Vincent Kompany and Kevin De Bruyne has been key for Guardiola.

14. Alistair Marland
Kit man and another survivor of the Pellegrini era. His role is simple: make sure that the players have everything they need when they enter the dressing room.
15. Xabier Mancisidor
The goalkeeper is a fundamental piece of Guardiola's system. Everything starts at the goalkeeper's feet. Mancisdor was Pellegrini's goalkeeping coach, following him from Malaga to Madrid then to City. Despite his close relationship with Joe Hart, who Guardiola sent packing on loan to Torino, the new manager is happy with his work and has decided to keep him on.
16. Ben Thompon
Sports Therapist. Thompson began his career as a therapist working with the Welsh rugby team before joining City in 2007.