2018 WORLD CUP | ITALY 1-1 SPAIN
Pellè expelled from Italy camp for snubbing the coach
The forward has been removed from the squad as punishment for refusing to shake Giampiero Ventura's hand after being substituted in last night's game against Spain.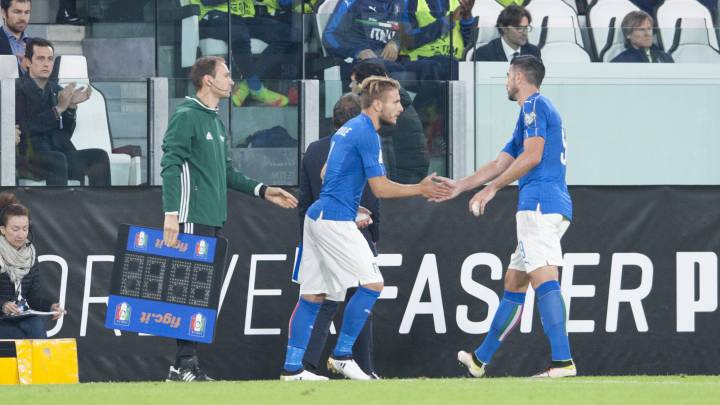 Pellè penalised for disrespect
A rash error of judgement could well cost Graziano Pellè his place in Italy's national side. The forward couldn't contain his anger when he was substituted for Ciro Immobile in last night's World Cup qualifier against Spain, snubbing coach Giampiero Ventura who had extended his hand to the player, who walked straight past and down the players' tunnel to the changing room.
Ventura has made it very clear that such behaviour won't be tolerated and has expelled Pellè from the Italy camp. The player will not be present for this weekend's qualifier against Macedonia.
Italy's values discredited

The Italian Football Federation (FIGC) issued a statement this morning explaining the reason why Pellè had been expelled. "Azzurri head coach Gian Piero Ventura, with the full support of the FIGC, has decided to drop Graziano Pellè from the Italy squad for the match against FYR Macedonia in Skopje on Sunday 9th October due to the player's disrespectful behaviour when he was substituted during yesterday's match against Spain. Representing the Italy national team involves sharing values and exhibiting attitudes befitting the status of the Azzurri shirt. This begins with a player's dealings with the staff, his team mates and the supporters. The player will return to his club today".
Pellè will fly back to China in the next few hours to return to resume club duties with Shandong Luneng.
Player apologies
The player knew that he was going to be handed stiff punishment for his actions as soon as the final whistle went in Turin last night, saying afterwards: "It's unacceptable behaviour - firstly, towards my coach and as a conseqence, towards my team mates, who have always shown the values which correspond which representing Italy. When you make a mistake, you have to face the consequences which I assume and I would like to apologise from the bottom of my heart to everyone concerned".