Real Madrid get their way as James returns from Colombia
James Rodríguez has decided not to risk himself against Urugauy and flies back to Madrid on Saturday in order to work on recovering from his calf injury Real Madrid-Deportivo: LaLiga matchday 20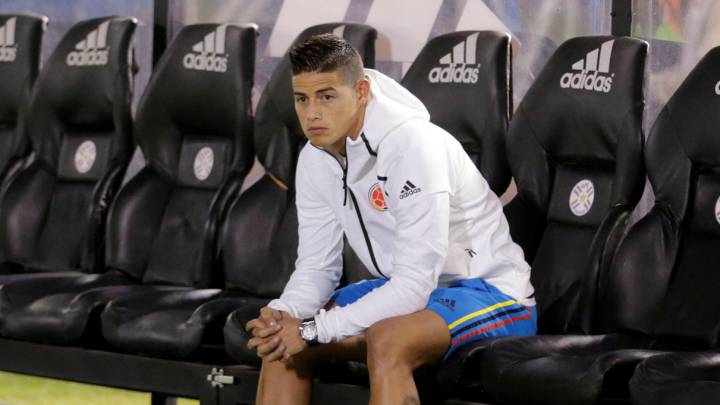 Real Madrid have got their way over James Rodríguez. The player won't force himself to play through injury for Colombia against Uruguay on Tuesday and will leave his national squad to return to the Spanish capital on Friday, according to El Larguero.
Grade one muscle injury
Despite suffering a grade one muscle injury in his left calf during the warm-up of the Eibar game last Sunday, Colombia insisted that the player join up with their camp this week; something that bothered those at the Bernabéu.
While Colombia coach, José Pekerman, had wanted to pick James for the World Cup 2018 qualifier verses the Uruguayans, Real Madrid had expressed their worry to the midfielder over his calf problem and their desire for him not to go. In the end, James listened to his club's fears and will now continue with his recuperation in Valdebedas.
James eyes Betis return
After spending the last few days receiving treated in a hyperbaric chamber, James decided to return to Spain on Friday after meeting with medics, and will now focus on recovering in time for Real Madrid's LaLiga match against Real Betis next weekend. James though will only feature if he's 100%, which has been Zidane's zero-risk policy since he joined the club as coach.