Piqué's cut-off sleeves cause social media storm
The player appeared to have cut the colours of Spain's flag off his shirt, but it emerged the version he was wearing does not include this feature.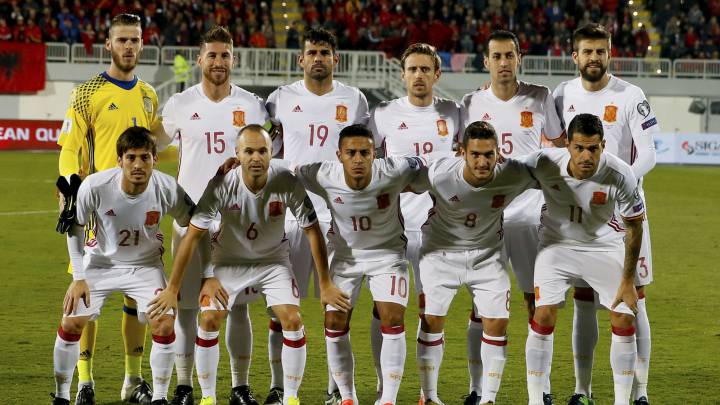 Gerard Piqué was at the centre of a social media storm on Sunday night, when speculation became rife that the defender had cut the colours of the Spanish flag off his shirt for his country's World Cup qualifier with Albania.
Red and yellow seemed to have been removed
With Spain debuting a new, all-white away kit featuring red and yellow trim on the sleeves, attention was quickly drawn to the fact that the arms of Piqué's jersey had been shortened using scissors, and that the colours of the flag were missing.
Colours not present on long-sleeve shirt
However, it later emerged that the shirt Piqué was wearing was an altered version of the long-sleeve top, which does not include red and yellow on the arms - a feature present only on its short-sleeve counterpart.
Following the clash in Shkodër, which saw Julen Lopetegui's men win 2-0, Piqué showed members of the media the sleeve sections that he had removed, on which it could be seen that the Spanish-flag trim is not a part of the design.
Piqué to quit La Roja in 2018
In the wake of the controversy, Piqué announced post-match that he is to retire from international duty after the World Cup, which is to be held in Russia in 2018.
Statement released by the RFEF
The Spanish Football Federation issued the following statement over the row:
The Royal Spanish Football Federation wishes to show its support to the international footballer Gerard Piqué about the controversy regarding the cut made on his jersey in the match against Albania.
On the contrary to what some malicious comments where the Spanish player was accused of cutting the sleeves of the jersey to avoid wearing the band with the national colours. In this regard, the RFEF wishes to explain that said band on the Adidas jersey only exists in the short sleeve version, and not on the long sleeve, which is the one Piqué used in the match. The absence of the bands can be seen on the intact version of the jersey worn by teammate Sergio Ramos, who did use the long sleeve.
Gerard Piqué cut the sleeve with the sole aim of playing more comfortably, the same way other players have done on many occasions.
The unjustified criticisms towards Gerard Piqué have provoked the player to think of leaving the Spanish National Team after the Russia World Cup: "I have tried everything, but I can't bare this anymore, today's issue of the sleeves is the the straw that breaks the camel. They've managed to make me lose the excitement of coming here and although after Russia I'll only be 31, I'll leave."