GERMANY - N IRELAND
Germany coach Loew looks forward to tough N Ireland test
Manager of the German national side Joachim Loew expects tonight's opponents to sit deep and make it tough for them but with Kroos, Muller, Goetze...confidence is high.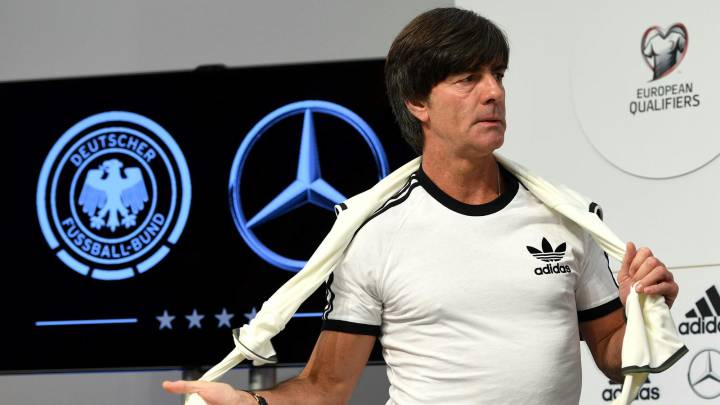 Building momentum to qualification
Germany coach Joachim Loew wants the 'same again' for Tuesday's World Cup qualifier against Northern Ireland following his side's demolition of the Czech Republic.
Thomas Mueller scored twice and Toni Kroos also netted as Germany dominated the Czechs 3-0 on Saturday night. It was an impressive display from the hosts in Hamburg and the scoreline could have been much higher as Julian Draxler, Mario Goetze and Mueller all missed clear chances. Defenders Jerome Boateng and Jonas Hector suffered knocks, but Loew hopes the pair will be fit to face the Irish.

"Jerome took a knock, Jonas has a slight muscular problem," said Loew, who "assumes that (neither) is not quite so bad. We need the same determination, the same amount of running and the same precision in our passes," said Loew.
Deep lying Irish
And he expects the Irish, who beat minnows San Marino 4-0 in Belfast on Saturday, to be "even more cautious" than the Czechs and to defend deep.
"They (the Czechs) tried to interfere with our game, at least early on, and so we have to put in exactly the same sort of display to be successful," said Loew. "You could see after an hour that we had run our opponents ragged."
Mueller and the two Marios
The 56-year-old said he was pleased to see the likes of Mueller and Borussia Dortmund's Mario Goetze, who was playing up front with Mario Gomez injured, attacking deep in the box. Loew said he was happy with the constant pressure his side exerted on the Czech goal to combat the visitors' dogged defence.
Mueller has yet to score a goal in the Bundesliga for Bayern Munich this season after six German league matches. But having also netted twice in the 3-0 win over Norway at the start of September, he already has four goals in their two 2018 World Cup qualifiers. The self-assured 27-year-old, the top scorer at the 2010 World Cup, was full of irony after some suggestions in the German media of a mini crisis given his lack of league goals for Bayern.
Tragically scoring goals
"I was in a tragic situation before the game, so I was really glad I could get out of this mess," he said, tongue planted firmly in cheek, having now scored 36 goals in 80 internationals. "The football business is like that sometimes," he added having failed to score for Germany at both the finals of Euro 2016 and 2012.

"I try to let myself be influenced as little as possible by the positive as well as the negative moments and just continue on my way. I listen to my coaches and my inner voice, and if a good tip from a journalist is there, I will listen to it too."
The win in Hamburg was an impressive team performance, especially from centre-backs Mats Hummels and Jerome Boateng, who repeatedly shut down the Czechs attack and put in a series of superb passes.