BARCELONA
Alcácer: Atlético Madrid harder to beat than Real Madrid
Barça striker Paco Alcácer spoke to Cadena Cope, discussing his club's title rivals, Gerard Piqué, Valencia and breaking his Blaugrana duck.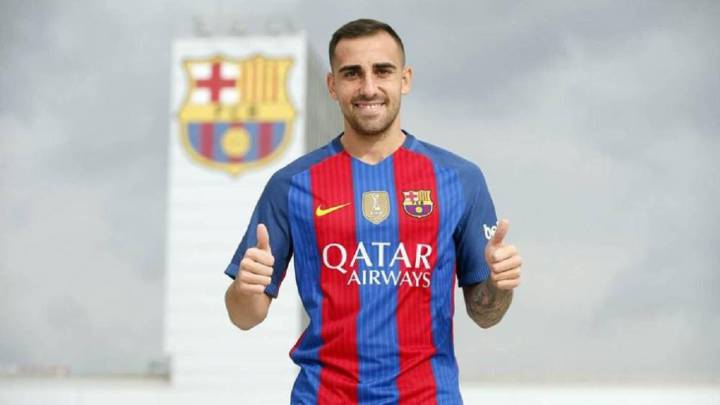 Barcelona's Paco Alcácer has said in an interview with Spanish radio that he believes Atlético Madrid are more difficult opposition than Real Madrid.
"It's tougher to beat Atlético"
Both Barça and Real currently trail leaders Atlético in LaLiga, with Diego Simeone's side holding Los Azulgranas to a 1-1 home draw when they met in the top flight in September.
And discussing the Catalan club's chief title challengers on Cadena Cope, Alcácer explained: "They [Atlético and Real] have different styles of play.
"Atlético have been playing better [than Real] lately and it's tougher to beat them because of their style of play."
Barça take on arch rivals Madrid in the season's first El Clásico on 3 December.
"Hopefully my first goal will come soon"
Alcácer is yet to open his scoring account for Barcelona since moving from Valencia at the end of August, and said: "Hopefully it'll come soon; it's the hardest one."
On his switch to the Camp Nou, the Los Che youth product admitted: "It's very difficult to say no to Barça. I'd come through at Valencia, I'm a Valencia fan and it's a very hard decision.
"But I think it's a forward step for any player in their career, and I think I did the right thing," he went on.
"I've always said Valencia have given me everything and I've got to where I am thanks to them."
On Piqué retirement: "A lot can still happen"
Alcácer also offered his thoughts on club-mate Gerard Piqué's announcement he's to retire from Spain duty after the 2018 World Cup in the wake of Sunday's controversy over his shirt sleeves.
"It's his decision," said the 23-year-old, who has 13 caps for La Roja. "It's not for the rest of us to get involved. You have to respect people's decisions."
However, he appeared to suggest there's plenty of time for Piqué to change his mind, saying: "There's a long way to go until the World Cup and a lot can still happen."