Simeone: "Griezmann responded to Ribéry brilliantly"
Atlético's coach gave his reaction to the Copa del Rey draw which pitted the Rojiblancos against Guijuelo. "We'll have to dig out a few videos on them".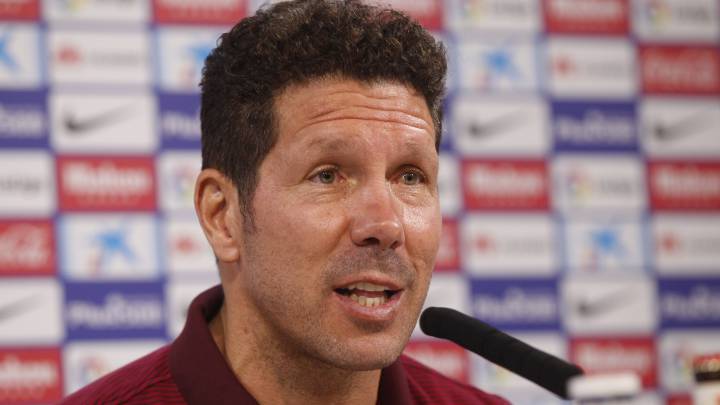 Copa reaction

Atlético de Madrid coach Diego Simeone gave his reaction to today's Copa del Rey draw which pitted the Rojiblancos against Guijuelo and also Franck Ribéry's comments about Antoine Griezmann, as well as looking ahead to tomorrow's league visit from Granada.

Granada: We know what kind of characteristics their coach has, he's very competitive, he always has been whenever he has played against us and in Granada, I see many attacking players - they have players who play well from midfield to attack. We have to focus on all of the things we have been doing because we don't know what they have planned seeing as they only recently changed coach; we have to take the game where we want it to go. We have to start strong - that's key against these kinds of rivals.
The international break: The key will be the attitude we show in starting tomorrow's game against Granada - how we enter the game is important.
Filipe Luis: He always performs to a high level. I'm very happy with him because he's an important player for us and I hope he maintain his high level. He's willing, strong and has the kind of competitive nature that makes him always deliver his best.
LaLiga: I'm not swayed either way by stadistics - we're only at the start and none of the teams have reached their best form at this early stage; there are also new coaches at some of the clubs, but right now we are focusing on Granada, which is all that matters.
Perfect reply
Griezmann: He's fine, he's a lad who has it very clear about what he wants and where he's going; he's matured in the time he's spent with us. I am not worried that now he's under more pressure. I can't be looking at everyone's opinions on him, you have to be respectful, Griezmann responded brilliantly to what Ribéry had to say and for that reason, there's nothing for me to say.
Copa del Rey: I saw the draw, we will be taking a close look at how Guijuelo play; I think they play on a small-sized, synthetic pitch. Well dig videos out on them and study them thoroughly to see how we can take the tie forward. As a competition, the Copa is of great interest to us.