Griezmann, player of the month: "I haven´t reached my ceiling..."
The French forward was voted LaLiga Santander's Player of the Month for September: "I hope that ceiling is a long way off; I'm enjoying my football - a lot...".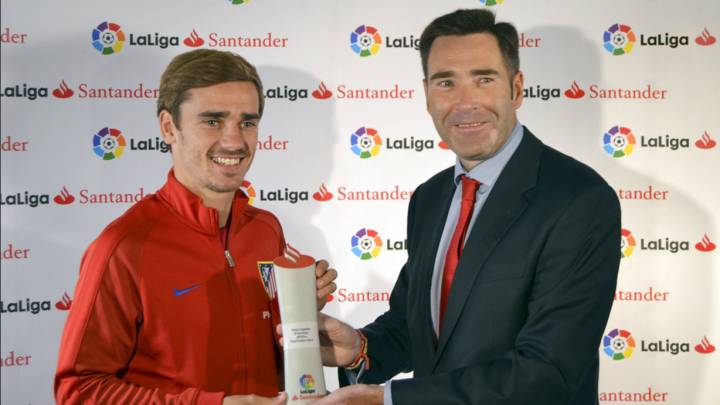 Top player last month

Antoine Griezmann has been named LaLiga Santander's Player of the Month for September as recognition for his performances with Atlético. In the four games he played last month, Griezmann hit five goals and goes into October as the league's top scorer on six.
"I'm very happy to recive this award. It means that I am on the right path, scoring goals, helping the team and hopefully, it is the first of many more. I am really enjoying my football right now and I'm full of confidence but I still haven't reached my ceiling, and I hope that I am long way off doing so. I am going to give everything I have got to be one of the best players in LaLiga. It's always important to score goals, as well as defend well, which we have been doing", Griezmann said.
The award, orgazized by the competition's psonsor and chosen by LaLiga.es journalists, was presented by Felipe Martin, Director of Marketing at Banco Santander.
Valverde, best coach
Athletic Club coach Ernesto Valverde was named the best coach of last month - his side won all four of their matches in September to reposition themselves in the standings following their opening two defeats to Sporting and Barça.