Betis 1-6 Real Madrid live: result, report, goals, highlights
Real Betis - Real Madrid: live match commentary as Betis host Madrid at the Estadio Benito Villamarín at 20:45 CEST on Saturday 15/10/2016.Real Madrid-Deportivo: LaLiga matchday 20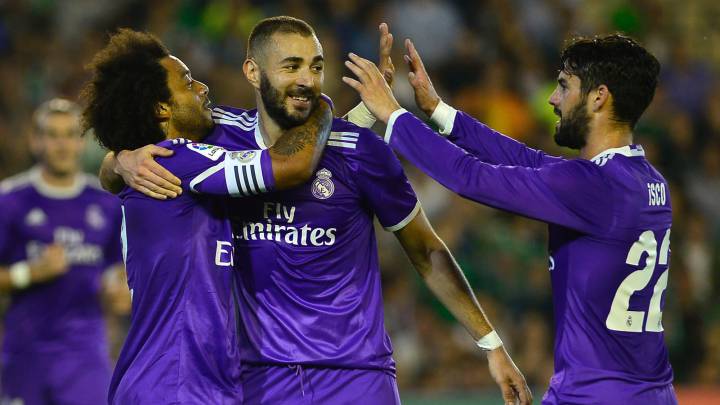 Welcome to live online commentary of the LaLiga Santander match between Real Betis and Real Madrid, with kick-off at 20:45 CEST at the Estadio Benito Villamarín.
---
Real Madrid swept Real Betis aside in a whirlwind display of aggressive attacking precision in the Benito Villamarín to bring an end to a run of four consecutive draws in all competitions that was starting to chip away at the golden aura of coach Zinedine Zidane created last season when the Frenchman adopted the middle name of Midas.
Raphael Varane, Karim Benzema, Marcelo, Isco (2) and Cristiano Ronaldo provided the goals for the visitors with Álvaro Cejudo bagging Betis' consolation strike. However, the score line was slightly flattering for Zidane's side, not because Betis did not deserve to concede six but because Real deserved to conceded more than one.
The home side's build-up play was good, with the evergreen Joaquín finding plenty of spaces to exploit and Gus Poyet's second half substitutes, Cejudo and Roman Zozulya, creating havoc among a back line that in the first 45 had looked so comfortable they might have been shopping for chaise longue. By that stage the result was beyond doubt, only the final score remained to be decided, but Zidane will not have enjoyed his side's early second half switch off to allow Betis a whiff of hope, any more than he will look passively on another missed opportunity to add just a second Liga clean sheet of the season to Real's stats.
However, the first 45 minutes will dominate the headlines on Sunday, and rightly so. Real were irresistible going forward and threw together one of the most attractive breaks in their recent history from a Betis corner, half the team involved in a sweeping move from one end of the pitch to the other that Isco tapped with the nonchalance of a golfer popping a one-hander into the hole on the 18th. It was a stunning show of force, movement and understanding between Zidane's players. The recovery may not be fully confirmed – Betis were more than accommodating at the back – but the vital sings in Seville were stronger than they have been so far this season.
Full time: Real Betis 1 - 6 Real Madrid
Min 92 | And that's it in Seville! The home crowd vent their frustration after seeing their side go down 6-1 to Real Madrid.

Min 91 | Ronaldo blasts a free kick over the bar as the clock runs down... two minutes added...

Min 88 | Betis again causing Real problems at the back, Joaquín lifting a delicious ball over the top after a bit of panic in the visitors' defence but the subsequent header is weak and straight at Navas.

Min 86 | Joaquín wriggles to the byline and squeezes a cross under Navas but there's no green and white shirt to tap into an empty net. Betis have been good in their approach play tonight but haven't had the cutting edge to capitalize on the chances they've created.

Min 84 | Morata and Ronaldo try to forge something but the Portuguese hammers a left-footed shot high and none too handsome from the youngster's tee-up.

Min 83 | Betis still plugging away to their credit and Real are really not looking the same side in the second half as they did in the first...

Min 81 | Oh dear... a training ground routine goes horribly wrong for Betis. Probably should have just had a pop from there.

Min 80 | Betis win a free kick in a dangerous position...

Min 77 | And there it is! Ronaldo has been champing at the bit to get on the score sheet tonight and does so, picking up the ball from Morata, driving forward hammering past Adán. 6-1 now to Real.

Min 75 | 15 mins to go now and it seems both sides are already winding down. For Real it's job done while Betis well and truly have been. A much better second half performance can't ameliorare for the opening 45 though and at 5-1 there's little left to salvage but pride.

Min 73 | And indeed the Frenchman does shuffle his pack, Benzema trudging off to be replaced by Álvaro Morata.

Min 70 | A little of the wind has left the Real sails now and Zidane could probably do with using his other two subs before long...

Min 68 | Another defensive switch off from Real presents Betis with another break but Ceballos dithers a little too long and the opportunity goes begging. Adán makes a spectacluar save from Benzema at the other end. It's been another great display from the Betis keeper.

Min 66 | Cejudo gets a shot off but it's well wide. Dani Ceballos is on now for Jonas Martin.

Min 64 | Kovacic is going off to be replaced by Lucas Vázquez, whose pace will be a fresh worry for the Betis back line.

Min 61 | Gooooooooooal! Against the run of play Isco curls in an absolute beauty from the right channel. Ronaldo will claim the assist, although the Portuguese was aiming for Benzema, who made a right steak hache out of his effort and missed the ball completely. Splendid strike from the Málagan to make it 5-1!

Min 60 | Betis carve out another chance, Joaquín and Castro combining on the edge of the area but Carvajal blocks.

Min 58 | Betis are in the ascendancy all of a sudden and Zidane will be mildly concerned but the visitors still have a three-goal cushion. Still, if Betis had played like this in the first half...

Min 54 | Goooooooooooal! Betis' pressure pays off as Pepe plays a dreadful ball out of from the back and Cejudo takes full advantage to slot past Navas.

Min 53 | Betis on the attack again, a cross is hurled in but there's nobody to attack it and Navas gathers comfortably.

Min 52 | This is much better from Betis. Joaquín gets himself into a shooting position but drags his shot wide.

Min 51 | Kroos sends in a free kick but it's nodded over by Isco. Betis had a chance at the other end on the break just before that but Pepe did well to break it up twice.

Min 48 | Pezzella goes in the book for flooring Isco.
Min 46 | We're back underway at the Benito Villamarín. The home fans are still in attendance but there can't be much hope a comeback for Poyet's boys here. No changes at half time for the visitors. Betis have brought on Cejudo and Brasanac for Alegría and Zozulya.

Half time: Real Betis 0 - 4 Real Madrid LIVE
Min 45 | And that's the half! An incredible first half display from Real has shell-shocked Betis, who are four down at half time. And Bale and Ronaldo aren't on the score sheet yet.

Min 44 | Goodness gracious! What a goal! Half of the Real side are involved as a Betis corner is turned into a Real goal with a glorious break, Pepe eventually teeing up Isco for a tap-in after great movement on and off the ball. We'll say it again. What a break, what a goal... 4-0

Min 43 | Unsurprisingly, Betis' entire bench are now warming up.

Min 41 | You suspect that's it for Betis now and it's only a matter of how many Real can be bothered to rack up. Is there a private bet between the "big three" this evening?

Min 39 | Gooooooooal! Marcelo controls a ball on his shoulder, how much he knew about it we'll never know but it looked good, and then beats Adán with a scuffed shot to make it 3-0!

Min 37 | Isco plays a through ball for Bale and it's out for a corner. Kroos lobs it in but it's not a great take by the German and the first man gets his head to it. Real are in complete control at the moment and Poyet must be considering some of that benched pace at half time...

Min 35 | Joaquín makes a forward run, checks, has a look around and throws his arms up to inquire after the lack of runners in support. Poyet has Charly Musonda, Dani Ceballos and Tony Sanabria on the bench.

Min 33 | That's six in his last six games against Betis for Benzema now. Marcelo fancies getting in on the act and drives into the box but Adán meets his low drive.

Min 31 | Gooooooooooal! Karim Benzema! Kroos drives forward, the Betis back four jockey ineffectually and German has all the time in the world to pick out Benzema, who makes no mistake from inside the area. 2-0

Min 30 | Navas finally has his gloves warmed at the near post but it's bread and butter stuff for the Costa Rican keeper. Castro then chances his arm from the edge of the area with Carvajal backing off and it's not too far wide either.

Min 29 | Marcelo squeezes off a shot after a Betis clearance lands right at the Real captain's feet but it's a soft hit and easy for Adán to gather.

Min 27 | Joaquín rolls back the years as he skips past a couple of Real challenges but his ball into Castro's feet isn't controlled and pinballs back into Real's thrall.

Min 25 | And the man himself gets on the end of a Real move and unleashes a shot at Adán, but it's right at the keeper and lacking enough venom to bother the former Madrid stopper.

Min 24 | Betis might be under the cosh but the home fans have something to cheer as Ronaldo is beaten to the ball on the left.

Min 22 | Keylor Navas' sole employment so far this evening has been auditioning for a role as an NFL kicker. The Real keeper belts another ball upfield as a Betis attack is brought to a halt with ease by the visiting defence.

Min 20 | Bale whips in a glorious cross that Ronaldo is inches away from steering in but Betis escape for now... it's all one-way traffic at the moment and number two seems grimly inevitable from the home side's point of view.

Min 18 | Betis are really struggling to get out of their own half and when they finally manage to cross the halfway line Castro batters a long-range shot into the stands.

Min 16 | Ronaldo gets in on the idea, driving down the left and slinging one in but Adán is alert to the danger and makes an easy catch.

Min 14 | Post! Bale careers into the box on the far side and meets Marcelo's cross. It hits the post, hits Adán, and creeps over the line for a corner. Great chance for Real, Betis are really not enjoying the visitors' ploy of pinging everything into the area.

Min 12 | What a flick from Marcelo! The ball descended from the heavens there and the Brazilian managed to hook it back to Benzema, who pulled the trigger but Adán was equal to it.

Min 10 | A Kroos corner almost leads to another chance in the Betis box. The home side look extremely vulnerable from the set-piece.

Min 8 | Another roar of disapproval as the ref hands another decision to Real, despite the ball clattering into the official's head and going out of play from a delivery by a Real player... curious decision, and Poyet is incandescent on the touchline.

Min 7 | It wasn't as easy a chance as it first appeared in fairness, Ronaldo was arriving at speed and the ball was at an awkward height. Glorious ball from Isco though.

Min 5 | A perfect start for Real though as that will settle some nerves. And what a chance for Ronaldo! Bale plays Isco in with a neat backheel and the midfielder pops up a ball with "score" written on it but the Portuguese hammers it into the stands from point blank range!

Min 3 | Goooooooooooal! Kroos lofts the ball into the area and Varane leaps highest to get his head on it and sends a well-placed header past Adán. Disaster for Betis, who needed to at least keep things level for the opening half hour.

Min 2 | Gus Poyet is indignant as a decision goes against his side. Ronaldo is then brought down and Real have a free-kick on the left in a dangerous position...

Min 1 | And we're off! Betis get the ball rolling in their traditional green and white. Real are looking rather dashing in their purple strip.

2 mins to kick-off | Joaquín, as is his default, is all smiles as the pleasantries are performed in the centre circle.

3 minutes to kick-off | And now they're out on the pitch. The Betis fans are in full voice, perhaps sensing a famous result against a wounded and depleted Real Madrid. The same fixture last season ended 1-1, Zidane's first slip-up as Madrid manager.

5 mins to kick-off | The teams are in the tunnel, Marcelo exercising his role as captain and geeing up the troops.

10 mins to kick-off | The pressure is on for Real Madrid tonight after four consecutive draws in all competitions and in the wake of Barcelona and Atlético's thumping victories over Deportivo and Granada respectively. A win will take Real level on points with leaders Atleti. Anything less than that and the alarm bells will ringing loud and clear on Sunday morning.

30 mins to kick-off | The Madrid players are out on the pitch, being put through their paces by RSM Antonio Pintus. On the other side of the halfway line Betis are doing some ball drills.
---
Real Betis - Real Madrid starting line-ups:
Real Madrid:
Keylor Navas, Carvajal, Pepe, Varane, Marcelo; Kovacic, Kroos, Isco; Bale, Ronaldo, Benzema.
Real Betis:
Adán, Piccini, Mandi, Pezzella, Durmisi, Petros, J. Martin, Brasanac, Joaquín, Alegría, Castro.
Real Madrid manager Zinedine Zidane has opted for a touch of midfield steel in Mateo Kovacic, preferring to leave the in-form Marco Asensio on the bench, presumably to test some knackered Betis legs in the last 20 minutes or so. There are few surprises elsewhere, Isco getting another chance to prove his worth to the side and Raphael Varane deputising for the injured Sergio Ramos in defence alongside Pepe.
Gus Poyet meanwhile has decided to play both Rubén Castro and Álex Alegría from the outset with Paraguay international Tony Sanabria on the bench. Castro and Alegría have forged a promising partnership since the latter's return from a successful loan spell at Numancia.
---
Real Betis - Real Madrid: Latest news
19:40 | The Real Madrid starting 11 has been confirmed for tonight's game: Keylor Navas, Carvajal, Pepe, Varane, Marcelo; Kovacic, Kroos, Isco; Bale, Ronaldo and Benzema
18:45 | Just two hours to go until kick-off in the Benito Villamarín, where Zinedine Zidane desperately needs to steer his side to victory. The Real coach pointed out that he is "not a magician" in his pre-match press conference and he will have to pull a workable formation out of his hat in the absence of captain Sergio Ramos and key midfielders Luka Modric and Casemiro.
18:05 | Pepe is also likely to have a fresh spring in his step after reports of a contract extension taking him up to 2018.
17:45 | This evening's game could also be another make-or-break occasion for the out-of-favour Isco. Read about the Malagueño's current plight.
15:37 | 'Zizou' looked ahead to Real's clash with Betis - and their bid to end their run of draws - in his pre-match press conference, discussing Cristiano Ronaldo's fit of pique in training on Friday. The full story is here.
15:19 | Captain Sergio Ramos is among a number of Real Madrid players missing through injury - but history suggests Zinedine Zidane should be able to manage without the central defender...
14:05 | Chelsea midfielder N'Golo Kanté also apparently has plans to join a 'very, very big club' one day, obviously to fill a Casemiro-sized hole.
13:18 | Zinedine Zidane may have had to settle for a point in his early days as Real Madrid coach last term, but he certainly has good memories of the Villamarín as a player: just look at this goal from 21 years back (captions in Spanish).
12:55 | The AS English oracle has spoken: find out what our resident clairvoyant says (with a surprising amount of confidence, if you ask me) is going to happen at the Benito Villamarín this evening here.
12:17 | In need of all the info on when and where to watch this evening's match? Why, look no further...
10:15 | Why not get yourself started with a shufties at our match preview below?
10:10 | Buenos días! We're already building up to Real Betis against Real Madrid tonight, with Los Blancos out to return to winning ways after four straight draws in all competitions. We'll be bringing you news and updates throughout the day before taking you through the game!
---
Real Betis vs Real Madrid: Preview
Real Madrid arrive in Seville in the middle of an injury crisis and a run of four consecutive stalemates in all competitions to take on a Betis side that managed a draw in the same fixture last season, handing Zinedine Zidane his first setback after taking over the reins at the Bernabéu.
Betis
Betis welcome Real to the Benito Villamarín sitting in seventh place in LaLiga and with the forward line recently signed up to new contracts, both Rubén Castro and Álex Alegría having penned extended deals. Gus Poyet's side go into Saturday's match after an up-and-down start to the season with two victories, two defeats and three draws. The home side will be well aware that a victory against Madrid in front of their fans will provide a welcome shot in the arm morale-wise and the team can expect vociferous support from the stands.
In good news for Poyet the Betis treatement room has been empty this week, with all internationals - Dani Ceballos, Charly Musonda, Riza Durmisi and Felipe Gutiérrez - returning in one piece. The Uruguayan will therefore be able to choose from his full available squad for the visit of Madrid. The return of Tony Sanabria, Betis' star signing, after a hip problem is a welcome event and Mandi, Jonas Martín and Rafa Navarro are all also available after recovering from their various knocks.
Even so, Poyet faces a dilemma up front, where Castro is an undisputed starter but Alegría has been playing his way into the position of strike partner to his compatriot. The Betis boss will have to decide whether to stick with the Spanish pair or hand an immediate recall to Paraguay striker Sanabria.
Real Madrid
Zidane's side arrive in Seville under huge pressure to carve out a victory after picking up three points from their last three Liga fixtures against Eibar (1-1), Las Palmas (2-2) and Villarreal (1-1). Zidane did not enjoy his first away trip as coach of Madrid last season after two comfortable victories in the Bernabéu - 5-0 against Depor and 5-1 over Sporting - had the press purring appreciatively. Against a spirited and organized Betis side, the Real boss tasted his first dropped points in a 1-1 draw.
Zidane also has to contend with some important absences from his squad over the next few weeks. Sergio Ramos is out until mid-November with a knee problem, joining midfielders Casemiro and Luka Modric on the sidelines, with both expected to return at the beginning of next month. Although James Rodríguez will play no part in Seville as he continues his recovery, Marcelo is in the squad and Zidane has intimated the all-action Brazilian will start: "We'll be making the most of Marcelo tomorrow," the Frenchman said in his pre-match press conference.
---
Real Betis - Real Madrid: Possible teams
Real Betis XI:
Adán, Piccini, Durmisi, Mandi, Pezzella, Petros, Felipe Gutiérrez, Brasanac, Joaquín, Rubén Castro and Álex Alegría.
Coach: Gus Poyet.
Real Madrid XI:
Keylor Navas, Carvajal, Varane, Pepe, Danilo, Kovacic, Kroos, Isco, Benzema, Bale and Cristiano Ronaldo.
Coach: Zinedine Zidane.
---
Real Betis vs Real Madrid: Live match build-up