Zidane: "I'm happy for Isco because he's a player I like..."
The Madrid coach spoke about the changes seen in the Betis game: "All we did was work harder - we can change games with the quality we've got".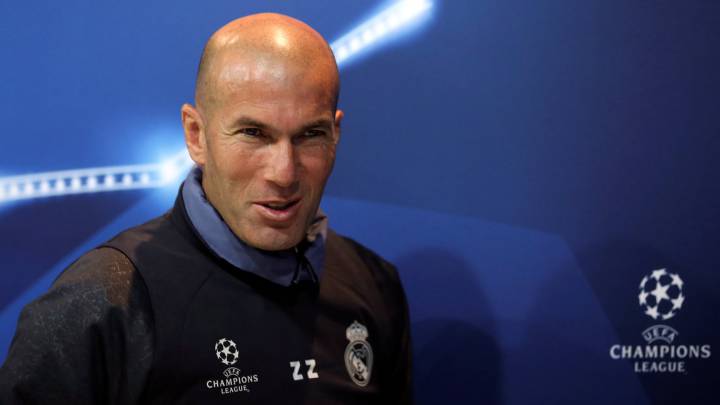 Legia visit

Zinedine Zidane spoke to the media ahead of tomorrow's Champions League game against Legia Warszawa.
Are you happy with the intensity the team showed in the last game against Betis? "Yes, I'm satisfied with the job we did because when our work rate is high, we will be able to achieve things; after watching the players perform the other day, a coach can only feel happy. They put in a brilliant game from start to finish. Now we have another game and more hassle - well, hassle in the sense that we have to view this as a completely different game - we can't rest on our laurels after the weekend's 6-1 win".
Same competition, same level
Differences between Real Madrid and Legia: "Everyone is going to have their own opinion on that. We are playing in the same competition and that means that we must be at a similar level. The game is going to be 50-50 and we will need to start well and make it difficult for them right from the start. We are in the same competition which suggests there is no real difference between us - if there is, one of us have to show it on the pitch".
French President François Hollande's comments about Benzema: "That was very unfortunate. All of the things which are said about a player, or footballers in general, are annoying. For example, say in your job, people can criticize you but you cannot say anything out of line. You can understand why that would be annoying for a player. It's not pleasant, but we'll have to see exactly what he said".
Will you bring it up with Hollande? "That's going to be difficult right now as we are both very busy with work".
James: "He's fine, much better. Today's session was his first with the whole team. He hasn't got any twinges and that's good news. He's recovered from his fitness problems and today, even stayed behind for a spot of free-kick practice".
Isco to start tomorrow: "Isco is an important player for us. What you, the press do, is focus on one player but Isco has always worked well, he knows where he is and the difficulty he is gaoing to face to get to play - but he still works hard regardless. I'm happy for him and for the goals he's scored because he is an important player - a player I like".
Enzo's 'Paneka penalty: "He didn't mention anything about to me. I did see it and I think it's fine because he scored. It's when you try something like that and miss that you can cause problems for yourself".
Asensio: "I've tried to explain the situation to him. I'm not going to be take everyone aside every day because there's no need to. He'll get to play and all that matters is that he's ready".
Morata: "He's doing really well. He's working hard and he'll be given minutes. He know where he is and while he hasn't had as much playing time as he'd like, he always delivers for us".
Are you worried by the threat posed by Legia's radical fans? "Tomorrow's game will be played as normal. Adequate security measures are necessary in every game. I'm sure there won't be any problems".