Neymar struck with plastic missile in Barça goal celebration
Neymar, along with teammates Luis Suarez and Sergi Roberto, were on the receiving end of a plastic bottle thrown from the crowd as they celebrated Messi's last-minute winner against Valencia.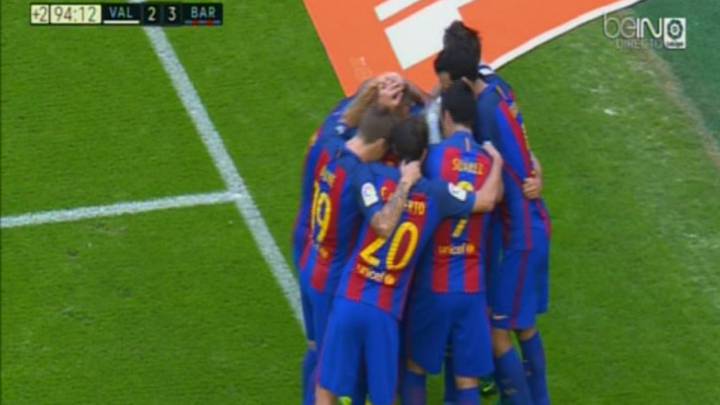 As Barcelona players huddled together to celebrate Lionel Messi's dramatic last-minute winner against Valencia in the 95th minute, an indignant member of the Mestalla crowd launched a plastic bottle in their direction.
Neymar, Sergi and Suarez all drop
Neymar seemed to be the principal player that the missile hit, and the Brazilian immediately fell to floor clutching his head. Both Sergi Roberto and Luis Suarez apparently felt the impact of bottle – which looked to be filled with water – as well, and they too were left in some seeming pain.
No apparent injury
All three eventually got up though with no visible injury. It remains to be seen whether referee Undiano Mallenco will record the incident in his report. If he does so however, which is likely, Valencia could be on the receiving end of a hefty fine, leaving the club with an even more bitter taste in its mouth after an impressive display came to nothing.