SEVILLA | SAMPAOLI
"To say this game will determine our season is over the top"
Sevilla were unable to train at their stadium on Saturday after a downpour left the field waterlogged. Atlético pay their annual visit tomorrow.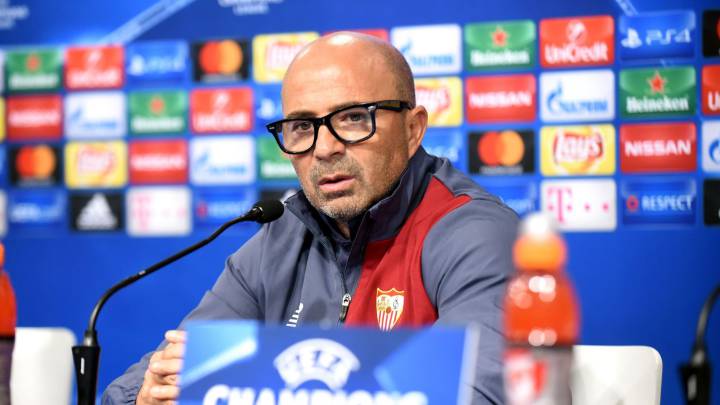 Torrential rain

Sevilla coach Jorge Sampaoli was unable to put his team through one last dress rehearsal for tomorrow's visit from Atlético de Madrid. The whole of Spain had been experiencing heavy rainfall duing the past week or so and the Andalucian region is one of the worst affected. Today's training session at the Pizjuán had to be called off.
Saturday's session: "We had to do a theoretical workout because we couldn't go out onto the pitch because of the rain. It doesn't matter if it rains tomorrow, you can't train on a pitch where there's more water than grass".
Atlético: "We know that the team we will be meeting tomorrow is one of the top sides in Europe and that we're going to hasve to be at our best to beat them".
Simeone: "We have never coincided on opposite teams, so we don't have a very deep relationship but there is a great admiration and respect for everything he has achieved - he has turned Atlético into one of the best sides in Europe. He has maintained the backbone of the team and has been adding high level players into the squad".
A decisive game for both teams? "I don't think so. We had a good start to the league and we still have to consolidate our game. It's a bit over the top to consider one game as marking the whole season. Obviously it's a very important game for all that it represents but there's a long way to go after tomorrow's match".
Home fans: "They're going to be fired up because Atleti are the side of side which motivates us. It's important to have the fans behind us because we know we will have to draw on their strength when we are out on the pitch".
Kranevitter se queda fuera de la convocatoria del Sevilla
La ausencia de Matías Kranevitter es la mayor novedad de la convocatoria del Sevilla. El argentino podía jugar ante su ex equipo pese a estar cedido pero Sampaoli lo ha dejado sin citar. También se queda fuera Kiyotake, mientras que entran en la convocatoria respecto a Zagreb Kolo y Correa.

La lista al completo es la siguiente: Sergio Rico, Sirigu, Mariano, Mercado, Rami, Kolo, Pareja, Escudero, Nzonzi, Iborra, Ganso, Nasri, Sarabia, Franco Vázquez, Vitolo, Correa, Vietto y Ben Yedder.