How Zidane's change of tactics is bringing the best out of Isco
In Real Madrid's last three games, Zidane has changed from his preferred 4-3-3 formation to a a 4-2-3-1, allowing Isco to get further forward and better influence play.Real Madrid v. Málaga live online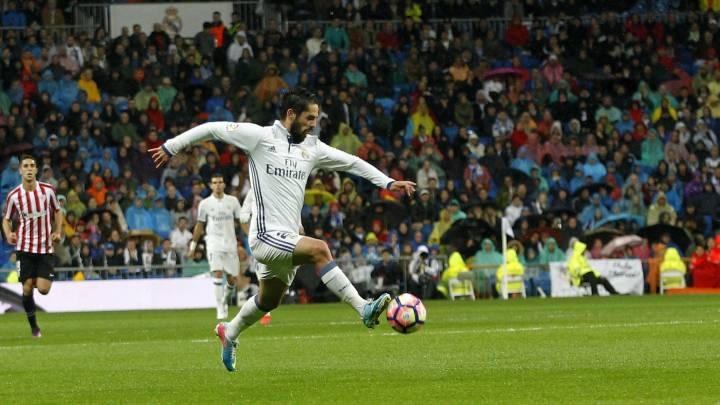 Isco returned as a key piece of Zinedine Zidane's side in the win against Athletic Bilbao on Sunday evening, and – despite being substituted midway through the second half (much to the ire of the Bernabéu crowd) – the majority of Real Madrid's best play came via the feet of the Malagan.
It is no surprise that the reappearance of Isco to good form has coincided with a slight change in tactics at the hands of the French coach during Madrid's last three games, giving the 25-year old license to get further forward.
4-2-3-1
Ever since the team's four consecutive draws in La Liga early in the campaign, starting with the 5-1 demolition of Real Betis in mid-October (in which Isco shone), Zidane has altered his preferred 4-3-3 formation to a 4-2-3-1, employing Isco as an attacking midfielder – his natural position.
While Isco was rotated with James for the Champions League tie with Legia last week, he was reinstated to the starting lineup on Sunday and picked up from where he left off in Seville, bursting into the box and laying it on a plate for Benzema for Madrid's opening goal.
Reverse of fortunes
In a complete reverse of fortunes to the whistles that Isco received just a matter of weeks ago for his poor showing at home against Eibar, as Zidane decided to replace Isco for Vazquez on 65 minutes on Sunday the jeers were this time aimed at the Frenchman, with many believing the much-improved Malagan had been Madrid's best player up to that point.
Zidane was quick to clarify in his post-match press conference however that the change was tactical. "It wasn't anything against him, to the contrary," said the coach. "I was happy with him."
The 4-2-3-1, then, looks like it could well be here to stay.