Senior United side beats junior Manchester City in construction
A solitary second half goal from Juan Mata was enough to see the "Red Devils" win the Manchester derby and advance to the last eight of the EFL Cup. Manchester United v. Manchester City live online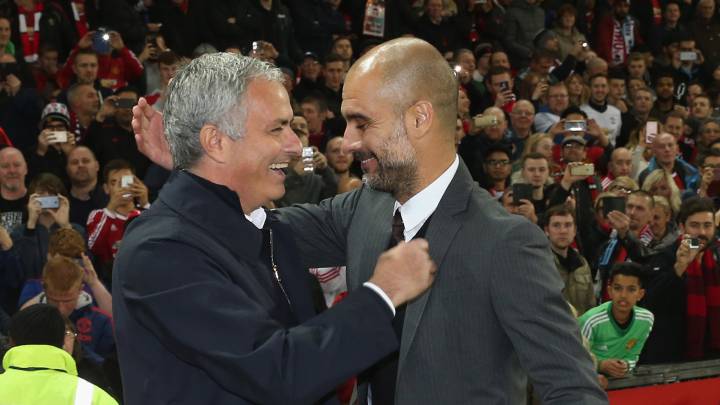 United won last night's Manchester EFL Cup derby and a solitary goal from Juan Mata was enough to see a United first team side overcome a City team which featured many fringe players. Mourinho manages to tie level with Guardiola, whose City side won the first derby of the season with a September league win.
Pep Guardiola's side is still a work in progress and recent results can be attributed to tiredness (Sunday's draw against Southampton), a dose of reality (defeats against Spurs and Barcelona) and bad luck (the recent Everton game). However the dynamic is positive and the imminent return of key players will help the situation.
The Catalan coach tweaked his defensive formation given the lack of right and left sided defenders and played with a back four but at this point city's opponents are now aware of the difficulty the team have of moving the ball out from the back.
United see the light
United came into the EFL Cup game at Old Trafford with problems of their own. Mourinho's side desperately needed a win to prove that they are on the right road (that marked by the Portuguese manager and Paul Pogba). The coach from Setubal fielded a strong XI and the team's attitude was infinitely better from the side who fell 4-0 away to Chelsea at Stamford Bridge on Sunday.
The game started before kick off: a smiling Mou exchanged pleasantries with Pep who responded with a playful slap on the neck. Both coaches met recently at a coaching forum and a process of reconciliation between both seems to be on track.
Mata on target
City, who incidentally have never beaten United in a cup tie at Old Trafford, mixed spells of possession with long balls and could have gone ahead via a Iheanacho header and a possible penalty on the excellent Aleix García. United struggled with the pressure applied by City and once again the side were tainted by a somewhat anonymous performance from Pogba with only Ibra able to cause problems for the City backline. Things took a change in the second period as United pressed. The only goal of the night materialized when Ibra put Mata through and the Spaniard slotted home in the 54th minute to condemn Guardiola's side to their sixth game back to back without a win.