Higuaín to face Napoli for first time since Juventus move
The Argentina striker, who moved to Turin in acrimonious circumstances last summer, will face his old club on Saturday.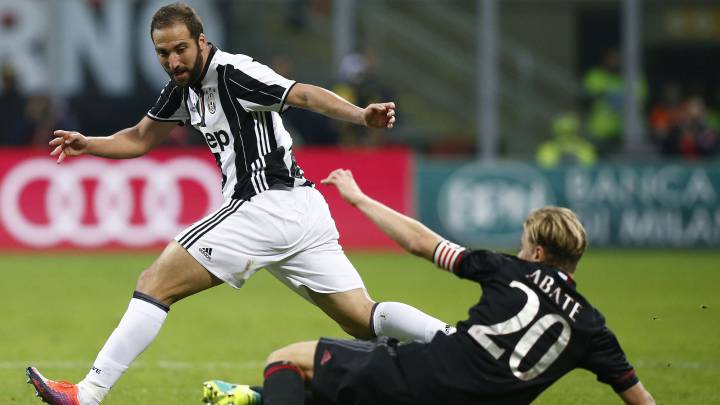 Gonzalo Higuaín is set to return to former club Napoli for the first time on Saturday since his summer transfer to Juventus, which enraged Azzurri fans and will add even more intrigue to the match, with the clubs among Serie A's fiercest rivals.
The brooding Argentine scored a record 36 league goals for Napoli last season as he led them to the runners-up spot behind Juventus, who won a fifth successive Serie A title.
Buy-out clause
But instead of staying on to lead another attempt by Napoli to end Juve's recent domination, he triggered a 90 million euro buyout clause in his contract, which had two years still to run, and moved to the Turin club.
Napoli coach Maurizio Sarri, who brought out the best in Higuaín last season, gave a light-hearted answer when asked about the meeting with his former marksman, who has scored six league goals for Juventus so far.
"Higuaín did well with me and was always hard working in training. How will I greet him on Saturday? In the same way that a father would with a son who made him angry," he said after Wednesday's 2-0 win over Empoli.
Higauín "felt the love" at Napoli
Napoli fans, however, have been less forgiving, clearly feeling betrayed by a player who in May said how much he enjoyed playing for their club.
"This season I have felt the love. I feel loved here more than I did at any other club I've been," Higuaín said. When news of his move first emerged, supporters gathered in the city centre to tear up pictures of the Argentine and set fire to replicas of his number nine shirt. A banner bearing his photograph was tied to a dustcart.
Even at recent games, it was possible to buy toilet rolls with Higuaín's photograph on the packaging.
Juventus go into Saturday's match as Serie A leaders and are four points ahead of third-placed Napoli.
North-south divide
More than any other fixture in Italian football, Juventus against Napoli has come to be seen as a clash between the rich, industrial wealth of the north and the much poorer south.
The city government of Turin is so worried about possible trouble that it has banned the sales of tickets in the Naples region for the second time in a row.
The fact that Napoli have emerged as one of the few teams to genuinely threaten Juve's dominance, finishing as runners-up twice in the last four seasons, has only intensified the rivalry.
The last meeting in February proved a pivotal moment in the title race.
Napoli went into the fixture top of the table with a two-point lead and dominated the match yet lost to a late goal by substitute Simone Zaza.
The win took Juventus top of the table and they stayed there for the rest of the season, winning 11 of their last 13 matches.