The only Gálactico photo was snapped behind closed doors
During a match played in an empty Stadio Olimpico in 2004, a photographer captured the only existing picture of Beckham, Figo, Raúl, Zidane and Ronaldo.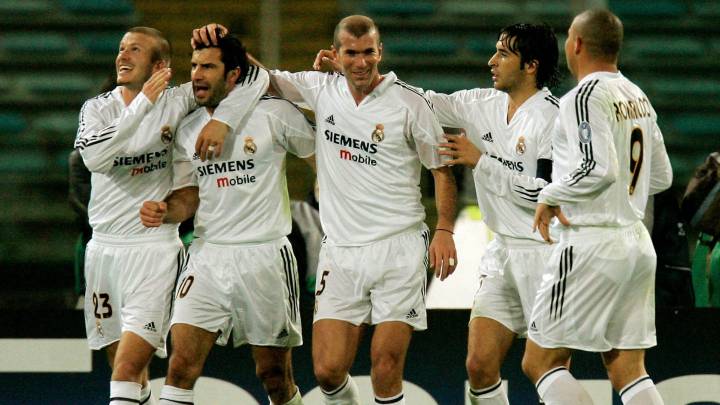 It seems incredible given their media appeal and combined transfer fees, but there is only one photograph in existence of the Gálacticos – David Beckham, Zinedine Zidane, Luis Figo, Raúl and Ronaldo.
Francisco Pavón: "It was difficult to get into the game"
What do you remember about that game at the Stadio Olimpico?
"The one we played behind closed doors? That's the sort of thing that stays in your memory. It was weird, taking into account the size of the Olimpico, which is huge. It was amazing to play there with the stands empty.
How did it feel to play there?
"Like it was a training session. It was exactly the same atmosphere as the day before, when we trained there. There were about 500 people in the stadium. It was difficult to get into the game, it wasn't easy to concentrate. That's what I felt, although we on fairly easily in the end. It didn't help Roma not having their fans behind them."
Was that the cause of the win, not Real Madrid playing well?
"Well, it helped that most of their important players were injured [laughs]. We played Roma a lot during that period and they always gave us a tough game. They were a great team."
What else do you recall?
"That you could hear the manager's instructions, loud and clear! [laughs]. It was all very strange."
-Marco Ruiz
Uefa punishment
It was taken during a Champions League match between Roma and Real Madrid in 2004, which was played behind closed doors as Wednesday night's game against Legia Warsaw will be. Roma had been punished by Uefa with two behind-closed-doors fixtures after an object was thrown from the stands at referee Anders Frisk during the visit of Dinamo Kiev to the Stadio Olimpico earlier in the 2004-05 Champions League. The match was abandoned at half time and a 3-0 win awarded to Kiev, who were 1-0 up at the break.
4-2 Real victory
Real Madrid won the game against Roma 4-2, with goals from Raúl (2), Figo and Roberto Carlos. The celebration of one of the goals led to the famous image above being taken.



Champions League
Leaders
Messi

7

Goals
Verratti

390

Passes
Khacheridi

52

Steals
*Update 2 de noviembre de 2016