Dani Alves: "Messi impressed me more as a father than a player"
In an interview with ICON magazine, Dani Alves looked back on being team mates with Messi and Barça's 5-0 thrashing of Madrid: "We couldn't believe it ouselves".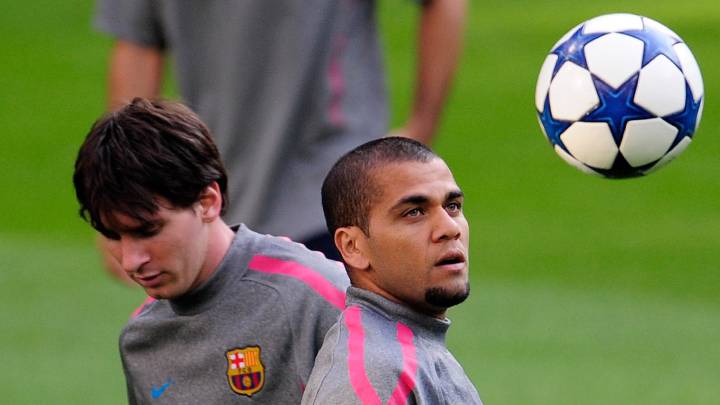 Back in the summer when his transfer to Juventus had yet to be made official, Dani Alves granted an interview with ICON magazine - that article now appears in the autumn edition. The Brazilian defender aired his thoughts on playing with Leo Messi.
Great dad
"I wasn't particularly dumstruck by having Messi in the same side. I know that he's one of the best players in history and I am in full agreement with that. But for me, Leo was just another team mate who did great things out on the pitch - things he did for the rest of us, so that the team could win. I like that but it doesn't amaze me really. It's part of the job. Leo impresses me in a lot of other way, for example he is such a good father", the right-back said, only to admit later that the Argentinean has a unique talent.
Photographs for posterity
"When I retire from the game, I'll watch videos of Leo playing and I'll think to myself: wow, how much talent did he have! And in years to come, I'll show my grandkids photos of Leo and I'll tell them: 'Look, this is the best player in history and that's me standing next to him'".
Thumping Madrid at Camp Nou
Alves is now in Italy with Juve but one memory stands out from his time in LaLiga - the 5-0 thumping Barça served Real Madrid at in November 2010: "I feel very proud to have been a member of Guardiola's team. I remember the 5-0 win over Madrid. And I can still see the looks on our faces, we couldn't really believe it ourselves, we knew that we were achieving something big, that we were showing the rest of the world what were capable of - and showcasing our style of football. I had some really great games [with Brazil] at the Under-20 World Championships in United Arab Emirates in 2003, after one of those matches my team mates carried me on their shoulders. There have been only a few times when I have felt so happy on a football pitch, but with Pep, what we did was incredible".