Sledging can not be implied in Phillip Hughes death says inquest
An inquest was opened after Phillips Hughes passed away in 2014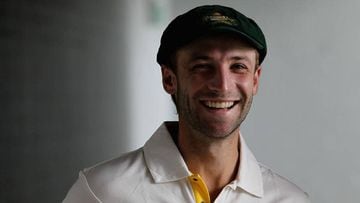 Hughes, who played 26 Tests, died from bleeding on the brain in November 2014 after being hit on the neck by a rising ball while batting in a domestic match at the Sydney Cricket Ground.
During his inquest, concerns were raised by Hughes' family about on-field sledging, or abuse, which they felt may have unsettled him.
Sledging not implied in Hughes death
On Friday, New South Wales coroner Michael Barnes said even if there had been attempts to intimidate players, Hughes did not appear to be affected and it "could not be implicated in his death".
But Barnes called sledging an "unsavoury aspect" of cricket, adding: "An outsider is left to wonder why such a beautiful game would need such an ugly underside."
Claim of threats
The hearing heard claims that one bowler told him, "I am going to kill you", although players on the field said they did not recall any such comment.
Taylor said he didn't think sledging was a major problem in cricket, but he urged umpires to crack down if they thought players were going too far.
"I don't think we have," he said in Perth, where Australia are playing South Africa, when asked if cricket had a sledging problem.
"The game needs a competitive edge to it, but it doesn't need a lot or rubbish talk either. If something positive does come out of this, it will be a reduction in the idle chat.
"Sledging is something that has always been talked about regularly, but the umpires should step in if they think it is over the top."
Clampdown on backchat in the sport
Cricket Australia chief James Sutherland agreed it was down to the umpires to stamp out backchat if it was becoming too much.
"If it has become a problem, then I would say the umpires are not doing their job," he said, adding that he did not see it as a problem.
"I come back to the fundamentals -- the game should still be played in the right spirit and for the sake of clarity, there's codes of behaviour that are in place that deal with inappropriate behaviour.
"When that line is crossed, people should pay the price for crossing that line and I can only encourage the umpires and relevant officials to take action when it is appropriate."
Less sledging in modern game
Former Australian Test opener Chris Rogers said he believed there was less sledging in the modern game, particularly in England where he feels umpires are less tolerant.
"Things are changing but I don't see how it can be completely policed," he said.
Australian Test opener David Warner, who played in the game, said he was not concerned that the coroner raised doubts about the evidence of the players on sledging in the match.
"I'm happy with my testimony," Warner said.
"The umpire said the same thing, that there was no sledging out there.
"I stick to my word that there was no sledging out there."
Warner claimed there was no sledging in the game these days, describing it as "banter".