Keylor Navas form cause for concern as save rate plummets
The Real Madrid keeper has saved just 67% of shots at goal this season compared to the 79% he kept out in 45 games last year. Is it a dip in form or is Navas still not right after surgery?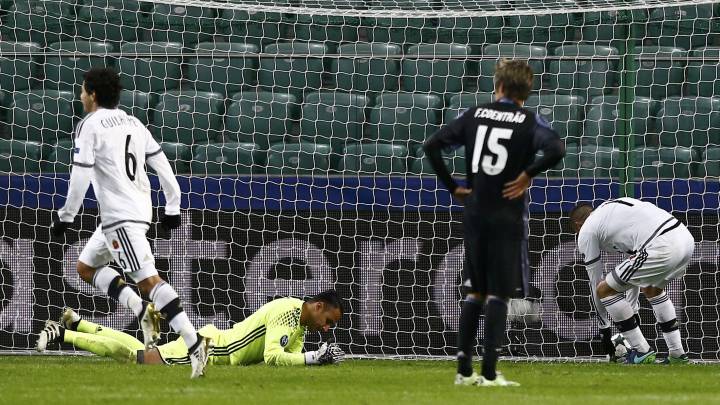 Just as it seemed Keylor Navas had well and truly buried the ghost of the David De Gea debacle with his outstanding performances last season, this campaign the Costa Rican is showing a fragility that has never before been witnessed since he arrived in Spain.
Save rate down 12%
The soft goals that Navas has conceded in Warsaw, Vitoria and Dortmund in recent weeks have set alarm bells off at the club, and a look at the statistics show why Real Madrid have some legitimate cause for concern. The goalie has saved 67% of shots at the Madrid goal this season, which is still better than second-choice keeper Kiko Casilla's 66%. However it is way down on his save rate from last year, when he kept out 79% of shots in 45 games.
Goal conceded every 61 minutes
To put those numbers into greater perspective, Real Madrid conceded a goal from every 4.9 shots with Navas guarding the net during 2015/16 (or one goal every 131 minutes). That is compared to a goal conceded from every 3.1 shots with the Costa Rican in the 2016/17 campaign so far (that's one goal every 63 minutes).
Navas still rusty?
In defence of Navas, it is of course possible that the keeper is still a bit rusty having missed the whole of pre-season and Real Madrid's opening games after undergoing surgery on his ankle in the summer.
However, his numbers do not make for pretty reading when held up against the high standards he has set himself in the past: he's now let in 8 goals from 13 games since he returned from injury against Dortmund on 27 September. And after the three goals conceded against Legia in midweek, Navas has already seen a total of six fired past him in the Champions League, the same amount conceded in each of the team's last two European campaigns in total.