Real Madrid 3-0 Leganés match report and goals: LaLiga week 11
Real Madrid beat Leganés at the Bernabéu through goals from Gareth Bale and Álvaro Morata, sending Zinedine Zidane's side five points clear at the topReal Madrid-Deportivo: LaLiga matchday 20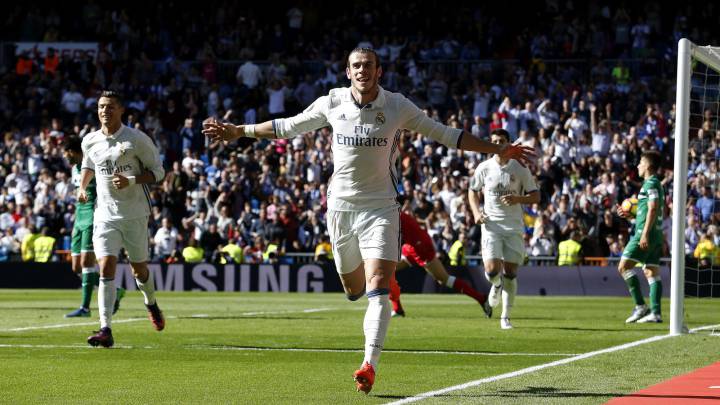 ---
Real Madrid 3-0 Leganés: summary
Real Madrid saw off Leganés at the Bernabéu with a 3-0 victory led once again by Gareth Bale, who scored twice late in the first half to put the home side in the driving seat after a generally poor first half from Zinedine Zidane's side.
Álvaro Morata added the third after the break to seal a win that sent Real to the top of the Liga table temporarily with Barcelona and Sevilla in action later on Sunday at the Sánchez Pizjuán.
Leganés, as Asier Garitano said they would, turned up at the Bernabéu with every intention of giving the hosts a game and the modest side from the southern Madrid suburb carved out a few decent chances but lacked the finishing touch, although Keylor Navas made a decent save from the onrushing Alexander Szymanowski.
In the first half, a free kick from the visitors caused all sorts of problems for the Real defence, the ball clearing every white shirt and falling to the Argentinean, who turned it into the danger area but unfortunately for Leganés no attacking player was able to get on the end of it.
Zidane will be happy to have kept a clean sheet for the first time since mid-September but the eventual scoreline was a little flattering for the home side, who struggled to impose themselves on the game and looked disjointed and lacking in ideas for the most part.
---
Real Madrid 3-0 Leganés: full time
Min 90+2 | Deary me. The Portuguese puts that one into the stands, a woeful effort. And that's the whistle! It ends 3-0 to Real Madrid, who go five points clear at the top pending the result of tonight's game between Sevilla and Barcelona at the Sánchez Pizjuán, which you can join us for here.
Min 90+1 | Free-kick to Real as Marcelo is hauled down. Ronaldo is lining it up...
Min 89 | Real are still seeking a fourth but the game has lost a little of what edge it had now as the clock winds down. Two minutes have been added.
Min 85 | Vázquez is down and it's a free kick. Omar is being helped down the tunnel to the dressing rooms. Looks like an ankle job for the Canarian winger and Leganés are down to 10 for the final stretch, having made their three substitutions. James takes the free kick and bends it just wide of the far post.
Min 83 | And Marcelo returns the favour with an ugly challenge on Omar, which goes unpunished by the referee with anything greater than a free-kick. Omar is down and looks in a spot of bother as Marcelo protests his innocence but that was not a good tackle at all.
Min 82 | Omar goes in the book for bringing down Marcelo, who takes it stoically with a puff of the cheeks.
Min 81 | And it's Morata who makes way for his fellow canterano after bagging his second goal in as many league games.
Min 78 | Lucas Vázquez is preparing to come on for the final 10 minutes.
Min 76 | Gooooooooal! Morata bags a third, riding a challenge on the edge of the area and tucking it past Serantes at the keeper's near post with a cool finish.
Min 75 | Omar twists and turns to fasion a shooting chance but blasts it into the attendant Marcelo.
Min 73 | Only the most stony hearted of observers would wish a blank on Leganés, who came to the Bernabéu to play and have done just that, causing Real a few problems at the back.
Min 70 | Navas! The Costa Rican was at full stretch there to deny Alexander, who was put through clean on goal.
Min 67 | Modric sends a ball over the Leganés defence but it's too strong for Bale to chase down. James comes on for Real, Isco, who has been fairly anonymous, the man to make way. Brazilian forward Luciano, on loan from Corinthians, is also on for Leganés.
Min 65 | Ronaldo hits the resulting free kick but it's a poor one and straight into the wall.
Min 64 | Morata is down again. The Real man has a word with the ref about his treatment this afternoon. Every time he has got on the ball he has been closed down and fouled.
Min 62 | Mantovani goes in the book for yet another foul on Morata. Both Leganés central defenders are on a caution now.
Min 61 | Here comes Modric for the final half hour, to rapturous applause. Kovacic the man to make way.
Min 59 | Bale gets up to meet a Kroos free-kick but his header is not particularly well-placed and Serantes gathers easily. Leganés attack again at the other end but the final shot is a good old-fashioned pea roller and Keylor has an easy save to make.
Min 57 | Leganés launch a promising attack but the final ball is lacking. Good approach play from the visitors there.
Min 56 | Morata is fouled again and makes his displeasure very plain indeed. The young forward has spent most of the game being floored by Leganés' midfield.
Min 54 | Varane puts in a strong challenge to break up a Leganés attack. Omar Ramos comes on for Darwin for the visitors.
Min 52 | Modric receives an ovation, the crowd singing his name, as he trots up and down the touchline. James is also warming up.
Min 51 | And it is Bale who takes, a deflection off the wall sending it out of harm's way for a corner, which comes to nought.
Min 50 | Alexander brings down Kovacic in a dangerous position. Ronaldo or Bale might fancy a crack here...
Min 47 | Bale! The Welshman glides into the area and hits a low shot but Serantes is equal to it and thwarts his hat-trick attempt. Ronaldo then stands up a cross and the number 11 meets it with a powerful header but the Leganés keeper earns his coin again to deny him.
Min 46 | We're back underway.
---
Real Madrid 2-0 Leganés: half time
Real go into the break two goals to the good, both containing an element of good fortune for the home side through convenient deflections but as things stand Zinedine Zidane's side are five points clear at the top of La Liga so they won't be too concerned about a fairly lacklustre first half performance on the whole.
Leganés now have a bit of a mountain to climb if they are to get anything out of the game and you suspect conceding just before the whistle will have sapped any remaining hopes in that department. The visitors will probably be content to prevent the floodgates being opened in the second period.
---
Min 45 | Goooooooal! A bit harsh on Leganés this, conceding a second just before half time. And it's Bale again, latching on to the ball after it ricochets off Morata and into his path, the Welshman bundling it over the line. Not the prettiest he's ever scored, but they all count and Leganés are two down.
Min 43 | The Bernabéu is frothing with rage as Leganés continue to play after Bale had gone down. Alexander's eventual shot hits a defender and loops pver Keylor's bar, the keeper then getting involved in a slanging match with the Leganés forward.
Min 41 | He's back up though, wincing a little. Leganés take the free kick short and lose possession instantly, Insua going in the book for hauling down Morata on the halfway line.
Min 39 | Kroos goes in the book for a challenge on Darwin, the German chuckling ironically as he felt he had barely touched the Venezuelan. Darwin remains down thought, clutching his knee.
Min 38 | Goooooooooal! A little bit of magic from Gareth Bale opens the scoring, the Welshman bursting onto a long ball, getting a touch of fortune as he tried to poke it past Serantes and it fell back to his feet, then slotting home from a tight angle. Isco with the assist there, a nice little ball it was too.
Min 37 | Terrible blunder from Leganés there, playing the ball across their own area to nobody in particular. Isco picks it up, looks to hit one of his trademark curlers but is closed down, lays it off to Ronaldo but the Portuguese's effort is tame and wide.
Min 35 | No shots on goal so far. Gabriel goes in down in a heap from Nacho's challenge but play continues. Bale eventually knocks the ball out sportingly. Looks like Nacho got the ball there and the Brazilian is back on his feet.
Min 32 | Replays show that Ronaldo was an inch, if that, offside on that earlier decision and he really did leave the defence flat-footed. Lucky for Leganés, good call from the lino though.
Min 30 | First corner of the game, which rather sums up the "action" so far, and Kroos fails to clear the first man.
Min 28 | Ronaldo asking his teammates to push the lines up and well he might. Leganés are looking extremely comfortable at the moment, Real have failed to create any genuine danger.
Min 26 | Ronaldo gets clear of the visiting defence to latch onto a long hit from the back but he is marginally offside as he bears down on Serantes.
Min 24 | Marcelo brings down Darwin on the far side and Leganés have a free kick, it's drifted into the area and eludes everyone, reaching Alexander who lofts it over his head but it's just too long for a green shirt to get on the end of it with the defence completely wrong-footed. A let-off for Real there.
Min 22 | Ronaldo finds himself in a shooting position from Varane's lomg ball but the Portuguese hammers his shot over the bar from just inside the area when it looked certain he would score! Bit of a howler there from the number 7.
Min 20 | 20 minutes in, 0-0, Leganés will be happy with their work so far. Morata gets up and gets his head on a cross but it's a tricky one and the canterano does well to turn it back towards goal but it lands on the roof of the net.
Min 19 | Our lip-reading department has confirmed that Ronaldo drew on his knowledge of Anglo-Saxon tongues there to invite the referee go elsewhere, but in somewhat crisper terms.
Min 17 | Ronaldo is floored by a robust challenge but nothing given there either, to the fury of the home fans and the Portuguese, who goes in the book for giving the ref a bit of verbals.
Min 15 | Leganés attack and Varane hoofs it clear, the visitors then forge another opening in the area and Alexander goes down in the box but it's a hopeful shout and the ref is having none of it, waving the Argentinean back to his feet.
Min 13 | Varane tires of the subtle approach and has a pop from distance but it doesn't trouble Serantes unduly.
Min 12 | Kovacic, who looks like he should be wearing a fedora somewhere behind Al Capone in Prohibition-era Chicago, is doing the dirty work in midfield, hassling Leganés and winning the ball back for his side.
Min 10 | It's a pretty scrappy affair so far, neither side able to hold on to the ball for long. Bale attempts a cross field ball but it's intercepted and Leganés push up but Kroos is across to bundle the ball out for a throw.
Min 8 | Kroos sits one up into the box and Varane gets a head on it but it's cleared by the Leganés rearguard.
Min 7 | Marcelo goes down under a heavy challenge and Darwin Machís goes in the book. Fantastic name that.
Min 6 | Real are happy enough to stroke it around at the back, patiently waiting for a suitable opening to present itself. Leganés are well set-up by Asier Garitano to deny the hosts space in midfield.
Min 4 | Gabriel and Alexander looking the most lively among the visitors so far. The pair have bagged five goals between them this season and most of Leganés' attacking threat will go through those two.
Min 2 | Rubén Pérez tries his luck from distance but Keylor didn't have to even move as the ball flew over his bar.
Min 1 | And the ball is off the spot, Real attacking into the sunny end of the stadium.
---
Real Madrid - Leganés: Starting XIs
Real Madrid: Keylor; Carvajal, Nacho, Varane, Marcelo; Kroos, Kovacic, Isco; Bale, Ronaldo, Morata
Leganes: Serantes, Bustinza, Mantovani, Martin, Machis, Gabriel, Szymanowski, Rico, Insua, Lopez, Perez
---
11.58 | The prelimiaries are underway, handshakes all round. Captains Marcelo and Martín do the coin thing and trot back to their halves of the pitch.
11.57 | The teams are in the tunnel, ready to emerge into a sun-bathed Bernabéu.
11.55 | Nine of Leganés' 10 points have come away from home this season, the only one they have picked up at Butarque coming at the expense of Atlético. Some bizarre stats, those.
11.50 | Just 10 minutes to go until we get underway at the Bernabéu. The sides have never met in the league of course but they did go head to head in the Copa del Rey in 2003 and 2004, Real winning the first game 2-1 and then going through the following year after extra time, that one ending 4-3.
11:35 | Odds watch: Real Madrid are heavy favourites today at a price of 1/12. If you fancy a big shock at the Bernabéu then Leganés are 28/1.
11:30 | 30 minutes to go. If you haven't got your game face on by now, then certainly get it ready.
11:25 | Weather watch: After receiving torrential downpoors on Saturday, normal service seems to have been resumed this morning as blue skies reappear above the Spanish capital. At a cool but pleasent 13 degrees, it's a lovely day for a game of football if I do say so.
11:10 | 50 minutes till kick-off folks. Don't go anywhere now, will you?
10:50 | Real Madrid have announced their team (you can view it above), and as expected, Morata comes into the side in place of the injured Benzema. There's no place in XI for Modric though, who will look to make his comeback from the bench.
10:30 | Away from the game for just a moment: this morning's top story is that Cristiano Ronaldo has agreed his contract extension and could sign on the dotted line tomorrow.
09:55 | The big provisional team news is that Karim Benzema has been ruled out of this afternoon's game following a knock he picked up in Warsaw. This opens the door for Álvaro Morata to make his 7th start of the season. We'll give you the definitve lineups when we get them in the bext hour.
09:30 | Real Madrid coach Zinedine Zidane bit back at criticism over his selection policy and tactics yesterday, saying "I don't pick the team to make on player happy".
08:22 | It's the crack of dawn, and amazingly we're less than four hours from kick-off, such is the early start in Madrid today. We'll be bringing you all the latest news prior to the game right up until kick-off, so stay tuned!
---
Real Madrid - Leganés: Match Preview
Real Madrid
Real Madrid coach Zinedine Zidane received a raft of criticism after his tactics and line-up in the Polish Army Stadium backfired in spectacular fashion as Legia Warsaw pulled off a remarkable comeback from 2-0 down to claim their first point of the Champions League campaign in a 3-3 draw.
Most of it was perfectly justified; starting the game with an unfamiliar 4-4-2 and including four forwards upset the balance of the side and failing to put Fabio Coentrão out of the misery inflicted on him by Legia midfielder Guilherme – replacing him with Marco Asensio and switching to a back three when he did – were the sort of experiments best reserved for training ground matches.
Real are never more than one poor match away from a crisis, but the setback in Warsaw was just that: a 90-minute spanner in the works, albeit one placed there by Zidane. Those mistakes won't be repeated and Keylor Navas, who was also singled out after the game for failing to stop Miroslav Radovic's speculative strike, is unlikely to face two shots matched in precision and venom as those dispatched by Legia goal scorers Vadis Odjidja-Ofoe and Thibault Moulin in the same game again all season.
Zidane still has plenty of injury concerns to contend with, not least the absence of his two senior central defenders, Sergio Ramos and Pepe. Marcelo, to the great relief of the side, will return to his left back slot after recovering from a bout of flu that caused him to miss the trip to Warsaw, while Dani Carvajal is also available after serving a one-match ban against Alavés last week, during which stand-in full back Danilo was run ragged by teenaged Atlético loanee Theo Hernández. Keeping a clean sheet for the first time since mid-September has to be a priority.
In good news for the Real boss Luka Modric is back in the squad after a month on the sidelines but he more likely to feature from the bench as Mateo Kovacic has done an excellent job deputizing for his international teammate alongside Toni Kroos.
Álvaro Morata is also in line for a place in the starting XI in place of Karim Benzema after the canterano's impressive cameos from the bench, which have been painted in an even brighter light by the Frenchman's recent lacklustre performances. Injury has ruled out Benzema for the visit of Leganés, sparing Zidane a thorny problem in his team selection, but Morata has been pushing for a start ahead of the first-choice striker for some weeks now on merit.
Leganés
Leganés boss Asier Garitano has injury concerns of his own after Adrián Marín, Mamadou Koné, Toni Dovale and Rober were all ruled out for the trip to the Bernabéu.
However, Garitano said he would tell his side to go out and play in the Bernabéu, adding that he would like to ensure this kind of match "becomes the norm for the club."
"We'll go out and through hard work and dedication ensure the fans are proud of how the players wear the shirt of Leganés," Garitano said in his pre-match press conference.
The Cucumber growers find themselves in a sticky patch of form, having lost their last three games to slip to 17th in the table. Garitano favours an attacking 4-2-3-1 formation but might elect to try and shore things up at the back after watching his side ship four goals to Málaga on their last game on the road.
Leganés have also struggled to find the net this season. Nine goals in 10 games represents the joint-second lowest total in the division but given Real's defensive shortcomings the visitors may fancy their chances of getting on the score sheet through the guile of Alexander Szymanowski and Brazilian midfielder Gabriel, who between them have accounted for five of those.
---
Real Madrid - Leganés: pre-match build-up