Tebas: "I'm not a hypocrite so I'm not going to say sorry to Barça"
LaLiga president Javier Tebas has said he was "hurt" over Barcelona's boycott of an award ceremony where he was honoured last week due to comments he made over Neymar.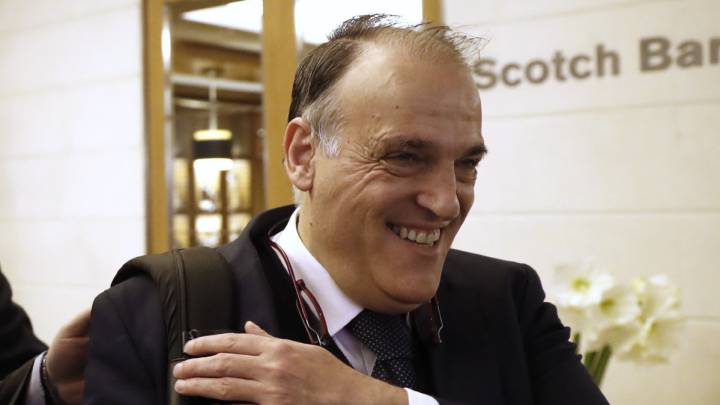 LaLiga President Javier Tebas has said he's "bothered immensely" about his feud with Barcelona and that the club's boycott of a recent award ceremony which honoured him with a Fair Play prize "hurt".
Tebas' "unacceptable comments"
Last week, Barça spokesman Josep Vives explained that the reason the club chose not to send any representatives to the annual Marca awards was because they felt the honour given to
Mr. Tebas was "unacceptable given his recent comments".
The comments that Barcelona were referring to were those made by Tebas criticising Neymar and his teammates for their reaction after being hit by a bottle thrown from the crowd at the Mestalla on 22 October.

"I'd be ashamed to pretend like that"
"I'd be ashamed to pretend like that," said the LaLiga chief following the controversial incident, clearly insinuating that he thought Barça's players had playacted.
Speaking publicly for the first time since Barcelona's boycott, Tebas said "I'm very sorry for what's happening to me. The moral hurts me, it doesn't feel comfortable, but I'm not going to stop doing my job.
"I'm not a hypocrite"
"I'm not able to ask for pardon as I'm not a hypocrite. It bothers me immensely and it hurts me because my will these past three years and a half has been to fight against violence in Spanish football."