SPAIN UNDER-21
Marco Asensio: "We've prepared thoroughly for Austria"
The midfielder cited Austria's danger from set-pieces as one of the areas in which Spain's Under-21s will need maximum concentration in Friday's Play-Off first leg.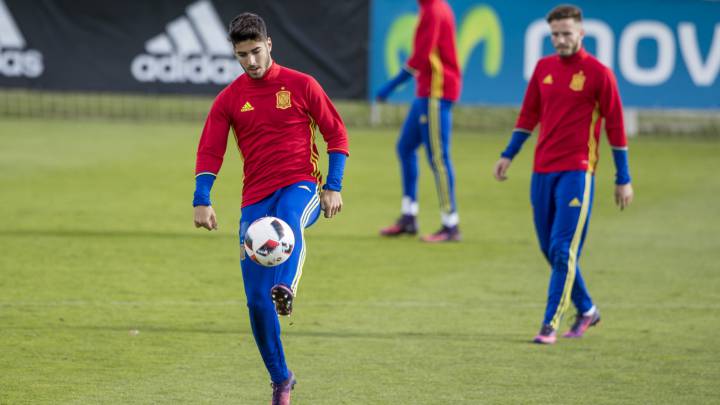 Marco Asensio declared this afternoon that Spain's Under-21s have prepared in meticulous detail for their crunch 2017 U21 Championship Poland Play-Off against Austria - the first leg of which they will play in Sankt Pölten tomorrow evening. "More than anything else, we have to take a decent result from this first leg to take back with us for the return in Spain. We have been working very hard on our gameplan for this first match and I think we are more than prepared for it", Asensio said on the eve of the match. Spain's Under-21s will have studied Austria's expertise at dead-ball moves and their robust defence - qualities which allowed them to finish second in their qualifying section behind Germany.
Asensio, who gained his first cap at full international level in the 8-0 win over Liechtenstein in September, and been recalled by Albert Celades to strengthen the Under-21s for this crucial Play-Off. "I feel very proud to have played with Spain's senior side, but I'm very comfortable here with the Under-21s. The coaching staff and the players get on incredibly well and you can see that out on the pitch. We are well aware of how important both of these games are and we'll be going flat out in Austria tomorrow and again when we play the return in Albacete next week", the Real Madrid midfielder added.
"We have been working a lot on strategic moves because that's an area where they are particularly strong and they are also physically taller than us. We've looked at that part of their game and how to handle them", Asensio explained, adding that he has noticed changes to his own game since being incorprated into Zidane's first team squad on a full-time basis. Now, he says, he has no qualms at all about having a pop on goal if he is in a good position. "Maybe before, I'd instinctively lay the ball off to a colleague before shooting myself but I have convinced myself that maybe I should shoot more often. So far I have been having a lot of good fortune because the goals are going in".