England 3-0 Scotland: Match report, goals and action
England dispose of a wasteful Scotland with goals from Daniel Sturridge, Adam Lallana and Gary Cahill in Wembley. Spain v Colombia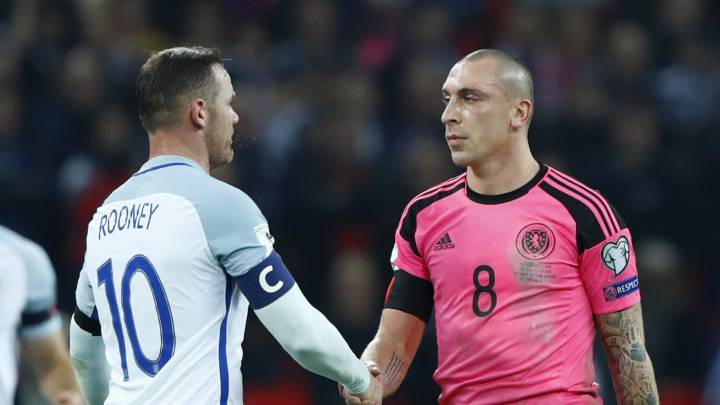 England 3-0 Scotland
---
Full-time summary
England collected all three points in this Group F tie with three goals from Daniel Sturridge, Adam Lallana and Gary Cahill in Wembley. the visiting side started brightly with a chance for Darren Fletcher but their inability to create clear cut chances would haunt them for the night. Daniel Sturridge opened the scoring with a neat header on 24 minutes and while Scotland were chasing the game, they still looked very much in it. Chances for Grant Hanley from a corner and Leigh Griffiths on a counter-attack led to nothing which will have annoyed Gordon Strachan given the shortage of decent chances.
The second half started with Scotland taking the game to the hosts and had to very good chances to open the half but Forrest dragged a shot wide before Morrison had a shot blocked by Stones that will definitely go down as a decent chance.
Following the pressure from Scotland, England waltzed up the field and a Danny Rose cross was met by Adam Lallana's head as he directed it expertly into the corner of Gordon's net.
The writing was on the wall for Scotland when Gary Cahill turned in a Wayne Rooney corner after 61 minutes that would put paid to Scotland's challenge. The rest of the game was an exercise in chasing shadows for the visiting side as they tried to break but England did well to kill off the game with a generous chunk of possession.
England play Spain on Tuesday at Wembley but it is doubtful that the Spaniards will have seen anything tonight that would worry them even remotely. Scotland might have been bad but England were not much better and if it weren't for Scotland's woeful luck and execution in front of goal, we might be telling a different story of tonight's game.
---
Second Half
Min 90 + 1 | Rooney booked for a tackle on Griffiths that might have saved a goal. Clean sheet still in tact for the hosts.
Min 90 + 1 | Scotland remain to chase shadows as we enter the first minute of two added on.
Min 90 | Lallana throws the ball into the box but Sterling can't get his head to it and Gordon collects.
Min 88 | England's very long spell of possession comes to a brief end as Hanley kicks it out over the sideline for a throw.
Min 86 | England happy to play the ball around as the English fans cheer on every pass they make. Scotland chasing shadows now.
Min 82 | Vardy pulls the ball back that rolls past Rooney before Sterling has a shot that is blocked. Like a game of ping pong in Scotland's box there for a minute.
Min 80 | Rooney steps over the ball and Dier hits a free kick that bounces of Hanley's head and goes out for an England corner.
As internships go, this has not been bad by Southgate. In saying that, Scotland have failed to make England pay on the few occasions that they had good chances.
Min 77 | Sterling tries to weave a pass to Vardy but it's too tight an angle and Scotland snuff out the danger. Remain 3-0 to England.
Min 74 | Vardy comes on for Sturridge as he looks to inflict further pain on Scotland.
Min 70 | Former Liveprool teammates Henderson and Sterling almost combine but the latter can not turn the cross in. It came at him too fast and he couldn't get the right contact on it.
Min 67 | Rooney is bundled over in the box but no penalty and he hardly even appeals himself. This game has died a death since those second and third goals. Can Scotland get even a consolation?
Min 65 | England fans in the crowd waving white scarves now. Game all but over here as the Scottish fans appear to know their fate too.
Min 61 | GOAL! 3-0 as Cahill turns in a Wayne Rooney corner with his head. Game, set and match, it seems.
Min 57 | Cahill now booked for a foul on Forrest as he had his pocket picked. Tactical foul by pulling down the Scotland winger.
Min 56 | Griffiths booked for a late tackle on Danny Rose.
Min 54 | Morrison has an effort that is easily taken down by Hart. Scotland's chances slowly drifting off into the London night.
Min 51 | GOAL! 2-0 as Adam Lallana scores his second goal in an England shirt. Rose's cross is met by his head as he directs it expertly past Gordon.
Min 50 | Brown plays it to Wallace, who finds Morrison but he can't beat Stones.
Min 49 | An excellent move by Scotland that results in Forrest trying his luck from inside the England penalty area but his left-footed effort doesn't even hit the target.
Min 47 | Anya breaks but has Rose for company every step of the way and slices a cross out over the end line. Pitiful.
Min 46 | Our man in the middle Cuneyt Cakir blows the whistle to get us started for the second half. No change for either side.
---
Half-time summary
Daniel Sturridge's early header separates the sides after a relatively good start by Scotland. Scotland a couple of good chances after Sturridge's 24th minute opener. Grant Hanley had a free header that he put over the bar. Then Leigh Griffiths and Robert Snodgrass broke free only for the former to try his luck from too far out and waste an opportunity that could come back to haunt them. Scotland continued to grow into the game but given England have the lead, they will be happy to sit and break in search of a second goal.
---
First Half
HT
Min 44 | Closing in on half-time as both sides preparing for the break for a chance to reassess.
Min 42 | Morrison launches himself into a tackle with Sterling. He is lucky he wasn't booked for that.
Min 40 | Fletcher taken down by Dier as Scotland waste the resulting free by fouling in the penalty area.
Min 38 | Lallana breaks and puts Rooney in but his pass is intercepted quite easily.
Min 37 | England want a penalty but Rose quite obviously dives with Snodgrass just standing behind him. No contact.
Min 36 | Scotland break but Snodgrass' pass is cut out by Cahill as he headers it back to Hart.
Min 33 | Fletcher turns into Lionel Messi and turns Rooney inside out before blazing over.
Min 30 | Griffiths breaks with Snodgrass in support and just two English defenders to beat but he tries a hopeful effort from outside the box. Snodgrass is furious and has every right to be! Griffiths apologises but that was a golden opportunity.
Min 27 | Hanley with a FREE header from a corner. a FREE one with nobody near him. He headers it over the bar without even testing Joe Hart.
Min 26 | A Robert Snodgrass free is cleared but only as far as Griffiths who rifles one towards goals with his left foot and it's deflected out for a corner. Better from Scotland.
Scotland might stick to the game plan for a little bit longer but they can't rely on counter-attacking now. They'll have to push up on England and force this thing.
Min 24 | GOAL! Sturridge heads Walker's cross past Gordon. 1-0 to England.
Min 21 | Rooney's free-kick is deflected by the wall, and Grant Hanley to be precise, for a corner.
Min 21 | Free-kick to England in a dangerous position as Sterling is hacked down by Berra. Rooney eyeing it up.
Min 19 | Rooney plays Lallana through down the left but his cross is too high and long. England win it on the other side and keep pressure on Scotland. This is looking like it will be all counter-attacking by Scotland so far.
Min 17 | England growing into the game but Scotland looking to break when they win possession with Anya on the right.
Min 13 | Sterling gets hit in the air and in the penalty box but the referee says no penalty. Looks like a late challenge there.
Min 12 | Scotland trying to disrupt the hosts as they try to gain control of the game and possession.
Min 11 | Griffiths glances a header onto Brown but the Celtic man runs out of room and concedes a throw-in.
Min 10 | Lallana gives the ball away in a very deep position and Scotland are on the attack again.
Min 8 | Wayne Rooney bulldozes Scott Brown out of the way and concedes a free. Scotland looking comfortable so far.
Min 6 | Rooney with a high and hopeful free into the box that Hanley headers back to Gordon.
Min 5 | High ball launched into the box that Joe Hart comes out and boxes to safety, but he catches John Stones with a knee in the process.
Min 4 | Forrest with a shot that is semi-blocked by Rooney and rolls into Torino's Joe Hart's gloves. Yep, still weird. I'm going to drop the "Torino's" next time.
Min 3 | Fletcher has a shot from distance but Torino's Joe Hart collects with ease. It will never not be weird typing Torino's Joe Hart.
Min 2 | Rooney as the number 10, Sturridge up front, Lallana on the left and Sterling on the right. Just in case there was any confusion.
Min 1 | We are underway at Wembley!
---
England - Scotland: teams
England XI
Hart, Walker, Stones, Cahill, Rose; Dier, Henderson, Rooney, Sturridge, Lallana, Sterling.
Scotland XI
Gordon, Anya, Hanley, Berra, Wallace, Fletcher, Morrison, Brown, Snodgrass, Forrest, Griffiths.
---
England - Scotland: latest news
20:42 | Scotland wearing their pink strip because of the clash with their home side with white sleeves. Looks rather dashing, if I must say so myself.
20:41 | Followed by an equally impressive God Save The Queen.
20:39 | A rousing version of Flower of Scotland.
20:28 | Or can Adam Lallana land his second England goal in his 28th game?
20:19 | We are just 25 minutes away from kick-off. Can Leight Griffiths prove the doubters wrong in his 10th appearence for his country tonight? He has nine goals for Celtic this season in 17 appearences.
20:09 | Scotland should be taking inspiration from this fella from Dundee, if you ask me...
19:46 | As a neutral for tonight's game, I am just hoping it isn't a 0-0 draw!
19:45 | Scotland have won just two of their last eight qualifying games. Those wins coming against Gibralter and Malta. They have lost three and drawn the other three.
19:39 | Team news in! Sturridge gets a start with Lallana and Sterling in attacking midfielder and Rooney just behind them.
19:16 | England's biggest win in this fixture was 9-3 in 1961 with Jimmy Greaves landing himself a hat-trick. Scotland's biggest? 5-1 in 1928.
18:56 | Here is all the information you need to know on tonight's referee - Cuneyt Cakir.
18:28 | England hold the record in this game with 47 wins. There have been 41 wins to Scotland and there have been 24 draws.
18:03 | An Englishman, Irishman and a Scotsman walked into a news office to do a live feed and...well, we decided it was best that the man in the middle should be in charge. Follow Robbie as he brings you all the action, and more besides, of the game. To be sure!

17:30 | Paul Gascoigne scored a bit of a beauty in the old Wembley Stadium against Scotland at Euro 1996. Will Jordan Henderson try and recreate it this evening?

17:00 | It's looking a bit parky for the match tonight, plus ça change. Seven degrees forecast for kick-off time. Will that favour the visitors? Can England do it on dreary Friday night in West London?
15:00 | Tonight's game is set to see the return of Wayne Rooney to an England starting XI.
14:20 | England interim first team coach Gareth Southgate called for confidence but not arrogance from his team
13:30 | A Scotland win the outside bet with the tipsters this evening. A win for Strachans's men paying out at 8/1.
13:00 | Good afternoon and welcome to out live build-up ahead of this evening's Group F 2018 World Cup qualifier as England face Scotland at Wembley.
---
England - Scotland: possible starting XIs
England: Hart, Walker, Cahill, Stones, Rose, Dier, Henderson, Lallana, Rooney, Stering, Kane.
Scotland: Marshall, Paterson, Martin, Hanley, Kingsley, McArthur, Darren Fletcher, Brown, Snodgrass, Fletcher, Ritchie
England - Scotland: match preview
Despite contrasting fortunes in the 2018 World Cup qualifying campaign to date, an England-Scotland fixture is always special. The 113th meeting of both countries, the oldest international fixture, is set to be no different with Gordon Strachan's men spurred on by the presence of more than 10,000 members of the Tartan Army at the home of English football in a game that has been eclipsed by the decision of both national teams to wear a poppy on the shirt despite the possibility of a FIFA sanction.
---
England
Interim England manager Gareth Southgate appears set to give Wayne Rooney a start in the game against the "auld enemy" in an England side that also sees the return of Harry Kane with the Spurs striker making a comeback to first-team football in last Sunday's North London derby after a lengthy lay-off through injury.
Raheem Sterling and Adam Lallana should return to the team with doubt over in-form Theo Walcott being selected ahead of one of the Liverpool duo.
Recent history and current form are also on the side of the Southgate's men with England currently unbeaten in 32 international qualifiers (World Cup and Euros), winning 24 and drawing eight, they lost their last competitive clash against Scotland back in 1999 (0-1) when Don Hutchison was on target for the men from the north of the border.
Scotland
Scotland coach Gordon Strachan was adamant about the importance of tonight's game in yesterday's press conference claiming, "My players are intelligent enough to understand the match. I don't think I have to show them anything. They know the fixture, everybody knows the fixture. It's known throughout the world. So I don't have to show them the importance".
Strachan is anticipated to make several changes from the side that were soundly beaten by Slovakia as Scott Brown looks set to join a midfield three of Darren Fletcher and James McArthur, while the under-fire coach will start with Matt Ritchie and Snodgrass in attack.
Scotland captain Fletcher claimed, "It doesn't get much bigger than this - there will be a little more fire in the belly, it being England v Scotland".
England - Scotland: live build-up