SPAIN 4-0 MACEDONIA
The 3 points were "this week's sirloin steak" - Lopetegui
Spain's coach said after the win: "The important thing was for the players coming into the side to show attitude. They already talent and ambition".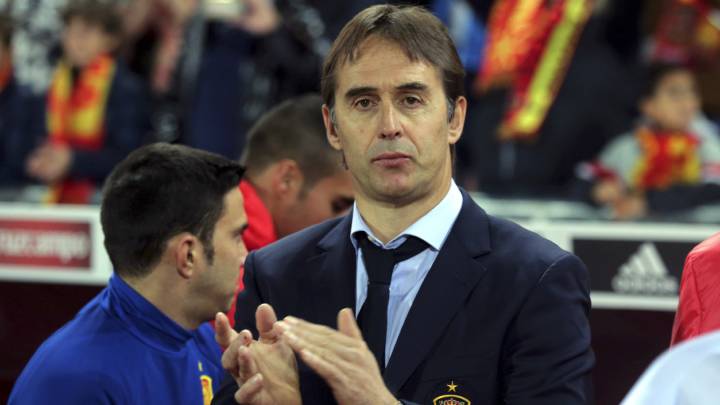 Resilient rivals

Spain coach Julen Lopetegui was happy with his team's performance against Macedonia and praised his players for persisting against a side who were initially difficult to break down.
Did the game turn out as you had hoped? "Matches never turn out how you imagine them to - something unexpected always happens. But we're happy with the three points we took from tonight's game, and it's a good result. Macedonia are a good side, a team with velocity so it was difficult for us to control the game. They force you to play a different kind of game and they had chances of their own, so we are very happy with the three points".
Speed at recovering possession: "One of the devices which helps us defensively and to mount attacks is pressing to win the ball back. As a team, we can be a little exposed at times. We always have a lot of players close to the ball so we have to make sure we steal the ball back. It wasn't easy to do that today, because they had two forwards poised on the halfway line".
Solid defence
Nacho: "We've had a lot of injury problems to deal with but we also have a lot of faith in the younger lads - and they can sense that - not just Nacho, but Bartra, Montreal... all of them were at a good level".
Less stability in the first half: "In the early part of the game, opponents have more energy and they are more nervous. Every time they won the ball back they generated danger. We hadv a good first half but perhaps our finishing lacked precision. In the second half, we were more focused going forward".
Mentally prepared for England friendly: "The three points in play tonight were this week's main course - the sirloin steak. Now we have a game on a stage which couldn't be better. We'll be going there with the aim of putting in a decent game, competing well and winning. Whoever plays, this match won't be about giving players an opportunity - we'll be putting out a strong XI".