Simeone reprimands Gabi after "fragile" Koke comments
The Atletico Madrid coach took his captain aside for a twenty-minute chat during training on Tuesday following remarks made over his teammate at an awards ceremony last weekChampions League semi-final draw: live online
Atletico Madrid coach Diego Simeone appeared to give his captain Gabi a verbal ticking off at training on Tuesday following comments the midfielder made on teammate Koke last week.
On collecting a prize at the Premios Gredos award ceremony, Gabi talked about the new dynamic that Atletico have been playing with this season – something that has seen Koke move in to a more central position.
Gabi: Atleti "more fragile" with Koke in the middle 
"Koke is playing in the middle," said Gabi. "He's doing it well but perhaps when it comes to defending we're more fragile. We need to go back to being a strong team at the back with everyone working together."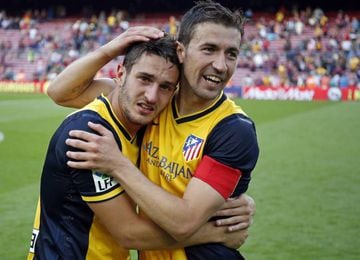 Simeone has been reluctant to talk to the media about this new adaptation to his tried-and-tested system – one which, while seeing a more attacking Atletico, has led to more goals being conceded. And the Argentinian coach was evidently not too happy with his captain addressing it so bluntly either.
Simeone's stern talk 
Simeone took the captain aside during training for a chat on Tuesday morning and although it couldn't be heard what was said, Cholo's body language told the story. As Gabi sat on the floor listening, the Atletico manager talked for twenty minutes continuously waving his arms.
It's not the first time an Atletico player has landed himself in hot water with his comments this season. After a slow start to the LaLiga campaign, Antoine Griezmann blasted: "If we continue like this we'll be on our way to the Second Division." Those remarks disappointed Griezmann's teammates and caused Saúl to respond that the Frenchman "should think about what he says".