Faubert: "We had to be careful not to injure Raúl in training..."
Julien Faubert gave an insight into his brief time at Real Madrid in an interview with SFR Sport 1 and spoke Raúl's role within the dressing room: "He was the boss, he held the keys".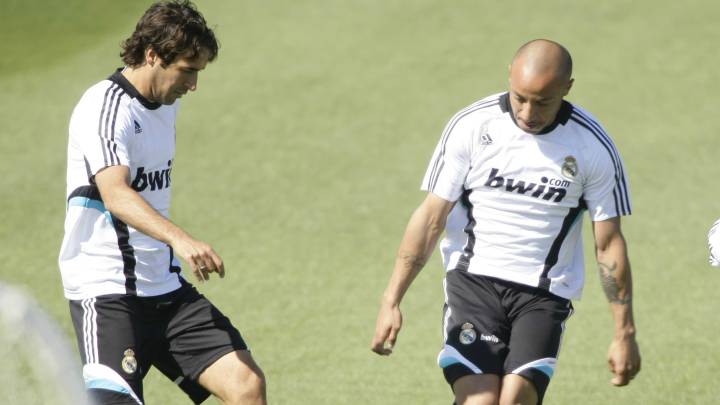 Julien Faubert's stint at Real Madrid was brief, but long enough for him to get an impression on the club's inner workings. The French player was a special guest on SFR Sport programme Le Vestiaire in which he looked back over his playing career and gave a glimpse into life inside the Madrid dressing room. .
Faubert, who joined Real Madrid on loan from West Ham in the January 2009 transfer window with Juande Ramos on the bench, spoke about Raúl González's influence within the squad: "One day, the press officer came into the dressing room holding an interview I'd done for the media and he went straight to the boss, Raúl. He showed him the interview, he read it then decided whether it was ok or not to publish the interview because I had spoken about him in it..."
Quiet Raúl

According to Faubert, Raúl didn't mingle much with the rest of the squad: "Raúl was quite discreet during my time at Real Madrid; he had his own physiotherapist, he was always first to get off the team bus, he was a little bit apart from the rest. He was the ones holding the keys to Madrid but he wasn't arrogant. He worked very hard. He'd turn up for training, to win, then he'd go home. He wasn't the kind to be sharing his life with the rest, he was discreet and quite secretive. And for example in the training sessions, we had to be extra careful with him, not to injure him or suffer a collision with him..."
Faubert only played 52 minutes with Madrid and left through the back door at the end of that season. He returned to West Ham, tried his luck with Turkish side Elazigspor in 2012 before spending a year at Girondins. Later, he found himself without a club and was training alone in Cataluña before spells at St. Johnstone then Kilmarnock. Now, he reveals he is training with French Third Division outfit, Creteil.