Spirited Sporting denied in Madrid by Ronaldo double
The Portugal forward struck twice in the Bernabéu to hand Real victory over a Sporting side who did not come to make up the numbers.Real Madrid-Deportivo: LaLiga matchday 20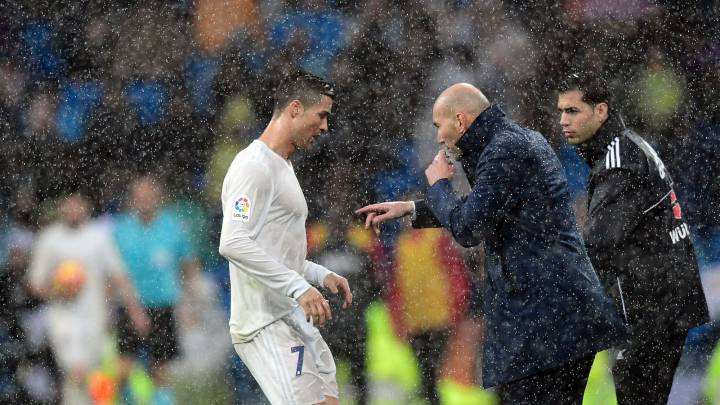 Real Madrid 2-1 Sporting: match summary
Cristiano Ronaldo netted twice in the Bernabéu as Real Madrid negotiated a tricky tie against visiting Sporting to secure a 2-1 victory.
Sporting arrived in the Spanish capital with one of the worst away records in the division but Abelardo's side can be thoroughly proud of their performance, which was one Duje Cop miss away from reaping an unlikely point.
Real eased into a 2-0 first half lead but then appeared to take their eye off the ball as Sporting enjoyed a spell of possession in midfield that resulted in a deserved goal from the boot of Carlos Carmona.
Sporting came out after the break fired up from their ascendancy towards the end of the first period and gave Real a torrid second 45 in the torrential rain lashing the stadium. The visitors' pressure was rewarded in the 76th minute when substitute Víctor Rodríguez was brought down by Nacho in the area. However, Croatian striker Duje Cop fired his effort high and wide with Keylor Navas going to the other way to the considerable relief of the Bernabéu.
Sporting continued to press for an equalizer and were easily a match for the European Champions but Ronaldo's double was sufficient to separate the sides when the whistle blew.
---
Real Madrid 2-1 Sporting: full time
Min 92 | And that's the whistle! Real hold on for a hard-fought victory over Sporting to maintain their unbeaten start to the season and to remain on top of La Liga for another week ahead of the Clásico, regardless of results elsewhere.

Min 90 | Real come forward now through Vázquez but even he looks knackered after a gruelling match. Isco skins Sergio Álvarez and cuts in onto his right but he can't guide one of his trademark curlers into the far corner.

Min 89 | Two minutes of added time.

Min 87 | Sporting continue to push for the equalizer and Real now appear intent on holding on rather than going for a decisive third. All 10 outfield players are in their own half as Sporting probe for an opening.

Min 85 | Sporting fancy their chances of claiming a point here and come again, earning a corner. Real clear though and Ronaldo finds himself with nothing but grass between him and Mariño but his shot is a tired one and straight at the Sporting keeper.

Min 83 | Asensio tries his luck from distance but his shot is straight into a Sporting defender. Lucas is then inches away from meeting a Benzema cross but can't pick the ball out from his feet and it rolls across the face of goal.

Min 81 | Navas! The keeper makes a smart stop from Cop, who is clearly eager to make amends for his blunder. It was a decent move from Sporting and they do deserve a reward for their industry this afternoon.

Min 80 | Kovacic goes off to a deserved ovation, Isco trots on to replace him. Sporting throw the dice as well, Rachid going off for Nacho Cases.

Min 78 | It was Nacho who conceded the spot kick for a foul on Rodríguez, the sub having an immediate impact on proceedings. Sporting you fancy won't have a better chance than that. The replays show just how awful a penalty that was...

Min 77 | Oh my word! Cop blasts it over the bar with Navas heading in the other direction! An absolute howler from the Croatian!

Min 76 | Penalty to Sporting!

Min 74 | Double change for Sporting now, Víctor Rodríguez and Borja Vigeura coming on for Moi Gómez and Carmona. Two attacking players... are Sporting going to go for it?

Min 72 | Ronaldo cleverly disguises a free-kick to feed Vázquez, but the canterano can't get decent contact on it as he slides in at the far post.

Min 70 | Kovacic and Modric combine on the edge of the area but the latter blasts his shot well over the bar. Changes are afoot... James and Sergoi Ramos are trudging off, Asensio and Marcelo coming on to replace them.

Min 67 | Benzema almost gets on the end of a cross but it's nicked off his head. It's hard to see where the score board is going to be bothered again at the moment. It's even stevens in midfield and clear chances are at a premium.

Min 65 | Pepe is flattened by Carmona in the Real area and the Sporting man goes in the book for his efforts.

Min 63 | Isco and Marco Asensio have been ordered to warm up as Zidane considers his options. Kovacic goes on a run and pulls the trigger but it's deflected wide. Ronaldo then gets his head on a cross but can't steer it towards the target.

Min 60 | Nacho canters onto a through ball and gets a shot off but it's straight at Mariño. It's been a decent performance from the canterano this afternoon.

Min 59 | Vázquez concedes a foul in midfield but it's straight back to Mariño from midfield. Rachid finds his way into the ref's notebook for a clattering challenge on Kovacic.

Min 57 | Mariño! What a save from the Sporting keeper, who reacts with lightning reflexes to deny Benzema from close range.

Min 54 | Both sides are finding it hard to string passes together and there are a few fouls flying in from the visitors. Ronaldo gets a shot off but it's tame and Mariño gathers easily. A few pot shots might be on the way given the skid on the pitch, which makes life very difficult for keepers.

Min 52 | Some action on the touchline now as Sporting coach Abelardo sends some of his subs out for a dousing. No movement yet on the Real bench.

Min 51 | Sporting play it out wide and sling it into the Real area but Danilo gets it clear with composure.

Min 49 | It could be a scrappy second half in the Bernabéu with the playing surface now as slick as the Soul-Glo bloke out of Coming to America.

Min 47 | Benzema goes flying in for an attempted header and gets a boot full in the head from Fernando Amorebieta. He's ok to continue though.

Min 46 | There don't appear to have been any changes at half time.

Min 46 | We're back underway at the Bernabéu, where fans in the lower tier may want to start considering an Ark. It's absolutely hammering it down as Real and Sporting resume.
---
Half time
Real appeared to have the match under control after taking a 2-0 lead and restricting Sporting to just a couple of half chances but the visitors grew into the game and deservedly pulled one back to cap a decent spell of pressure.
Zidane may decide to ring the changes at half time. He has Dani Carvajal and Marcelo on the bench and their inclusion would give Real a little more cutting edge going forward and a little more balance on the back foot. Casemiro will also get some time in the second half with a view to the Clásico, but if Sporting come out as they went in at the break he may be needed just to ensure their isn't a bit of a shock in today's game.
---
Min 45 | Lucas Vázquez might want to change his studs at half time as he slips again to hand possession to Sporting.

Min 42 | Real win a free kick on the left as Jorge Meré has the temerity to tangle with Ronaldo, who does his stop and wave arms in frustration thing that often precedes the ref's whistle. Sporting clear though.

Min 41 | Ronaldo is handed far too much space by a backtracking Sporting defence and lets fly from just outside the area but Mariño is equal to the shot.

Min 39 | Oh dear. Vázquez finds himself in a shooting position in the box from Ronaldo's layoff but shanks his effort into the stands from close range.

Min 37 | Pepe is back on the pitch now. He had just returned when Sporting scored, but that should take nothing away from the quality of Carmona's strike.

Min 34 | Gooooooool! Isma López sends in a low cross and Carlos Carmona gets in front of Kovacic to guide a cheeky shot past Navas. Beuatifully taken. Luka Modric uncharacteristically gave the ball away in the build-up to the goal.

Min 33 | Sporting win a corner as Ramos hurls himself at a dangerous cross. He's doing a good McGuyver impression today, the captain.

Min 31 | Ronaldo goes on a run down the left and leaves a couple of defenders in his wake, finding a decent cross that is cleared with Vázquez lurking at the far post. Pepe is off the pitch getting some treatment after appearing to twist his ankle in an earlier exchange.

Min 30 | Sporting have had the better of the last five minutes or so and if they are going to get on the score sheet its coming soon... Real on the back foot at the moment.

Min 28 | Gómez! The Sporting midfielder hits a fizzing shot at an awkward height for Navas in the wet conditions and the Real keeper does well to hook it clear.

Min 26 | Sporting get a cross in from the right and Ramos throws his head in bravely to clear with a Sporting player bearing down.

Min 25 | Sporting have their foot on the ball for a decent spell of possession and eventually squeeze off a shot but Rashid's effort hits a teammate and drifts harmlessly wide of Navas' goal.

Min 23 | Real are in total control now as Sporting's sails have been thoroughly deprived of wind after those two early goals. James, who has been combative so far, concedes a free kick as he tussles for possession in the Sporting area.

Min 21 | Pepe takes a knock to the chops but the Portuguese is made of stern stuff and shrugs it off.

Min 19 | Real are turning the screw now, the home side sensing they can put this puppy to bed before half time. James gets into the area and chances his arm. Nacho then thinks he's scored but he's called offside.

Min 17 | You have to say that was magnificent! Nacho leathers a glorious ball into the box and Ronaldo gets a powerful head on it to steer it past Mariño for his second of the game.

Min 15 | Danilo concedes a foul on Duje Cop on the right but it's a hit and hope from Moi Gómez and little danger for the Real back four. James gets it clear.

Min 14 | Lovely tackle from Nacho there. We do enjoy a sliding tackle recovery.

Min 12 | Ronaldo rises to meet a corner but mistimes his jump a tad and fires wide. Decent chance for the Portuguese.

Min 10 | Rashid flashes a cross past Navas' post after another bizarre punch from the keeper. It took a deflection and it wasn't too far off.

Min 9 | Danilo gets to the byline and hoiks a cross towards the Sporting goal but it's straight out of play. The Brazilian can only improve on his opening 10 minutes.

Min 7 | Danilo is shown a clean pair of heels on the right and Sporting probe the Real back line but can't find a decisive pass and Real bring it out.

Min 5 | Ronaldo intercepts in the Sporting half and Real come at the visitors but no white shirt -- and they are very white today -- can get a decent peg on the pig skin and Sporting clear.

Min 4 | That was a fair call by the ref, not that Real needed a helping hand precisely. Ronaldo now edges up to the top of the Pichichi charts with his ninth of the season and Sporting are up against it already in Madrid.

Min 3 | Penalty! Lucas Vázquez is brought down and Ronaldo buries the spot-kick! 1-0 to Real.

Min 2 | Oh my word! So close from Sporting. Moi Gómez feeds a ball into the area and Isma López almost steers the ball past Keylor Navas! A let-off for Real there, who have started erratically.

Min 1 | Off we go! The first shot of the game goes to the visitors, but it wasn't much Cop.
---
16:13 | And here come the sides, the handshakes are out of the way, Zidane and Abelardo share a manager's union moment and kick-off is imminent.

16: 11 | The teams are in the tunnel and we're about to get underway...

16:10 | Sporting have brought 1,500 fans down from Asturias for today's game and there aren't many more home supporters in the stadium at the moment. The rain in Spain does not go well with the game. We imagine once the ball rolls off the spot the stands will start to fill up a tad.

16:05 | Just 10 minutes to go until kick-off.
16:00 | Sporting's last victory in the Bernabéu came in the 2010-11 season, with the late Manolo Preciado in the dug-out for the visitors. A scholar, a gentleman and an extremely fine coach.

16:00 | Sporting coach Abelardo is looking to shut up shop in the Bernabéu as he deploys a 5-4-1, with Duje Cop operating a lone striker.

15:55 | The full details of today's team news can be found here, with Zidane making five changes for the match.

15:50 | Ramos yellow card alert... the Real Madrid captain will miss next weekend's Clásico if he goes in the referee's book this afternoon.
---
Real Madrid - Sporting: team news
15:00 | Real Madrid have released their line-up for today's game. James is to get a rare start and Nacho comes into the back four at left back with Danilo on the right. Lucas Vázquez and James will line up with Ronaldo behind Benzema, who will operate up top.
Real Madrid XI:
Navas; Danilo, Pepe, Ramos, Nacho; Modric, Kovacic; Lucas, James, Ronaldo; Benzema
Coach: Zinedine Zidane
Bench: Kiko Casilla, Carvajal, Marcelo, Casemiro, Mariano, Asensio, Isco.
Sporting XI:
Mariño; Douglas, Lillo, Meré, Amorebieta, Isma; Carmona, S. Álvarez, Rachid; Moi Gómez and Cop.
Coach: Abelardo Fernández
Bench: Whaley, Canella, Cases, Xavi Torres, Babin, Víctor, Viguera.
---
Real Madrid - Sporting: latest news
Good morning and welcome to our live coverage as we build-up towards this afternoon's LaLiga clash at the Santiago Bernabeu as table topping Real Madrid welcome Abelardo's Sporting Gijon with a kick-off at 16:15 (CET).
15:45 | Just half an hour to go until kick-off at the Bernabéu, which will damp underfoot after a couple of days of persistent rain in the Spanish capital.
15: 20 | A bit of an experimental side from Zidane, with plenty of comedy potential at right back as Danilo steps into Dani Carvajal's boots. The Spain international could do with a rest to be fair, but expect Sporting to target the Brazilian.
14:30 | Well, Real Madrid vs Sporting has a lot to live up to after the hors d'oeuvres served up for today's Liga fare at La Rosaleda. We should have some team news very soon.
14:00 | Sporting are no strangers to the sweet taste of victory at the Bernabéu, having beaten José Mourinho's Real Madrid 1-0 in April 2011 - a late winner from Miguel Ángel de las Cuevas handing the Asturians a win. However, Sporting have been thumped 5-0 by both Atlético and Barcelona already this season.
13:30 | The form table also does not favour Sporting today. Real Madrid are unbeaten in the league since defeat to Atlético in February, picking up nine wins and two draws at the Bernabéu since then, while Sporting have not won away from home in LaLiga since 31 January at Valencia, managing six draws and suffering seven defeats on the road after that game.
13:00 | Real Madrid have gone unbeaten in all competitions for 30 games now stretching back to the 2-0 loss to Wolfsburg in last season's Champions League in April. It's fair to say that record isn't under the gravest of threats today, Sporting having picked up just two points from their last nine games. Still, nobody gave Alavés a chance in Camp Nou, so
12:30 | Here's more information about the enviornmental aspect of today's playing shirts and the company behind the venture with Adidas.
12:00 | Madrid are set to wear special shirts made from recycled plastic today. Here's more info on the initiative
11:30 | An away win deemed as a remote possibility with bookmakers offering 34/1 for Sporting to secure maximum points today.
11:00 | Here's a brief guide on how to follow today's game from the Bernabeu
10:30 | Director of AS A. Relaño previews the Madrid-Sporting game and life ahead with the 'BBC' off-air for some three months.
09:30 | Ahead of the Saturday action here's a look at our LaLiga predictions for match-day 13.
---
Real Madrid - Sporting: match preview
It's back to LaLiga action for Zinedine Zidane's side today after securing a berth in the last 16 of the 2016/17 Chamipons League against anothert Sporting outfit (that of Lisbon) midweek. Today's Sporting hail from the Asturian costal city of Gijon and are really struggling in LaLiga with one having to go back to Septemrber 11 to recall their last win in domestic competition.
Real Madrid
Real Madrid are defending the only unbeaten record in the division when Sporting visit today and, with Barcelona facing their annual trip to Anoeta, where the Camp Nou side have not win since 2007, the opportunity to put some more daylight between the top two is a possibility for Zinedine Zidane's side.
Real's injury crisis has claimed yet another victim in the shape of Gareth Bale. The in-form Wales forward has been ruled out for up to three months after suffering an ankle injury and that will require Zidane to shuffle his deck again with the Clásico on the horizon. The 4-4-1-1 / 4-2-3-1 the Frenchman has deployed in Real's last two games has brought the best out of Isco, operating behind Cristiano Ronaldo, and with two wide men in a midfield four greater balance and combativeness in the centre of the pitch.
There seems to be little to gain from tampering with a formation that blew Atlético away in the Madrid derby and earned a hard-fought win over Sporting Lisbon to secure the side's place in the knock-out stages of the Champions League.
Zidane has had some good news ahead of the game with Casemiro back in the squad for the first time since September 18 and the Real coach will relish the opportunity to give his defensive shield some game time ahead of the trip to Camp Nou, although he will in all likelihood start on the bench.
Pepe has also recovered from a hamstring injury and has been named in the squad. The Portugal defender will in all likelihood be required from the outset as Raphael Varane has been ruled out of the match, with Sergio Ramos set to start despite being one booking away from a suspension for the Barcelona game.
In midfield, Zidane will probably opt for the same central pairing as he used in the Calderón and the José Alvalade: Mateo Kovacic and Luka Modric. If he opts for a four-man midfield, Lucas Vazquez is the obvious candidate to occupy Bale's habitual position on the right and Marco Asensio could be called upon to operate on the left, where the Welshman played against Atlético and Sporting.
Karim Benzema is also fit and came off the bench to score the winner in Lisbon, giving Zidane some food for thought. Whatever formation and personnel the Real coach selects against Sporting will be some indication of his thinking for the Clásico and leaving his compatriot on the bench for that game would be a huge call from the Real manager.
Sporting Gijon
Sporting avoided the drop on the final day of last season and find themselves at the wrong end of the table again as the league approaches the halfway stage. The Asturian have picked up just two points from their last nine games, scoring just seven times during that sequence of results and conceding 23.
It will be little surprise if Abelardo sets up his side to avoid a dispiriting defeat. The visitors are yet to win on the road and have picked up just two points and scored only four goals on their travels this season. The manager's switch to a 4-4-2 in recent games has stemmed the flow of bad results somewhat – two draws came swiftly after his tactical reshuffle – but Sporting's last two games have seen the side ship three goals in consecutive weeks.
Adding to Abelardo's problems are the probable absence of both first-choice keeper Iván Cuellar, who has a muscle injury, and influential defender and team captain Alberto Lora, who has not trained all week after suffering a contracture against Real Sociedad last weekend.
---
Real Madrid - Sporting: possible starting line-ups
Real Madrid: Navas, Nacho, Ramos, Carvajal, Danilo, Kovacic, Isco, Modric, Lucas Vazquez, Ronaldo, Benzema.
Coach: Zidane
Sporting: Mariño, Douglas Costa, Lillo, Meré, Amorebieta, Canella, Sergio, Nacho Cases, Xavi Torres, Viguera, Cop.
Coach: Abelardo
---
Real Madrid - Sporting: live match build up