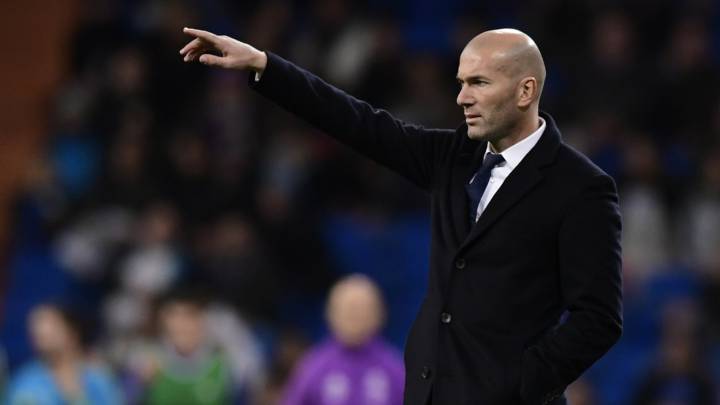 Post-match press conference

Zinedine Zidane gave his impressions on this evening's Copa del Rey return leg against Cultural Leonesa and Saturday's much-anticipated clash with Barcelona to reporters in the Bernabñéu press room.

Overview of the game: "We started very strong and scored an early goal. I'm happy for all of the players who were able to gain minutes. It's an important victory and I'm pleased with the hard work the lads put in".
With Yañez making his debut, now the whole squad have played: "I'm happy for Rubén. He was the only one who hadn't made his debut. He trains exceptioonally well every day and I am sure all of his team mates are thrilled that he's made his debut".
Casemiro's return: "He looked good. He had a little bit of difficulty right at the start which is normal after almost two months out on the sidelines. I'm happy that he's back with us. He put in a complete game and he's ready but I'm not going to say whether he'll play on Saturday".
Mariano's hat trick: "There's no question that he's a proven goal scorer. I'm very happy for his three goals".
Could Mariano leave on loan in January: "We'll see. We spoke to him about his situation in the pre-season and he wanted to stay. Mariano is one of our players. Tonight was given an opportunity and he did really well. We'll see what happens in January".
Ødegaard: "He has shown that, at just 18 years of age, he has character and personality and he did well tonight".
Enzo debut and goal: "I'm happy for his goal and for the game he put in. But I am happy for everything we did tonight - Tejero's debut, Ødegaard... and Yañez".
El Clásico: "We ready for what's going to be a great game and we'll start preparing tomorrow. Tonight we'll rest. It's a game we need to prepare well for, but whatever happens, the result isn't going to be decisive. We'll be up against a good opponents and I am sure that they will make us suffer".
Cristiano and Messi: "They are both exceptional players, in their own way. Cristiano is doing incredible things and I hope he continues to. We'll se what he does on Saturday. I don't think there is any debate between the two and I'm sure that Cristiano will win the Ballon d'Or".