Luis Enrique: "Sometimes the critics are necessary"
Luis Enrique has experienced plenty of Clásicos and that's why he won't lose sleep over this one while also assessing Real Madrid's style and the return of Andrea Iniesta. Leganés vs Barcelona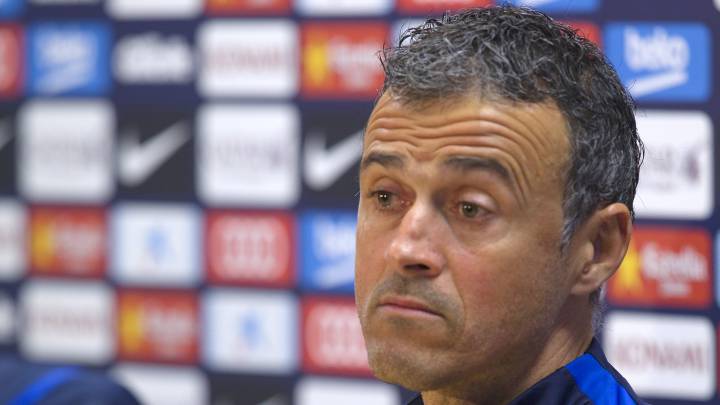 Luis Enrique has every reason to lose sleep after a 1-1 draw against Real Sociedad in the league last Sunday followed by another 1-1 draw against minnows Hércules on Wednesday night in the Copa del Rey and El Clásico on Saturday.
Instead, the Asturian manager was relaxed at the press conference ahead of the game and spoke about the importance of the game for his side, how Barcelona view Real Madrid and the impossible task of silencing the critics.
Luis Enrique's press conference before the game
Asked about Real Madrid and their style..
"We see Real Madrid and Zidane the exact same. They are very well-organized defensively, don't need the ball to create danger and look for quick transitions. They have top players with world class talent. For us, it is a special game against an eternal rival. We will need to play at our very best."
The absence of Bale..
"I wouldn't speak about the injuries on either side. It is something innate in the game. The calender is the way it is and there will always be injuries. In Madrid, on every line of the field, they have players at a very high level."
The return of Andres Iniesta

"The best thing is that players recover in order to give something to the team. He is our captain. He is one of the examples of Barcelona's style of play. We will not change for one player and it is a collective game. His return is great news in everything it means."
Psychology
He was short in his answer regarding the psychological factor in the game, saying "it is always positive with this team."
Some have suggested that a win for Real Madrid would put La Liga beyond Barcelona, but Enrique was slow to make such sweeping statements
"I don't think anybody would say that. If Madrid win, they go nine clear, but it's not decisive. For Barcelona, the team, is it important that we win, but that goes without saying."
Regarding the critics..
"It is important to beat a direct rival, but to think that will put an end to the critics, that is not true. Sometimes the critics are necessary."
Enrique is not keen on putting favourites tags on his side, but he knows it will take a special effort at home regardless of standing in the league..
"If someone wants to put that tag then they can, but playing at home against Madrid we have to give a special performance whether we are one point behind them or 100."
On Pique and Alba's injury issues..

"They are in the normal process of players who have had injury problems. They have the ability to decide."
Whether or not he has picked his final team..
"I have to add finishing touches, which is something that I will do."
Regarding Real Madrid's tactics..
"If they play 4-1-4-1, I think Casemiro will cover space and free Isco to reinforce the middle. The idea is the same but they could change the personnel. On the system there, I have nothing to say. We will wait to see the final version of their line-up."
Liga BBVA
Leaders
Cristiano

10

Goals
Roque Mesa

877

Passes
Illarramendi

146

Steals
*Update 2 de diciembre de 2016



Liga BBVA
Leaders
Cristiano

10

Goals
Roque Mesa

877

Passes
Illarramendi

146

Steals
*Update 2 de diciembre de 2016