Carlos Clos Gomez: Who is El Clásico referee?
The Spanish referee has been involved in some interesting games involving Real Madrid including one where he was hit with a bottle by a Granada player and some strange 2-2 draws.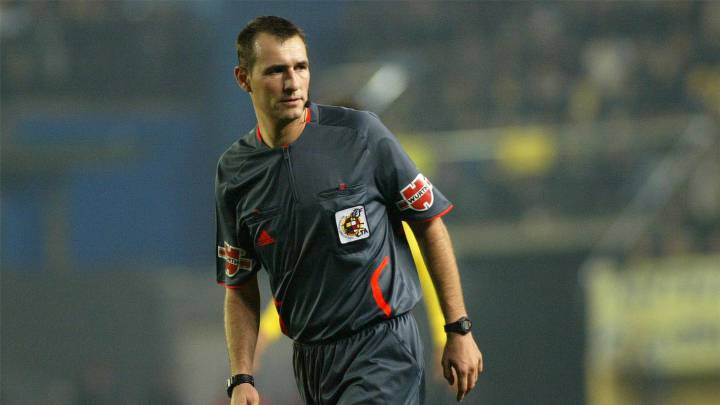 Enough with the conspiracy theorists. As it turns out, Carlos Clos Gomez is quite a tame and non-headline-grabbing referee - just the way he should be. He did happen to grab the headlines one day though.
Real Madrid 2-1 Granada
Clos Gomez was hit with a bottle by Granada midfilder Dani Benitez and both Moises Hurtado and Guilherme Siqueira were sent off after the whistle following a late David Cortes own-goal to give Real a 1-2 victory at the Nuevo Los Carmenes.

Benitez was subsequently banned for three months for hitting the Spanish referee with the bottle but apologised in the press conference directly after the game
He has been involved in a few "interesting" games involving Real Madrid, however. That is not to suggest there is anything dodgy about his behaviour but it appears, at time, when Carlos Clos Gomez is in, Real Madrid's luck is out.
Real Madrid 2-2 Valencia
Take the Real Madrid 2-2 Valencia game (Paco Alcacer score in this too by the way) during the 2014-15 season when Bale rattled the upright before Ronaldo did the same. Javier Hernandez also hit the post and it appeared Real Madrid were flat out of luck. He awarded Gareth Bale and Real Madrid a penalty, which Ronaldo duly missed. Or Diego Alves saved, more accurately.
Real Madrid came back to draw the game 2-2 thanks to second half goals from Isco and Pepe. He also dished out eight yellows in that game.
Osasuna 2-2 Real Madrid
And before that, during the 2013-14 season that Atletico Madrid would ultimately win, there was the Real Madrid Osasuna drawn game when los Blancos went two down at El Sadar. They would come back in the second half, and guess who saved their bacon yet again? You got it. It was Pepe and Isco in the second half with the goals after Sergio Ramos was sent off at the end of the first in a heated game.